After taking office in December 2010, Prince George's County executive Rushern Baker III could barely sleep. He had run three times for the job and had plans to make big changes in his first 30 days. Instead, Baker found himself up late, pondering a recent rash of homicides, trouble in the public schools, and a $77-million budget gap. Business leaders, whom Baker had counted on to revive the county's flagging fortunes, instead greeted him with stories of shakedowns by his predecessor, Jack B. Johnson, who would soon go to prison for bribery and corruption.
One election cycle later, Baker no longer leads with the county's troubles. "For the first time, people who would not have thought about Prince George's at least pause. Then we can make our case," he says. The turnabout has some in Maryland mentioning the term-limited Baker as the next Democratic candidate for governor.
First he has to survive the current administration in Annapolis. Baker's most pressing projects depend on convincing new Republican governor Larry Hogan—who ran on an agenda of lower taxes and shrunken spending—to come up with funding promised by Hogan's predecessor, Martin O'Malley.
As Baker's second term got under way, the county executive talked about Prince George's future—and his own.
The news coming from the governor's office is all about budget cuts—those Martin O'Malley made before he left and now those likely to come from the new governor. How do you handle that?
The tools are very limited at the local level. The tax burden in Prince George's is so high right now, we're not looking to raise taxes. If the state cuts filter down to me, I don't have tools to raise revenues. That forces us to prioritize. We have to start investing in the future. We've set up the Economic Development Investment Fund to attract businesses and get a larger commercial tax base here.
The new governor has raised doubts about the Purple Line, which promised to bring people and money to the county. What do you expect will happen?
Maryland has always been divided. In Prince George's, Montgomery, and Howard counties, the rail system is the lifeblood of economic development. The same with Baltimore. If you're in a rural area, you want more roads. But there's a really credible argument if you are a businessperson.
What's that argument?
If the idea is to grow Maryland's economy and provide jobs, you want the Purple Line. Just building it is going to create jobs, then the stops become the hubs we want to attract business. If we want cybersecurity businesses to grow up around Fort Meade, the workers have to be able to get to the airport, or downtown, or to the Pentagon. What makes our proposal to relocate the FBI building to Prince George's stand out is that we already have transit there.
Before November's election, Maryland promised to pay nearly a third of the cost of a new regional hospital in Largo. So far, Governor Hogan hasn't signaled whether he intends to go forward with the state's full $200-million share of the project. What's the fate of the hospital?
I think the hospital is safe. It's important for the hospital to go forward, for health reasons, and to jump-start downtown Largo. And the deal we put on the table is pretty much the same deal the last Republican governor offered the county.
This is where having a governor who grew up in Prince George's will matter. His father had to deal with the hospital situation when he was county executive.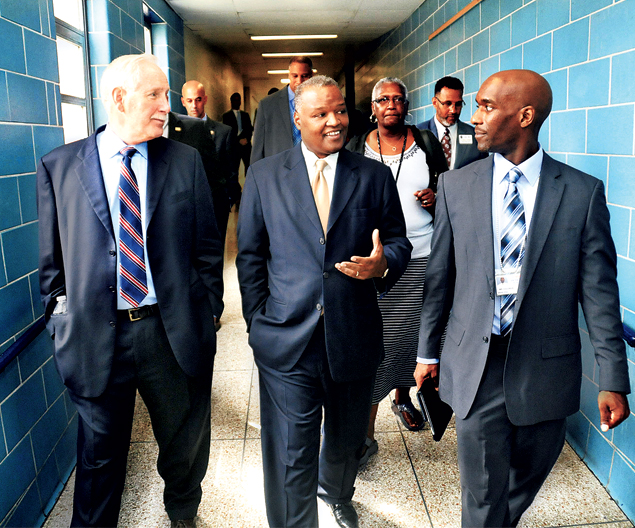 One of your mentors, former county executive Wayne Curry, made building the middle class a priority. One key to that is the public schools. How is your campaign to attract middle-class students going?
Look at the number of first-generation Americans who are doing well in our school system. Some of our brightest students' parents are originally from Africa, South America, India. The diversity shows there are great opportunities. And there are real opportunities for the county to connect in emerging economies like India and China.
We also have one of the fastest-growing Hispanic populations—I'm very pleased that for the first time we have two Latinas on our school board. We know we have a majority of the Nigerians in the Washington area. We're looking at things, like housing availability, that we have to have in order to keep a robust middle class, and those who are moving into the middle class. It has been a hallmark of Prince George's that we are not too high and we are not too low. We have balance in terms of economics and demographics.
Speaking of housing expenses, Anacostia—one of the areas of the District closest to Prince George's—is gentrifying quickly. How are you handling those who are being pushed out?
We're looking at what the District is doing to revitalize, and we're making sure we match them from College Park all the way down to the Red Line and the new development around Catholic University. What you're seeing in the District is an opportunity for us to reenergize our nodes in Prince George's. We're putting a lot of energy into spurring development into New Carrollton, Mount Rainier, and Suitland. I think that is going to be a hot area. And we're spending money and resources to turn around areas such as Glassmanor, Oxon Hill.
It will be interesting to see how regional cooperation will work. All of us have to understand we are in this together. If people are priced out of the city, the same thing could happen in Montgomery and Prince George's. People easily could be priced out of Mount Rainier in the next few years.
So you have a lot of big questions to settle in the next four years. What was the biggest accomplishment of your first term?
The biggest thing we did was ethics reform. Had we not put the bill in, the legislature would have put something in and we'd have a fight over what reform looks like. You don't want someone else doing it for you. You want to admit to the world, "We know we have issues."
A lot of people would say your biggest accomplishment was the drop in crime. How did that happen?
We sat down once a week for six months with Sheriff Melvin High and State's Attorney Angela Alsobrooks, the police—all these folks. Police chief Mark Magaw had the summer crime initiative. It was a long-term strategy, and it was persistent. The police are going beyond policing, working with social services and the health department.
Is there anything new about the way you're going to go about the next four years?
We asked all our directors and deputy directors to start thinking about programs that are sustainable so the next administration doesn't have to reinvent the wheel. Stuff around health, connecting social services and family services, doing innovative things about aging in place. I asked everyone to work from 2020 backward, so that once we walk out the door in 2018, there's demonstrative evidence of what we were thinking.
What does your political future hold, seeing as you're term-limited?
This will surprise you—I'm focused on making Prince George's the best it can be. I think the county is the economic engine in the Washington region. I am so blessed to have a job I wanted really bad.
If opportunities open up, they open up. If I can help contribute to making the state better, then I will probably run for something else. If there is someone more talented, I will do as I did in the last campaign and support those I believe in.
Most of the new candidates you supported in the most recent county election lost their races, including your son. What does that say about your remaining political clout?
I made a commitment to support candidates I thought would make a difference—regardless of whether they could win or not. The majority of them will be in public policy in the future. I wanted to help them meet the public. That's what happened to me. It gave me a chance to get out there and make my mark.
What have you learned in your first four years in office?
Change is hard. In the words of JFK, it's a lot different making campaign speeches than making policies. You're so eager, so sure you have answers and that people will accept what you say as gospel. When they don't, you're shocked. And you find out that some ideas you had weren't the best way to govern.
For me personally, the biggest thing was the amount of stress. I gained a tremendous amount of weight.
How much?
Thirty pounds. My doctor was concerned, my blood pressure was up, I couldn't sleep. It was [former Prince George's county executives] Wayne Curry and Parris Glendening who said, 'Take a day, and don't let them take that from you." I started running with the police cadets. It took me six months to get down to a healthy size.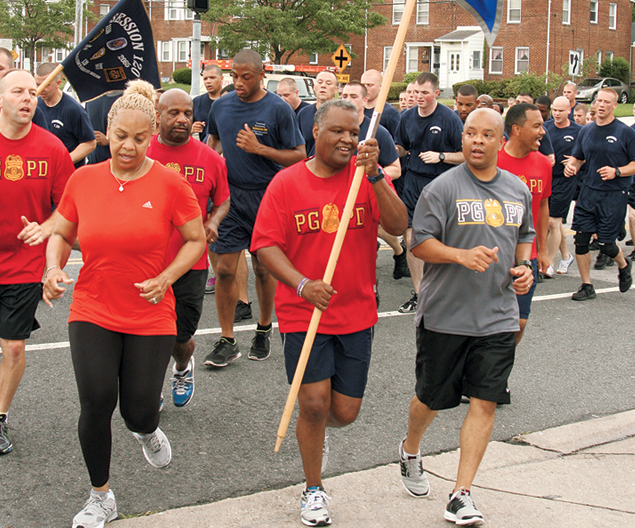 Now you're training for the Boston Marathon.
I wanted to run the Army Ten-Miler before I was 55. I had promised my dad I would. When I couldn't get in, a police officer gave up her spot. Then a guy I know said, "How would you like to run Boston?" For my 56th birthday, I received an invitation. I thought it was a joke, quite frankly. But I am doing it.
This article appears in our April 2015 issue of Washingtonian.