At China Chilcano, this traditional chifa stirfry gets a few upgrades—tender filet mignon, sushi rice, and a handful of shishito peppers.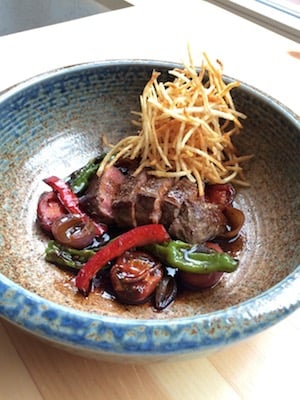 Serves 4
2 cups premium sushi rice, such as Nishiki
1 tablespoon oyster sauce
½ cup aged soy sauce, such as Wan Ja Shan
½ cup red wine vinegar
½ cup chicken stock (no salt added)
4 tablespoons blended oil, plus 1 to 2 more (for searing steaks)
1½ pounds steak, such as New York strip or filet mignon, trimmed and cut into 6 ounce pieces
12 shishito peppers, stemmed
1 red bell pepper, sliced
6 ounces red onion or shallot, sliced
2 cloves garlic, minced
2 teaspoons minced ginger
8 cherry tomatoes, halved
Shoestring potato crisps, for garnish
Fresh cilantro, for garnish
Salt and black pepper, to taste
Place the sushi rice into a strainer and rinse under cold running water for 2 minutes. Drain the rice and place it in a pot with 2 cups of water. Cover, turn the heat to high, and bring to a boil. Once it is boiling, keep the pot covered, reduce the heat to low, and cook the rice until it absorbs all the liquid, about 5 minutes. While the pot is still covered, remove it from the heat and let stand for 10 minutes.
In a large mixing bowl, combine the oyster sauce, soy sauce, vinegar, and chicken stock. Set aside.
Season the steaks with salt and pepper. Heat 1 to 2 tablespoons oil in a large sauté pan set over medium-high heat. Sear the steaks for 1 to 2 minutes on each side. Remove the steaks from the pan and let rest under tented foil.
Add 4 tablespoons of oil to the pan. Over medium-high heat, sauté the peppers and onions until they just turn soft, about 30 seconds. Add the garlic and ginger and cook for 1 minute more. Add the tomatoes, and deglaze with the reserved soy sauce mixture. Cook for 1 minute.
To serve, gently fluff the rice with a fork. Place a scoop of rice in the center of 4 plates. Distribute the vegetables and sauce around and on top of the rice. Slice the steaks and distribute the meat next to the rice. Garnish with the shoestring potatoes and cilantro. Serve immediately.