Our Washingtonian Recommends lists bring you the best places to eat, drink, and be entertained—all selected by Washingtonian editors.
In Nationals Park
As far as stadium food goes, Nationals Park offers more diversity than most. In addition to hot dogs and peanuts diners can go for crab cakes, Asian noodles, barbecue, and stands that cater to gluten-free, vegetarian, and kosher diets (here's a full list of the concessions).
Look out for new additions this season: the Virginia Biscuit Company (section 113) for fried chicken or ham biscuits and VA brews; Throwin' Cheese (section 130), which dishes up grilled cheese, mac n' cheese, and other dairy goodness; Enzo's Pizza kiosks (sections 115, 210, 229, 310); and Leilani's Shaved Ice (sections 143, 229).


Ben's Chili Bowl (sections 109, 140, 301, 315)
Of all the options, Ben's dishes up the home team classic: a chili half-smoke, which taste very similar to the iconic U Street version. Chili cheese fries also make for a tasty snack during the seventh inning stretch.
Hard Times Cafe (Sections 117, 127, 409)
Fans of the beef chili from this local chain can order it by the cup, ladled on a hot dog, tossed with mac n' cheese, or our favorite, piled high on a stack of nachos that feeds a crowd.
G Sandwich (section 136)
The stadium spinoff of Mike Isabella's 14th Street sandwich joint offers a pared-down menu of Italian, chicken parm, turkey, and roasted cauliflower subs. The quality isn't on par with the made-to-order versions at the restaurant, but an Italian cold cut sandwich and cold beer are a good play.
Shake Shack (section 240)
Advance warning: there's rarely never a line, and waiting to order food can take a full inning (or two). On the other hand, a double Shackburger, crinkle fries, and a frozen concrete is one of the best meals in the Park.
El Verano Taqueria (section 240)
Located next to Shake Shack, the lines tend to be a gentler at this Mexican spot. Go for the elote, corn on the cob brushed with mayo and rolled in cotija cheese and chilis. Passable tacos, nachos, and quesadillas round out the menu.
Shawafel (section 104)
One of the closest concessions to the front gates is this falafel and shawarma spot from the Atlas District eatery. The meats (chicken or a combination of lamb and beef), falafel, or fried cauliflower are wrapped in flatbread with traditional accompaniments, and can be ordered with crispy fries.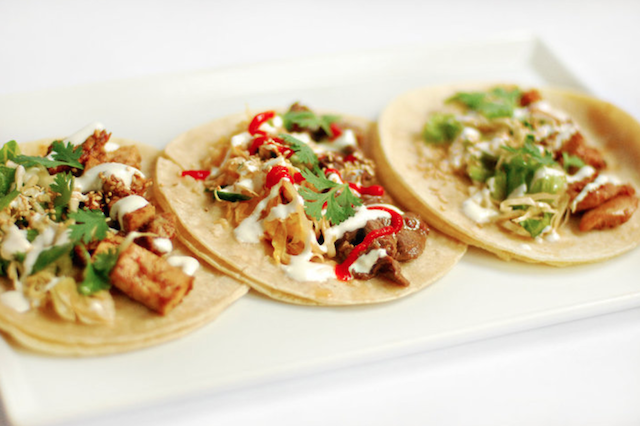 Around Nationals Park
The dining scene around the stadium has become more eclectic in recent years, with higher-end restaurants joining neighborhood spots, fast-casual options and places for a sweet fix.

300 Tingey St., SE
This brewery from the Neighborhood Restaurant Group is a go-to for beer nerds, and also serves tasty gastropub fare. Post up at the bar before or after the game for fresh-made brews, burgers, charcuterie boards, and smothered fries, or opt for full sit-down service in the dining room.
1015 Half St., SE
The newest addition to the Yards Park dining scene is this Korean fried chicken chain, which claims a spacious bar area, 65-seat dining room, and separate carry-out section for game day takeout. Double-fried birds glazed in soy-garlic or spicy sauce are the must-order dish, as well as steamed pork buns. The menu also offers Korean-fusion dishes and classics like japchae noodles.
301 Water St., SE
Make a sweet stop before or after the game at this local ice cream shop, which just recently added warm weather flavors and shakes to the menu. Unique flavors like banana-bourbon-caramel, Thai iced tea, or dark and stormy join classic vanilla and chocolate.
301 Water St., SE
This New York-based Italian is one of the best dining options in the neighborhood, though a bar area caters to fans looking for a quick bite and glass of wine. It's worth lingering for decadent pastas, wood-grilled meats, and stellar desserts—especially on the outdoor patio in warm weather.
1212 Fourth St., SE
The food truck that brought Korean tacos to the DC streets is behind this 40-seat spot. Fast-casual service makes it a great spot for a quick bite and a beer. We love the tofu tacos heaped with kimchi slaw, as well as the meatier chili chicken and bulgogi varieties.