Our Washingtonian Recommends lists bring you the best places to eat, drink, and be entertained—all selected by Washingtonian editors.
La Casita
8214 Piney Branch Rd., Silver Spring; 301-588-6656
There are so many Salvadoran restaurants in the area that if you're hungering for a pupusa fix, one is probably right around the corner, and a pretty good one at that. La Casita's versions of the thick, griddled cakes—think cheese sandwiches, only with more heft and soul—are excellent, as you might expect, but there are a handful of other reasons to acquaint yourself with this charmingly rustic deli and market. Among them: a terrific carne asada, a marinated steak that, lean as it is, comes to the table still pink in the middle, and a juicy, roasted half chicken that will make you long to be slicing into it outdoors, on a picnic blanket, while you watch the young'uns fling a Frisbee. Drop by in the morning and you can feast on a breakfast sandwich that'll keep you until dinner—a French roll stuffed with eggs, chorizo, red beans, green peppers, onions, tomatoes, and, because nothing succeeds like excess, a dollop of fresh cuajada cheese, a sort of Latin counterpart to ricotta. Inexpensive.
Kapnos Taverna
4000 Wilson Blvd., Arlington; 703-243-4400
This year won't be a slow one for Mike Isabella. The brash kitchen talent—who's a name brand thanks to Top Chef and a trio of successful DC restaurants—is expanding his reach into Bethesda, as well as Los Angeles and Pensacola airports, over the coming months. But first he and deputy George Pagonis have opened this Ballston dining room, a spinoff of their Greek-minded Kapnos near U Street. Although the menu here differs from its sibling's lineup a good bit, a few lessons from the original apply: First, start with the wonderful, warm flatbread and an array of dips—tweaks on tradition that include ethereal tzatziki with slivers of grapefruit, an impossibly silky taramasalata (puréed cauliflower is the secret), and an eggplant dip ruddy with walnuts and feta. Second, make your feast a meaty one. Despite the fact that the spotlight is on seafood, including bountiful raw-bar platters, we found that the most satisfying plates were the souvlaki-style kebabs—cumin-marinated chicken, juicy short rib. Isabella is a pro with vegetables at his other restaurants, but so far that's not the case here. Soggy disks of fried eggplant and over-charred Brussels sprouts had us reaching to fill up on the last scraps of flatbread. Expensive.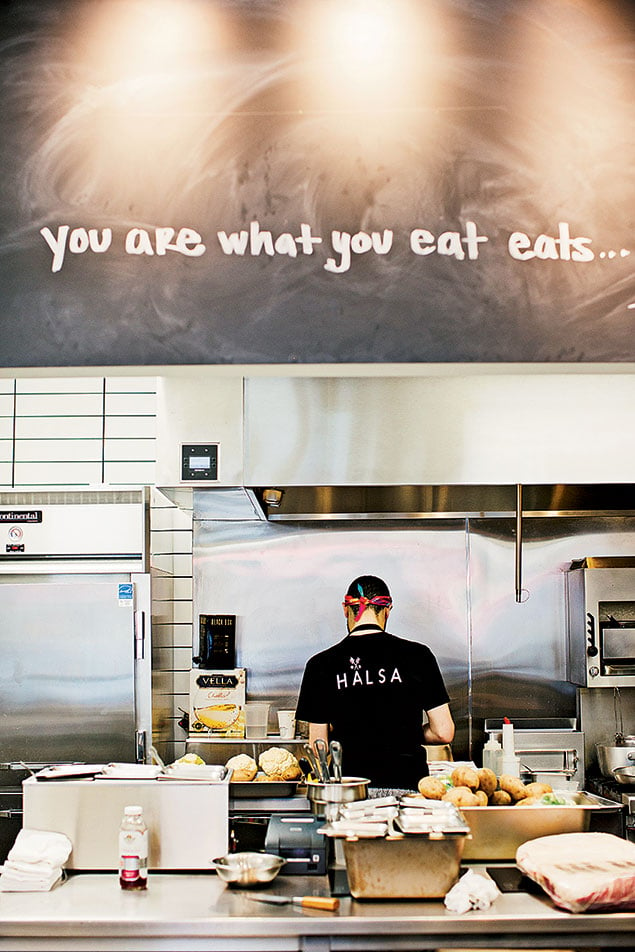 Hälsa
655 Michigan Ave., NE; 202-832-1131
Hälsa sounds like a product of the Nordic-food trend—it means both "health" and "to greet" in Swedish. In fact, the Brookland spot is neither Scandinavian nor a particularly comfortable place to meet and linger. The major draw for health nuts is bone broth, a byproduct of the Paleo movement that involves simmering bones for a vitamin-rich drink. It's "also called 'stock,' " as Twitter user Stock Stickler replies to any mention of the trend (8,140 times and counting). Hälsa offers three broths: chicken, mushroom, or pork. The last one, a pho-like brew, conveys the comfort of a good soup; whether you treat it like a savory tea is a matter of diet. The menu recommends adding an egg, though at that point you should just opt for a bowl, with soba noodles and a juicy chicken-sausage patty. The rest of the menu revolves around a market plate—you choose a meat, vegetable, and base (buttery cauliflower mash, quinoa pilaf). But the proteins were uneven: we sampled both dry mahi-mahi and tender pulled pork. Far better were the roasted mushrooms and bacon-braised cabbage—a nice reminder to eat your veggies. Moderate.
This article appears in our April 2015 issue of Washingtonian.