Chico (above) is a one-year-old, 38-pound American Staffordshire terrier-mix. He loves to run and really enjoys the company of human friends. Having a backyard barbecue? Chico will dazzle you and your friends with all of his cool tricks. Meet Chico at the Washington Humane Society's New York Avenue adoption center.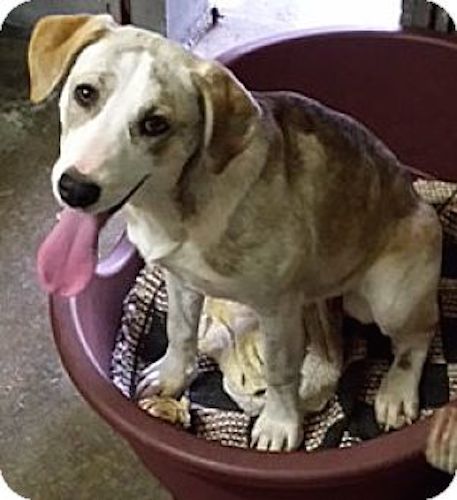 Ellie is a 10-month-old husky/lab mix. She is 45 pounds and will likely be around 55 pounds full grown. She was brought to a shelter when her people moved. Ellie is a loving, friendly, affectionate girl and would make a great addition to a home where she can receive patient and loving assurance that she won't be abandoned again. Ellie would do well in a home where she could have another doggie friend to help build her confidence. She is pretty shy, but is very good with people she knows. Meet Ellie through K-9 Lifesavers.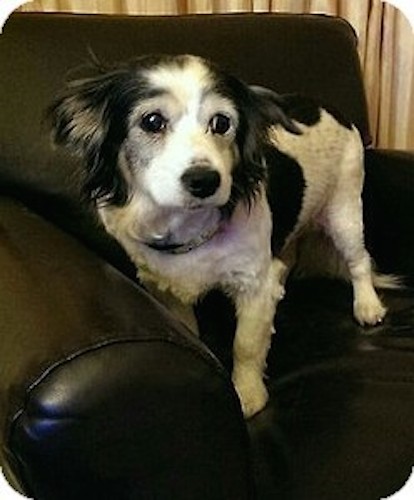 Poppins is an 8 or 9 year old shih tzu/corgi mix who weighs 19 pounds. She is a very sweet girl with a gentle disposition. She was found roaming the streets of North Carolina until a good samaritan saved her and brought her to K9 Lifesavers. While very gentle with people of all ages, Poppins would probably do best in a calmer environment without small kids. She is shy at first, but will become comfortable with time. Poppins does very well on a leash, and she hardly ever barks. Meet her through K-9 Lifesavers.
Leroy is a beautiful small Lab-mix, about 2 years old, who is full of love. He does well with cats and dogs. While he starts out a bit shy, he quickly warms up to kids, too. Leroy's a smart, sweet boy, who is eager to please. He knows basic commands and seems easily trainable. He enjoys snuggling, runs in the morning when it's still quiet out, and walking and playing with his foster sister. Leroy is quiet in the house and loves his crate and car rides. He is slow to trust strangers, but once he warms up, he is a goofy, lovable lab. We believe that Leroy would do best in a home with a fenced yard, so we are only considering applicants who have one. To find out more about Leroy, please visit the Rural Dog Rescue website.
Olaf is a three-or-four-year-old beagle-mix weighing in at about 25 pounds. He's a very friendly dog and loves being around people or other dogs. He can be very playful and excitable since he's fairly young, but his favorite thing to do is just lay next to you while you rub his belly. Olaf is housebroken and is getting better on the leash for walks. He loves being outside.
To find out more about Olaf, please visit the
Rural Dog Rescue website