In the annals of arts-funding fiascos, the 2010 midterms may not have rivaled the 1989 "Piss Christ" controversy—when a government-subsidized photograph by that name had Jesse Helms and fellow conservatives in Congress up in arms—but they certainly cast a pall. Republicans had hacked away at the National Endowment for the Arts after last winning the House of Representatives, back in 1994, and their stance hadn't exactly changed since then. In 2011, they voted to lop off a quarter of the agency's $168-million budget.
Within the small community of advocates for federal arts dollars, the cut went over like William Shatner singing jazz standards. "We knew we weren't going to be able to hold onto that [funding] when the new Congress came in," says Robert Lynch, president of the advocacy group Americans for the Arts. "But the House brought it down to $124 million. That was a significant loss."
Lynch had already booked actor Kevin Spacey to deliver his group's annual lecture on arts and public policy, an event traditionally followed by a day of lobbying. He soon drafted Spacey to help him restore the lost funds. And so it was that Lynch, Spacey, actor Alec Baldwin, and Charles Segars, an executive producer of the National Treasure movies, found themselves shuffling through Capitol Hill offices to make their case.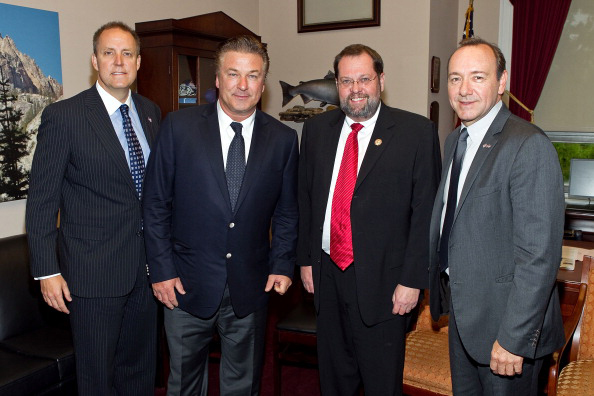 Spacey was by all accounts in virtuoso form. "The congressman would be at the door to his office, or her office, and we would be ushered in," recalls Segars. "And the first thing Kevin would say—he'd look on the wall and go, 'Hey, great piece of art! Who's that from?' The congressman would take his glasses off, lean into a plaque on the wall that said 'The 12th grade class of such-and-such local high school made this mural.' " At which point Spacey launched into his spiel. He would explain how every dollar invested in the arts creates $9 in federal tax revenue and would catalog all the theaters and museums staffed by the Congress member's constituents—he had been thoroughly briefed—that benefited.
During one meeting, a crusty Southern Republican lawmaker derided arts funding as "an entitlement," provoking a Spacey monologue worthy of Keyser Soze, his character in The Usual Suspects. "How can something that increases math and science scores, that greatly decreases high-school dropout rates, that greatly decreases crime rates be an entitlement?" the actor said, according to Segars. Spacey specifically pointed to an after-school arts program in the representative's district that, he said, had boosted school enrollment. When he finished, the lawmaker turned to an aide, slightly shell-shocked, and bleated, "Hey, you've got to get me those numbers."
In the end, Spacey's crew helped change enough hearts and minds to restore $30 million to the NEA budget. Four years later, it looks like a classic case of celebrities having their way with star-struck Washingtonians—the cool kids deigning to dine with the math nerds for some help on their homework. (Naturally, the "entitlement" congressman asked Spacey and Baldwin to pose for a picture before they left his office.)
And for good reason. No celebrity has more cachet in Washington these days than Spacey. His Netflix political drama, House of Cards, is required viewing for anyone hoping to partake in cocktail-party conversation. The fundraising galas he has recently held here for his foundation—which hands out grants to aspiring actors and directors—have attracted a rarefied collection of politicos and media big shots, many of whom also crawl over themselves to make cameos on the show. The spoof he filmed for the 2013 White House Correspondents' Dinner—with Spacey, in full Frank Underwood form, grilling the likes of Valerie Jarrett and John McCain—circulated in Washington for months.
But consider this: Spacey's 2011 trek to the Hill on behalf of the beleaguered NEA came two years before House of Cards even premiered. His arts-funding triumph can't be explained by a hit show that flatters the town's self-image. What it can be explained by is Spacey's regular, if little-noticed, presence in the city for the better part of 20 years. His success as an influencer—whether for someone else's cause or his own—owes itself to his long-gestating persona as a friend to pols and an earnest admirer of Washington. The opposite, in other words, of his cold-hearted House of Cards character.
Indeed, it's what happened just before that day of congressional lobbying that's perhaps most revealing about Spacey's method. "He wanted to bike around the city—we found him a bike," says Lynch. "Part of his way, I think, is taking the city in in a more personal way."
****
Celebrities have been descending on Washington for generations. Everyone born within a decade of 1970 can probably summon Elvis Presley's endlessly documented visit to the Nixon White House that year. Michael Jackson visited the Reagan White House in 1984 for an event to combat drunk driving and returned in 1988. But for many years, the visits were arranged by entertainment managers and agents—people without much insight into how Washington functioned. As a result, they had little value other than a short-lived spurt of good PR.
By the 1990s, a small group of consiglieri was beginning to serve celebrities who wanted to influence politics or policy in some concrete way. It was a natural moment for the emergence of a more meaningful Hollywood/Washington nexus. Bill Clinton—who aggressively canvassed the entertainment world for money and support—was President. And with the rise of the internet and the proliferation of cable TV channels, the media landscape was making it easier for stars to draw attention to causes that might not have previously registered. When David Geffen, Steven Spielberg, and Jeffrey Katzenberg founded DreamWorks SKG in 1994, they brought on a grizzled former political operative named Andy Spahn to advise the studio. The same year, a former Carter White House aide named Margery Tabankin opened a consulting boutique that advised Barbra Streisand and a few other clients.
After George W. Bush took office, though, the White House wasn't as welcoming to Hollywood. Suddenly, stars with a cause needed to make their appeals through more formal channels. The celebrity-adviser business grew more institutionalized, evolving from obscure niche to bona fide industry. In the first decade of the 2000s, a number of former White House officials expanded the Tabankin model and opened full-service consulting firms to advise celebrity clients on their Washington and philanthropic activities. In other cases, celebrities created foundations and put teams of political operatives on the payroll. These consultants engaged in elaborate "power-mapping" exercises, instructing the stars on where their efforts would be best targeted.
The example of U2 frontman Bono, widely regarded as the godfather of the form, nicely illustrates the evolution. In the 1990s, Bono was part of an international group of celebrities working to raise awareness about the importance of Third World debt relief. Calling their methods rudimentary would be generous. "I'd been there for the first meeting between Clinton and U2 during the [1992] campaign," says Mike Feldman, a former senior adviser to Al Gore. "Bono would fax me handwritten notes and ask if I could deliver them to their offices."
The rock star's second try at the Washington game was very different: In 2004, he and a coalition of humanitarian groups launched the ONE Campaign to shine attention on developing-world problems like AIDS and unfair trade. By that point, the effort had drawn in a passel of senior political operatives, including Bush campaign strategist Mark McKinnon and former Clinton press secretary Mike McCurry. They gave Bono and his co-conspirators entrée into just about every government office in Washington.
Today, stars such as Ben Affleck, George Clooney, and Eva Longoria are widely admired for their effectiveness at promoting pet causes—eastern Congo, Sudan, and immigration reform, respectively. They all retain high-priced consulting firms run by Washington veterans. They all receive a return many times over on their investment, in terms of the professionalism and savvy it affords them.
And then there's Spacey, who has managed to become state-of-the-art by operating as a throwback. Unlike the Afflecks and Longorias, he employs no power-mappers. He has no West Wing veterans on retainer. The Washington figures who help execute the 55-year-old actor's designs on the city are simply friends and acquaintances he's accumulated from his many years of being present.
****
On a Monday evening last September, Spacey took the stage at Sidney Harman Hall before a large crowd of well-heeled Washingtonians. It was for a good cause: the Kevin Spacey Foundation's philanthropic efforts in the arts. Spacey kept the audience rapt during a two-hour performance, sprinkling au courant House of Cards references and bang-on Bill Clinton impressions between musical numbers like "Fly Me to the Moon" and "Luck Be a Lady." (Spacey—who starred in a biopic about singer Bobby Darin—has a remarkable voice, only slightly hobbled by the cold he was nursing.) He brought the house down after breaking out a harmonica for a rendition of "Piano Man."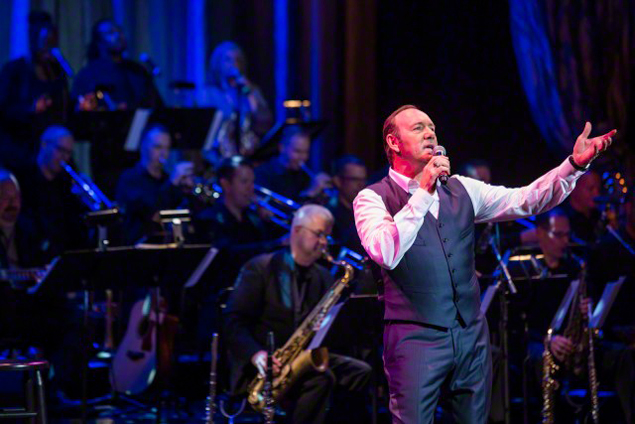 Two particular things about the event stood out.
The first was how fluent Spacey is in the language of Washington-insiderdom. He welcomed the crowd to "an evening to benefit the Frank Underwood super-PAC" during his opening riff. "I do apologize if you were misinformed about the intentions of this occasion," he joked, to knowing laughter.
The second notable feature was how much the gala had changed in the year since its first iteration.
Back in 2013, Spacey had primarily leaned on his own Washington network to pull off the event. He landed his friend Ashleigh Banfield of CNN, who'd recently scored a House of Cards cameo, as emcee. He persuaded Steny Hoyer and Kevin McCarthy, the Democratic and Republican House whips at the time—both of whom he'd grilled while preparing for his Underwood character—to donate a joint lunch to the event's silent auction. (It sold for $10,000, according to the Wall Street Journal.) Spacey acquaintances such as Chris Matthews, Andrea Mitchell, and Greta Van Susteren packed the audience, and the event grossed $135,000.
It was a respectable total given the cause, but nothing that would turn heads among Beltway veterans. After it was over, a Spacey aide who oversees his foundation contacted executives from Ovation TV, the cable arts network that Segars runs. The Ovation crew realized the actor was leaving all kinds of money on the table and offered to up the foundation's game—to put "some structure into place for a bigger benefit committee," according to one person involved.
The lesson for Spacey: The way to project force is not merely to tap your friends but to tap your friends' friends, too. Washington, after all, tends to observe a relatively strict division of labor: The political and media big shots provide what passes for glamour. The anonymous lobbyists, lawyers, access capitalists, and assorted henchmen deliver the cash. If you target only your A-list pals, you necessarily limit your haul.
And so Spacey's most recent event became a sophisticated Washington fundraising apparatus of the type that would inspire feelings of inadequacy in Frank Underwood himself. Ovation connected the Spacey Foundation with two longtime lobbyists, Lyndon Boozer of AT&T and Melissa Maxfield of Comcast, whom it enlisted as the event's vice chairs. Boozer and Maxfield, in turn, helped procure a handful of additional backers, including Nathan Daschle, then a top official at Clear Channel and the son of former Senate majority leader Tom Daschle, and Hunter Biden, the Vice President's son. There were industry underwriters, such as the video-game lobbying group Entertainment Software Association (a subtle nod to one of Underwood's after-hours indulgences) and the American Resort Development Association. After a buzz-building reception on the roof of Georgetown's Capella hotel in July—where guests like White House social secretary Jeremy Bernard and lobbying heavyweight Heather Podesta stamped Team Spacey with the imprimatur of the establishment—the gala snared a few more prominent vice chairs, including Lockheed Martin lobbyist Larry Duncan.
The glossy material the organizers prepared for prospective contributors touting Spacey's "unique, one-night-only concert" at Harman Hall testifies to their ambitions. They noted that "the open floor plan and intimate seating areas will ensure the great and good of arts, business, entertainment and politics can mix effortlessly" and that "by joining this unique event you will at once align yourself and your brand with Kevin Spacey, recently ranked 74 in Forbes Celebrity 100 of the world's most powerful celebrities." The minimum price to become a vice chair like Lyndon Boozer and Nathan Daschle was $50,000.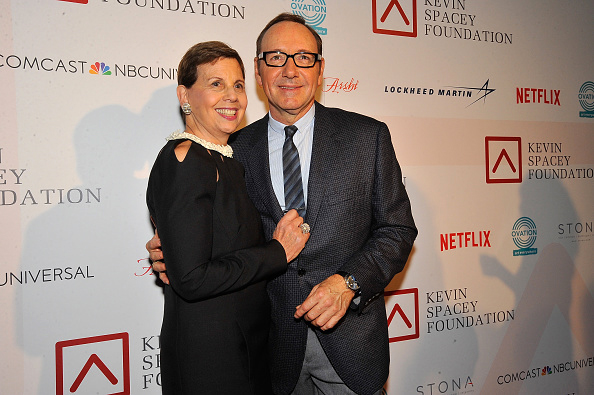 Spacey himself was an enthusiastic participant. He approved the venue and okayed the vice chairs. Whereas congressmen Hoyer and McCarthy had gotten away with donating a lunch in 2013, Spacey pressed them into service as "honorary co-chairs," giving the 2014 event instant visibility. Instead of Ashleigh Banfield as emcee, Spacey's big get was Adrienne Arsht, the banking magnate and Kennedy Center board member who lives in Massachusetts Avenue Heights and agreed to chair the event.
The actor also brought his unique brand of fanaticism to rehearsals. At the time, he was filming the third season of House of Cards in Baltimore, an all-consuming commitment that occupies him for upward of 12 hours a day. Yet Spacey was determined to hold a two-to-three-hour run-through of his entire act for several nights in the week before the gala. "We rehearsed on the set of House of Cards," says John Nave, the event's production manager. "We stood by in the afternoon, and his assistant would give us a call and let us know when to come up."
No detail was left unattended. The biggest donors received tickets to an intimate thank-you reception the Sunday before Thanksgiving at Arsht's DC home, where they could meet a pair of Spacey Foundation scholarship recipients. Spacey himself came back to town to schmooze the great and the good of business and politics a final time. He had much to be thankful for. With Arsht's help, he'd grossed around $800,000 for his foundation, six times the prior year's showing.
****
In the summer of 1996, Amy Harris was a twentysomething aspiring screenwriter pitching in on Bill Clinton's reelection campaign. She and a friend were at a Clinton fundraiser in New York when they spotted Spacey, unaccompanied, in the hotel ballroom. "I was like, 'Oh, my God, he's just wandering around by himself,' " Harris recalls. " 'Why is Keyser Soze running around with no one taking care of him?' "
It turned out Spacey hadn't been cultivated by the campaign. He'd received a relatively standard solicitation and simply responded to it.
Harris approached one of the Secret Service agents manning the VIP room and got Spacey backstage, where he met the President. Inevitably, the two men chatted so long that Clinton held up a group of donors waiting to speak to him. Spacey was hooked.
"He was really invested once he clicked into the Clinton-Gore world," says Harris, who went on to work at the White House. He was reliably keen to pitch in on a fundraiser or a presidential event. "I did celebrity outreach, and people are like, 'Get me tickets to this. What can you do for me?' " says Harris. "This was very much about 'What can I do to help?' "
Spacey's fixation on Washington doesn't derive from being a political junkie: No one who's known him here describes him as a C-SPAN addict or an obsessive reader of Politico. Rather, he's a student of power—of who has it and how that person exercises it.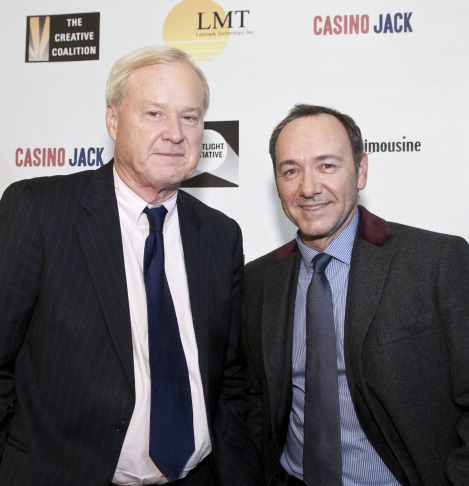 It's why he spends so much time talking to political figures about their craft, as when he hung out with Ron Klain while portraying the former Gore chief of staff in the 2008 HBO movie Recount. Spacey later spent several hours at a federal prison in Cumberland, Maryland, deposing Jack Abramoff in advance of playing the corrupt lobbyist in Casino Jack in 2010. "He'd done his homework," says Larry Latourette, the Abramoff associate who brokered the meeting. "He was a sophisticated consumer, and Jack Abramoff was not a bad teacher of one sort of school" of wielding influence in Washington.
Spacey first met Steny Hoyer at the start of production for House of Cards in 2012 and was preoccupied with how a House leader bends the rank and file to his or her will. Hoyer recalls: "He was essentially asking, 'How do you talk to members? How do you . . . deal with them in terms of convincing them?' "
This fascination with the mechanics of power helps explain some of Spacey's odder political commitments over the years. In the late '90s, House minority leader Dick Gephardt's aides noticed that Spacey had become friendly with President Clinton. They cold-called Spacey's assistant and put Gephardt on the line. "Fifteen minutes later, Kevin Spacey called back," recalls David Jones, Gephardt's chief fundraising staffer at the time. "That rarely happened for a star." It was even rarer for a bona fide sensation like Spacey, who had won an Oscar for The Usual Suspects a few years earlier.
To the amazement of Gephardt World, Spacey was game to headline a number of fundraisers for the House Democratic campaign arm. "We weren't exactly a magnet for celebrities," says Steve Elmendorf, Gephardt's then chief of staff. "It sort of surprised me that we ended up with him. Usually we had sort of the likes of the Tony Bennetts and Michael Boltons." (Spacey's only hint of diva-like behavior was his standing request to stay at the posh Jefferson hotel.) In 1999, Spacey was starring in the Broadway play The Iceman Cometh. He gave the House Democrats a block of tickets for a performance, then appeared at a reception for donors after the show.
But Spacey's Washington Rolodex wasn't all Presidents and Congress members. As a Hollywood veteran, he understood that the people who run the world are just as often the people sitting outside the corner office as inside it.
"DC and LA are both one-industry towns," says a former White House aide. "The most important person in any office is the executive assistant." Spacey, in keeping with this insight, was solicitous of even the most obscure political staffers.
Take Harris, the young Clintonite: After they met in New York, the pair exchanged numbers and he told her to keep in touch. Harris assumed that was the last she'd ever hear from the actor. But sure enough, Spacey called a few months later saying he was coming to DC and asked what she was up to. "I could put together a dinner," Harris said, not entirely sure what a 25-year-old White House apprentice had to offer an Oscar-winning actor. Nonsense, Spacey told her. He'd prefer to do whatever she and her friends typically did on the weekend, which in this case was hang out at Cities, the venerable club then in Adams Morgan.
Several former junior political aides have similar memories of these encounters—at dives that catered to twentysomethings, at Cafe Milano in Georgetown, the full range of DC haunts. "There were a couple times I remember being out at Stetson's and Kevin Spacey was with us," says Brian Turetsky, another junior Clinton aide from the '90s, referring to the no-frills U Street bar.
It didn't seem to bother Spacey that casing out Washington at the level of detail he craved sometimes meant demeaning himself, at least by celebrity standards. The week before the '96 election, Spacey visited Clinton-Gore headquarters in downtown DC. To keep up morale near the end of a dreary race, the campaign had a ritual in which a different employee would be introduced to a crowd of onlooking colleagues, NBA-arena style, each afternoon. "The Department of Scheduling and Advance proudly presents today's profile in courage," Turetsky would announce, before revealing the person's astrological sign, favorite food, and the source of his or her political crush on Clinton. The staffer would then burst through a doorway covered by butcher paper, to raucous applause.
When informed of the goofy ritual, Spacey was determined to participate. He grabbed an advance-team baseball hat from a supply closet and let Turetsky do his thing. "Today's profile in courage is an Oscar winner . . . ." Turetsky began. A picture of Spacey just after he burst through the butcher paper shows an expression of pure joy.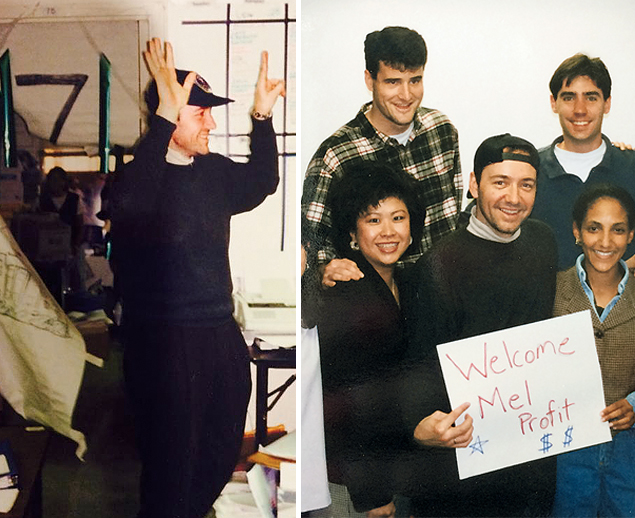 But of course, no student of power would be fully satisfied until he got a close-up of the capo di tutti capi. Spacey never seems to tire of spending time with Clinton. They were once card-playing buddies and have remained close—lunching at a McDonald's in London, touring Africa to raise awareness about AIDS. When Spacey brought the House Democrats to see The Iceman Cometh, he had only one condition. "He asked that we get Clinton there, which we did," recalls Gephardt. "We filled the theater and made good money for the [Democratic Congressional Campaign Committee]."
Clinton, for his part, got his money's worth as well. "It was the unabridged version, like five hours long," says Jake Siewert, Clinton's last White House press secretary. "Most of the people there are like, 'Really, I didn't sign up for this.' You have fundraisers paying 20 grand. But Clinton loved it."
Spacey did, too. Whereas many actors crave presidential face time as a way to flatter their egos (another former Clinton aide remembers getting a call from the agent of an actor on the cheesy '90s sitcom Saved by the Bell, announcing that "he's in town—can he see the President?"), Spacey's interest seems not so different from that of many Washingtonians: There's a rush to being in the presence of a world-historical figure.
The year after they met, Spacey asked Amy Harris to be his date for a White House cocktail party. "I remember walking into the huge, beautiful lobby in front," she says. "The Marine Band was playing. Right behind us, walking in, Gregory Hines started tap-dancing." Spacey was so awed by the grandeur of the moment that he told Harris, quite earnestly, he'd never forget it. "We're both like, 'Holy shit. This is not a normal life occurrence,' " she remembers. "Even as a celebrity, a big actor, he loved it."
****
In the end, it's hard not to notice that Spacey first became truly interested in the capital in 1996. The year before, his high-school pal Dean Devlin had tried to cast him in a role he'd written with the actor in mind: President Whitmore, the ex-fighter pilot who battles space invaders in Independence Day. But according to the Hollywood Reporter, the studio said, in effect, no way. "We literally had an argument," Devlin told the magazine, "and the executive, who's no longer there, said he just didn't think Kevin Spacey was a movie star."
Spacey, then in his thirties, was increasingly renowned among critics, directors, and actors thanks to his masterful performance in 1995's The Usual Suspects. But among Hollywood executives, it was as if he had to prove himself all over with each new project. He was quite obviously being held back by a lack of imagination bordering on outright discrimination in Hollywood, something that would happen again and again. When director Sam Mendes set out to cast Spacey as his lead in American Beauty a few years later, the studio resisted on the grounds that he wasn't leading-man material.
Though Mendes eventually got his way and Spacey nabbed his second Oscar for the performance, the actor has never quite gotten over the humiliation the studios inflicted on him. "Unless it's Martin Scorsese, and it's a really significant role, f— off," he told the Hollywood Reporter last year. "I'm not playing someone's brother. I'm not playing the station manager. I'm not playing the FCC chairman."
Perhaps it's no surprise, then, that having been denied a fake-President role he badly wanted and by all rights should have had, Spacey went east in search of a real President. And when he got there, he discovered that the political world would love him, often for the same reasons Hollywood wouldn't: He was smart, even a bit nerdy; he was meticulous; he worked hard at his craft.
Hollywood paid lip service to being a meritocracy, but Washington actually was one, at least as far as Spacey could tell. Truth be told, Washington probably liked that he was a movie star who didn't look like a movie star. It made him less threatening, more accessible. It's often said that Washington is Hollywood for ugly people. In this case, it was Hollywood for an ugly Hollywood person, too. Who really needed the pikers in Southern California, who only pretended to be powerful, when truly important people—the President! the Vice President! the Democratic leader of the House!—would embrace him?
Even Spacey's success with House of Cards shows how badly he wants to stick it to Hollywood. Though he and showrunner Beau Willimon initially brought the project to network TV executives, each one they approached insisted on a pilot first, something Spacey considered a diversion at best, and demeaning at worst, according to a speech he gave in 2013. "We know what works, and the only thing we don't know is why it's so difficult to find executives with the fortitude, the wisdom, and the balls to do it," he said. To make the show the way he and Willimon wanted it, Spacey turned to Netflix: a movie-streaming company with zero record of producing original content.
Spacey may have worked hard to stop caring what people in Hollywood thought of him, but the opinion of political Washington matters to him intensely. When Neera Tanden, a former administration official who now runs the Center for American Progress, sat with Spacey at a 2012 dinner and asked what he was up to, Spacey told her he was filming a series for Netflix. In Baltimore.
"I tried to hide it from my face, but I was like, 'Oh, my God—what happened to your career? You used to be a big movie guy; now you're making a show for an online—I don't know, movie-reproduction thing,' " Tanden recalls thinking. "I said, 'Oh, that sounds great.' I thought I needed to buck him up."
A couple of years later, Tanden ran into Spacey at a White House Correspondents' Dinner after-party. He hadn't forgotten their conversation and needled her about it. "He was a little bit like, 'You didn't seem that impressed with the show when I told you about it,' " Tanden remembers.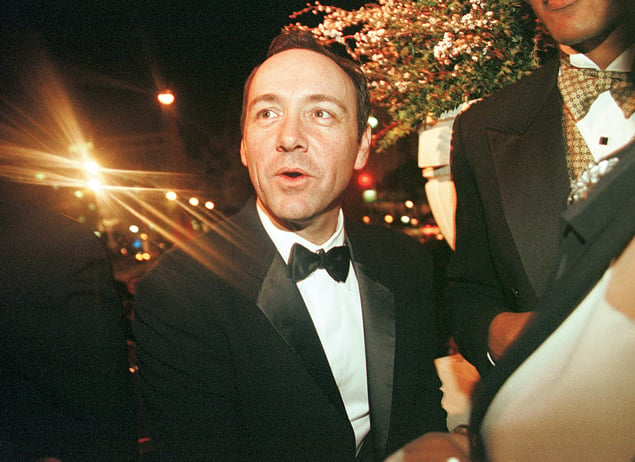 In fact, it would be hard to explain the Spacey Foundation's Washington presence if not for his desire to be loved by the locals. The foundation itself is headquartered in New York—and there are certainly better places than DC to go searching for wealthy benefactors. For that matter, arts education, while exceedingly noble, is hardly so cosmically important an issue that it requires the attention of people who run the country. But if what you want is to show that you command the attention of the most powerful people on the planet, Washington is the place to do it.
The end of Spacey's House of Cards spoof at the 2013 correspondents' dinner—the highest-profile gathering in the world's most influential city—was epically revealing in this regard. "Well, have a wonderful evening, and I'll see all of you at the Bloomberg/Vanity Fair party. That is, those of you who got an invite," Spacey-as-Frank-Underwood joked in the spoof. "Oh, and Mr. President," he added, "welcome to Nerd Prom."
As the C-SPAN cameras panned the audience at the Washington Hilton, there was hardly a straight face in sight. But no one was wearing a bigger smile than Kevin Spacey.
This article appears in our May 2015 issue of Washingtonian.