Washington has beat its crackberry addiction, National Journal reports.
In the publication's new study of the communication habits of "Washington Insiders"–a group it defines as "Capitol Hill staff, private-sector public affairs professionals and federal government executives"–only 23 percent reported using the once-ubiquitous devices. That's down from 58 percent in 2012.
Apple has captured most of those poobahs' pockets: 67 percent reported they use an iPhone, up from 38 percent in 2012. Android use ticked up, but not as much, from 19 percent in 2012 to 27 percent today.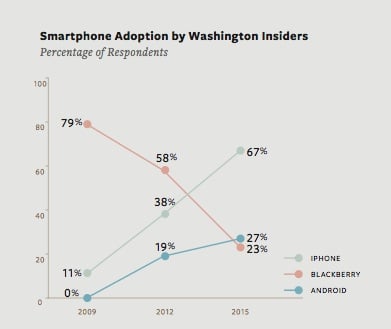 BlackBerry still has a higher penetration among DC insiders than among the rest of the US: Only 1.8 percent of US smartphone users reported using the devices in January. Blackberry's advantage among security-minded federal types eroded as Apple devices gained approval to handle data, Alex Byers reported in 2013.
President Obama was, as of last fall, still a BlackBerry user, and he had to borrow an iPhone to tweet from his new Twitter account Monday. (The White House tested some Android devices last year.)
Capitol Hill staffers were most likely to use iPhones, and had the highest rate of BlackBerry usage, too, National Journal found.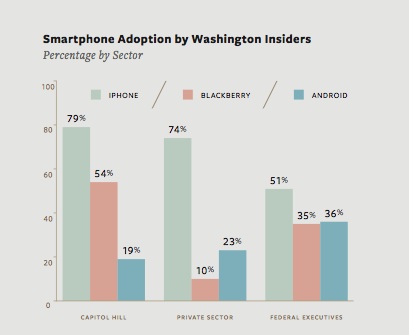 Another interesting finding in the report is that a higher percentage of respondents said they had trust in various sources of information than they did in 2012. Back then, 70 percent said they trusted national news brands; that number rose to 81 percent this year. "It's counterintuitive," National Journal research director Julie Dixon says. The people surveyed "trust each individual source more, but they rely on a greater number of sources."
The people surveyed, the report says, "have largely adopted the mindset of journalists, seeking out and verifying information from a broader variety of sources in order to confidently formulate their own opinions."