If you're inclined to think great saucing is the province of the French or of French-trained American chefs gunning for stars and TV shows, you need to get yourself to Taqueria el Mexicano, the remarkable little joint from Bernardo and Clara Vargas.
Start with the mole poblano ($11.50), a dish many culinarians trace to the state of Puebla, in central Mexico, from which the Vargases hail. Pueblans are passionate about their mole poblano, and it's not hard to understand their fierce and abiding love when you dig into the marvelous version here.
Slice off a piece of tender chicken and swab it through the sauce—thick, brown-black, and dotted with sesame seeds, with a taste as rich and complex as any of the French master sauces. At the same time, it's more idiosyncratic, a sauce that seems to change the way you think about it with each bite: now sweet, now bitter, now spicy, now smoky.
Dark chocolate is the not-so-secret ingredient, giving the dish its identifiable color, but the mysterious character of mole poblano can't be chalked up simply to chocolate; the mix also includes smoky guajillo chilies, fried nuts and raisins, and a larder's worth of toasted, ground spices.
Pride in craftsmanship is evident throughout the small operation. The rice is no afterthought, prepared in the morning and left to sit in a pot all day. The quality of meats and fishes is markedly higher than at most of the taquerias in nearby Little Mexico, and the kitchen takes care not to overcook them. The four salsas pop with heat and tang. Best of all, the corn tortillas are made from scratch with masa harina. Note the coarse-grained texture, which—unlike the flat, unvariegated surface of mass-produced tortillas—doesn't allow sauces to slip through.
The pork adobo ($11.50), a recent special, might have gotten by on the strength of its aromatic, guajillo-based sauce, which has an almost curry-like lushness and will stain your fingers red for hours. But instead of the expected cubes of pork, which might have turned up dry or chewy, out come two fist-size portions of rib meat, tender and rich, like good low-and-slow barbecue.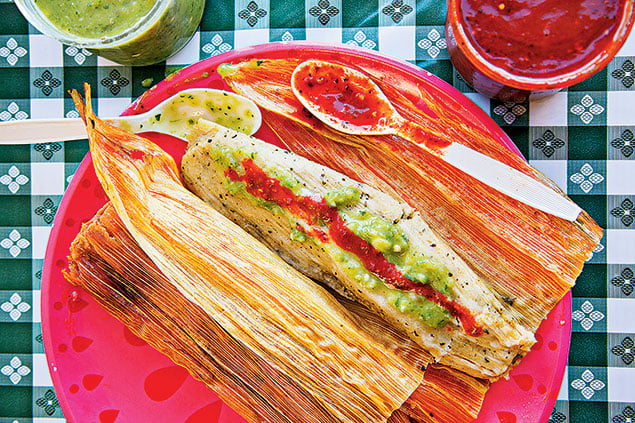 Order the carne asada ($11.50) and the flautas ($7.50) if you must, but the excitement of coming here is in being able to eat with regional specificity, to explore those dishes that speak of a particular place—of central Mexico, of Puebla—and disturb our notions of what constitutes "Mexican food." The posole ($11.50), a hangover-easing stew of pork, hominy, and red peppers, is fabulous, more concentrated and more intense than any other preparation I've tried in the area. The tamales ($2.60 each), too, are like none you'll eat around here, owing partly to the fact that the pounded corn is mixed not just with lard but with a paste made from guajillos and partly to the fact that they're prepared with such skill—the texture is soft and rich, like a warm polenta. Sopes ($6.50) are hard to find in these parts, and most versions aren't worth the calories. These are memorable. Imagine a flatbread made from that same masa harina and topped with, say, braised beef tongue, shredded lettuce and onion, and a thick sprinkle of salty white cheese.
The Vargases also own a bakery two doors down, Panaderia el Mexicano. The pastries and cakes—minimally sweet, in the Mexican manner, and measurably lighter than most European confections—are good and make a fine end to the meal. If, that is, you can find room.
This article appears in our May 2015 issue of Washingtonian.
---