This is one of the first posts from our Best of Washington feature, where we rank the very best people, places, and things to do in Washington. To read the whole list now, grab our July 2015 issue—available on newsstands or purchase the digital edition here—and come back to the website for more stories over the next few weeks.
Don't take our word for what's best. We asked readers to tell us their favorite spots for brunch, burgers, happy hours, day trips, clothing boutiques and more. Here's what you all had to say.
DINING
This Bethesda-born chain, known for its hefty grilled patties, now has locations as far away as Connecticut, Florida, and Kuwait City. Also popular: Five Guys, Shake Shack, Good Stuff Eatery.
Yeah, we haven't found any others this addictive, either. Also popular: BGR the Burger Joint.
Peter Pastan's snug Cathedral Heights pizzeria adheres to strict Neapolitan pie-making standards. Also popular: Pete's New Haven Style Apizza, &Pizza, Ledo, Matchbox.
A former Olympic rower is behind this South American truck, which specializes in strapping sandwiches and empanadas. Also popular: Pepe, Linda's Luncheonette, TaKorean, Dolci Gelati, Red Hook Lobster Pound.
Best New Restaurant: Beefsteak
José Andrés wants you to eat your veggies at this fast-casual DC lunch spot in Foggy Bottom (and soon Dupont Circle), which offers customizable rice, bulgur, and quinoa bowls and a farmers market's worth of toppings. Also popular: Ser, Mason Social, China Chilcano, Rose's Luxury.
Stephen Starr's Francophile bistro does a surprisingly great stack of all-American buttermilk pancakes. Also popular: Founding Farmers, America Eats Tavern, Medium Rare, Ping Pong Dim Sum, Ted's Bulletin.
This Bethesda institution and its newer Dupont sibling boil and bake oversize rounds in flavors like Asiago and banana-nut. Also popular: Bullfrog Bagels, Einstein Bros., Brooklyn Bagel Bakery, Goldberg's New York Bagels.
The Glover Park location of this chicken-and-ribs joint celebrates its 25th anniversary this year. Also popular: Hill Country, DCity Smokehouse, Urban Bar-B-Que.
Thick-cut chops of USDA prime are finished with a serious hit of melted butter. Also popular: Ray's the Steaks, Bourbon Steak, Medium Rare, BLT.
Best Italian: Fiola
Fabio and Maria Trabocchi's sleek midcentury-modern restaurant is one of official Washington's favorite places to power-dine. Also popular: Filomena, Acqua al 2, Graffiato.
This fast-casual chain offers burritos both traditional (mesquite-grilled chicken) and trendy (Korean barbecue). Also popular: Oyamel, El Centro D.F., Lauriol Plaza, Cactus Cantina.
Best Chinese: Meiwah
Families flock to this duo of restaurants—in the West End and Chevy Chase—for shareable plates of orange beef and shrimp with cashews. Also popular: Ping Pong Dim Sum, Great Wall Szechuan House.
Best Vietnamese: Pho 14
These DC soup houses prove that not all the good Vietnamese food is in the burbs. Also popular: Pho 75, Pho Viet, Four Sisters, Huong Viet.
Best Mediterranean: Zaytinya
Turkish, Greek, and Lebanese small plates in a white-on-white Penn Quarter dining room. Also popular: Cava Mezze, Kapnos, Lebanese Taverna.
Philly-style hoagies stuffed with the likes of Italian cold cuts and breaded chicken cutlets. Also popular: Sundevich, G by Mike Isabella, Potbelly, Earl's, Jetties.
DESSERTS
Sure, the cupcake craze seems a bit stale, but we never tire of this Georgetown bakery's confections. We're particularly sweet on the strawberry cupcake. Also popular: Georgetown Cupcake, Sprinkles, Red Velvet.
Locally grown fruits go into the creative, ever-changing—and sometimes boozy—gelato and sorbetto flavors. Also popular: Dolci Gelati, Pitango, Thomas Sweet.
Start with the fried chicken, end with a torched-to-order crème brûlée doughnut. Also popular: Krispy Kreme, District Doughnut, Dunkin' Donuts, Sugar Shack, GBD.
DRINKS
You can let off steam over $5 bao sliders and hibiscus mojitos. Also popular: Flight Wine Bar, DC Reynolds, The Dubliner, Mason Social.
Best Local Beer: DC Brau
The District's first production brewery since 1956 puts out an easy-to-like mix of porters and pale ales. Also popular: Port City, 3 Stars, Right Proper, Atlas.
Selfie alert! The W's roof bar overlooks the White House lawn. Also popular: Roofers Union, DNV at the Donovan, Brixton, The Graham.
Best Winery: RdV
Its Bordeaux blends are some of Virginia's most expensive—and sought-after—wines. Also popular: Paradise Springs, Barrel Oak, the Winery at Bull Run, Breaux Vineyards.
Best Wine Bar: Flight
A wide range of old- and new-world selections by the glass, half bottle, and, yes, flight. Also popular: Vinoteca, Cork, Proof, Barcelona.
Alexandria locals head to this hangout for bone-marrow burgers and a short list of easy-drinking cocktails. Also popular: Flight Wine Bar, Denson, Lost & Found.
Love or hate this international chain, it's become a popular meeting spot. And those Frappuccinos do go down smooth in the summer. Also popular: Northside Social, Baked & Wired, Filter Coffeehouse & Espresso Bar, Tryst.
BEAUTY
Erwin Gomez's West End salon offers a glam setting for facials, massages, waxing, makeup, and hair and nail services. Also popular: Bang, Immortal Beloved, David Rios Salon & Spa, Parlour Salon, PR at Partners.
FITNESS
Heated rooms and an up-tempo soundtrack add an extra level of intensity to CorePower's vinyasa and sculpt classes. In Georgetown, Glover Park, Falls Church, Merrifield, Clarendon, and Bethesda. Also popular: Yoga District, Down Dog Yoga.
At its three locations—Potomac, the Palisades, and Chevy Chase—this studio offers long rosters of classes as well as challenging workouts. A studio in McLean is slated to open this summer. Also popular: Fuel Pilates, Barre3, Solidcore.
Best Cycling Studio: SoulCycle
With studios in the West End and Bethesda, this New York chain has won over spinning devotees with its inspirational slogans and an emphasis on empowerment. Also popular: Zengo Cycle, Flywheel, Biker Barre.
Fans of this chain—it has five locations—like the CrossFit boxes, the friendly staff, and such amenities as a saltwater pool and classy locker room at the Foggy Bottom branch. Also popular: Vida Fitness, Equinox.
Best Place to Get Running Gear: Pacers Running
The knowledgeable staff at the shop watches you run, then chooses shoes to fit your footfall as well as your foot size. The "fun runs" also make this a runaway favorite. Also popular: City Sports, Fleet Feet, Lululemon.
TRANSPORTATION
Best Transportation App: Uber
It launched in DC in 2011—four years later, tens of thousands of Washingtonians hail an Uber ride each week. Also popular: Waze, NextBus.
Best Bus to New York City: Vamoose
Its fares—starting at $20 one way—may be a bit higher than competitors', but fans like the clean buses, friendly drivers, and well-placed power outlets. Also popular: BoltBus, Megabus.
SHOPPING
Best Place for Men's Clothes: Nordstrom
Hickey Freeman suits, Ferragamo shoes, and other apparel for guys who like classic fashion and attentive service. Also popular: Brooks Brothers, Trunk Club, Suitsupply, Sherman Pickey, Saks Fifth Avenue.
Best Place for Women's Clothes: Julia Farr
In her Northwest DC storefront, attorney turned boutique owner Farr stocks polished pieces that hit the sophisticated-yet-simple aesthetic Washington women are so fond of. Also popular: Violet Boutique, Nordstrom, Bloomingdale's, Zara.
These two longtime family businesses—which tied for first place—dazzle Washingtonian readers with their top-notch service (including repairs) and their top-quality selections (particularly engagement rings). Also popular: Mervis Diamond Importers, Tiffany & Co., I. Gorman.
This Georgetown shop stocks sweetly stylish kids' clothes from high-end labels such as Fendi, Versace, and Cavalli, for newborns through size 8. Also popular: Nordstrom, Dawn Price Baby, Gap, Bloomingdale's.
Some 2,000 square feet in Old Town Alexandria with gently used clothing, shoes, and accessories, conveniently sorted by size, then color. Also popular: Ella-Rue, Current Boutique, Secondi, Buffalo Exchange.
Twenty different book clubs and a smart staff keep readers coming back to this 31-year-old bookseller in Northwest DC. Also popular: Kramerbooks, Barnes & Noble, Capitol Hill Books.
PETS
Pups—and their owners—love this sprawling, laid-back park with a creek for doggy-paddling. Also popular: S Street dog park, Shaw dog park.
GETAWAYS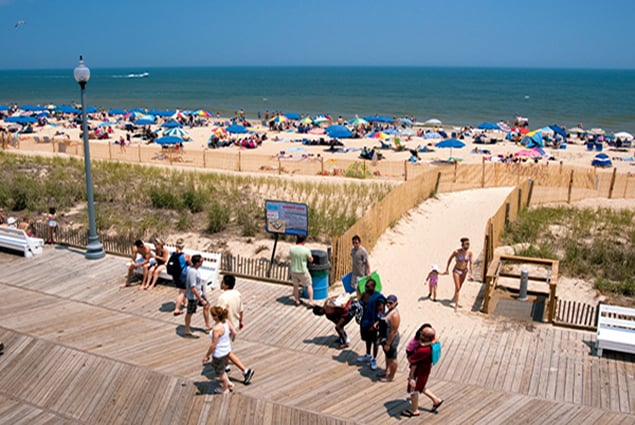 Waterside restaurants, boat excursions, and interesting old shops make Maryland's capital the place to while away a summer day. (See page 190 for a day's itinerary.) Also popular: Virginia winetasting, Shenandoah National Park, Middleburg, Baltimore, Harpers Ferry, George Washington's Mount Vernon.
Best Beach You Can Drive to: Rehoboth
Perhaps no other place in the region says summer like this classic boardwalk town. Also popular: Bethany Beach, Ocean City.
BEST LOCAL PERSONALITIES
Best Local Athlete: Alex Ovechkin
The Caps may have blown a 3-1 playoff series lead (again) to the Rangers, but the Great 8 is still a fan favorite. Also popular: Wizards point guard John Wall, Nats outfielder Bryce Harper, Olympic gold-medal swimmer Katie Ledecky, the Nats' Jayson Werth and Ryan Zimmerman.
Best Local TV/Radio Personality: Jim Vance
The bad news: He recently retired from WRC's 11 pm broadcast after more than 40 years in that slot. The good news: He's still on at 6, and Washington loves him. Also popular: 94.7 FM's Tommy McFly, Kane of The Kane Show on 99.5 FM, DC101 shock jock Elliot Segal, WRC-TV anchor Doreen Gentzler.
This article appears in our July 2015 issue of Washingtonian.