While the July 4th fireworks are Saturday's main event, you'll want to eat and drink well before the 9:15 show. Any popular watch spot will be crowded—particularly heavily touristed areas. Here are a few ideas for tasty stops in several of the most popular destinations, including tips for avoiding the crush. For a list of brunches, barbecues, and organized events, check out our July 4th Dining and Drinking Guide.
The Georgetown Waterfront/Key Bridge
Combine a popular tourist neighborhood with July 4th fireworks and you guarantee one thing: crowds. Unless you have particularly sharp elbows—or snagged a reservation at Fiola Mare—we wouldn't fight for table on the waterfront or main M Street drag.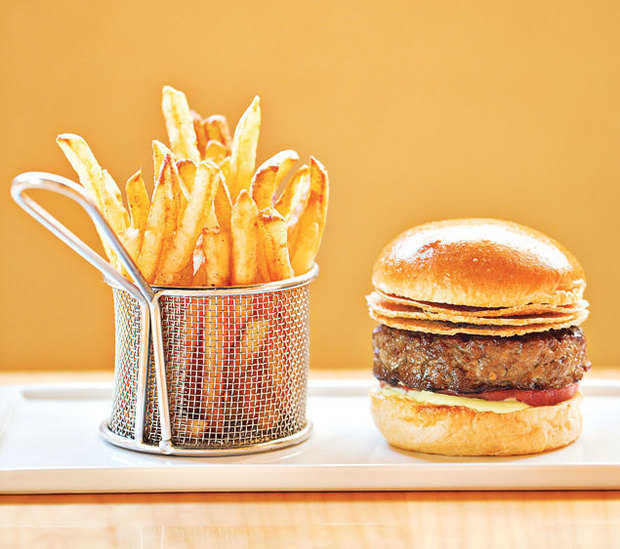 The National Mall
The National Park Service always advises bringing food and water (alcohol is a no-no), and you'll need it once you've found a prime watch spot. Otherwise fill up on food and drinks in neighborhoods close to the Mall like Foggy Bottom on the Lincoln Memorial side, or Penn Quarter and Capitol Hill on the opposite end.
The National Cathedral
3101 Wisconsin Ave., NW
Spectators can catch the fireworks from the Cathedral's lawn and parking lot. The crowd gears more local than others downtown, but the restaurant/bar options are fewer—prepare to fight neighbors for tables.
The little restaurant row on nearby Macomb Street includes great options like 2 Amys (Neapolitan pizza), La Piquette (cozy French), and Cactus Cantina (cheesy Mexican). Be warned these eateries are crowded on an average weekend, so there's no telling what a July 4th Saturday will look like.
For a quick-grab option, Jetties sandwich shop on Macomb Street is a great option for a picnic to bring over to the Cathedral. Grab a Thanksgiving-style Nobadeer sandwich and cheers America, and don't forget a cupcake for dessert from sister bakeshop Something Sweet.

Cardozo High School and Meridian Hill Park
1200 Clifton St., NW; 2500 16th St., NW
This is one of the richest areas for dining and drinking options before and after the fireworks—U Street, 14th Street, and Columbia Heights are all in close proximity.
For a quick-grab option, go for tacos. Tacos El Chilango whips up simple, tasty Mexican tacos, guacamole, and cervezas. A small back patio is the place to be if the weather is nice. Pica Taco is another option for no-frills tacos, burritos, and quesadillas.
Start further away from the crowded areas at Thip Khao (about a 20 minute walk and eight minute cab from Cardozo). The mouth-searing Laotian fare creates fireworks before the real show starts.
For something closer, check out the G sandwich/Kapnos duo. The latter has a fairly large bar area if all the tables are taken, while the adjoining shop packs sandwich picnic boxes until 5, and serves a la carte Italian after.
McKinley Technology High School
151 T St., NE
The vantage point from McKinley in DC's Eckington neighborhood is as good as Cardozo, minus the raucous U Street crowds after—though you'e not far, so joining the revelry is an option. Nearby Bloomingdale and Shaw also offer good options for eating and drinking.
Short on time? Drop into DCity Smokehouse for some of the city's best barbecue. Pulled pork or brisket sandwiches make for tasty takeout, or you can grab a stool in the shop.
The Pub & the People just a block away offers tasty gastropub fare and a casual-hip vibe.
Check out Bloomingdale's concentrated restaurant/bar area about a 10 minute walk away, with the Red Hen (destination-worthy Italian), Boundary Stone (neighborhood gastropub), El Camino (low-key Mexican), and more.