This post has been updated.

On Thursday, The Royal DC, a coffee shop in Le Droit Park, tweeted, and quickly deleted, this: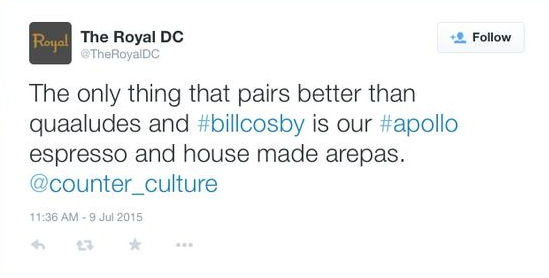 Here's what it was met with:


Reached by phone, a manager of The Royal DC initially had no idea the tweet was published. "I had no idea what you're talking about," she said, "I don't know anything about this. And now I am going to find out."
The Associated Press reported monday that Bill Cosby admitted to getting prescription quaaludes to give to women he wanted to sleep with. When asked if Cosby gave the women the drugs without their knowledge, his attorney told him not to answer the question.
Several women have even alleged Cosby put the quaaludes in soft drinks, wine, and, ahem, cappuccinos.
The Royal DC has since issued an apology via Twitter, along with a formal public apology: "We are a family-run business, proud to be a member and supporter of the community, and the tweet is completely out of line with who we are, the values that we hold and the culture we want to foster and promote. We strive to help build a safe and inclusive community for everyone and we have no tolerance for anything less than that. The tweet was offensive, insensitive and the staff member has been terminated. We want to assure our guests and neighbors that The Royal is a safe and respectful place."
This post has been updated to include The Royal DC's formal apology, sent to Washingtonian from owner Paul Carlson last night.