Right off of Rockville Pike, a half-mile walk from a Red Line Metro stop, one of America's greatest writers lies in eternal rest.
But while The Great Gatsby is still required reading in many local school districts, some area residents may be surprised to learn its author is buried, along with his famed wife Zelda, in a small Catholic cemetery in suburban Maryland.
F. Scott Fitzgerald helped define the 1920s and America's Jazz Age and is thus more commonly associated with New York City, Paris, and Long Island, where his character Jay Gatsby lived. But Fitzgerald's family had roots in the DC area. His grandparents lived right outside of modern-day Rockville, where they owned the small "Glenmary" farm. Fitzgerald's father, Edward, was born on that small farm in 1853. Fitzgerald would later reminisce about the stories his father would tell him about helping Confederate spies during the Civil War. Edward moved west to Saint Paul, Minnesota, in the 1870s, but returned home when he was buried in his family's plot in a Catholic cemetery in Rockville.
Soon after arriving in Saint Paul, Edward met Mary "Mollie" McQuillan, and they married. In 1896, Francis Scott Key Fitzgerald was born. Naming him as such wasn't simply a show of respect to the man who wrote "The Star-Spangled Banner," but also a way to honor a family member. Francis Scott Key was actually F. Scott Fitzgerald's distant cousin, though Fitzgerald always referred to him as his "great-great uncle."
Fitzgerald married Zelda Sayer in 1920, the same year that his first novel, This Side of Paradise, was published. The earnings from that and his side gig writing short stories for magazines supplemented the opulent New York lifestyle that the young couple had adopted. While The Great Gatsby is considered today to be Fitzgerald's opus, when it was published in 1925, it was lightly regarded and actually underperformed commercial expectations. It was only later that the novel that epitomized the Roaring 20s and cast a harsh light on the American Dream would get its due.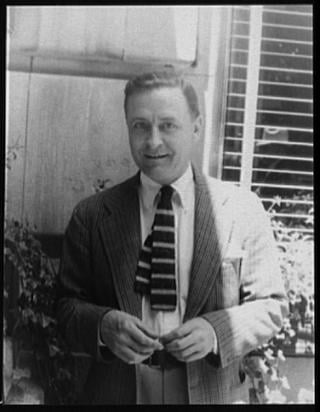 As the 1920s came to a close, so did the happy life of Zelda and F. Scott Fitzgerald. Zelda began to show signs of significant mental illness in the late 1920s and for the rest of her life, she would be in and out of hospitals. Always a hard partier, Fitzgerald became dependent on alcohol and suffered through bouts of depression. Although still married to Zelda, Fitzgerald had numerous affairs and romances as she suffered through mental illness. After Gatsby, he would only write one more completed novel—1934's Tender is the Night. In 1937, he moved to Hollywood to try to make it as a screenwriter, thinking of himself as a sell-out and failure.
On December 21, 1940, Hollywood gossip columnist Sheilah Graham found F. Scott Fitzgerald dead in their shared apartment. He had suffered a fatal heart attack at 44. While he had left no real instructions on where to be buried, he did note in his will that he wished to have "the cheapest funeral" possible.
Three thousand miles away, Zelda was living at Highland Hospital in Asheville, North Carolina, a sanatorium for the rich and famous attempting to recover from their ills. Despite the married couple's troubles and, by that point, infrequent communication, she knew that Fitzgerald wished to be buried in his family plot in the Catholic cemetery in Rockville. So, she instructed those in care of his body to send him back east. There was one problem with that, though: Fitzgerald's tenuous relationship to the Catholic faith.
When Fitzgerald arrived to the cemetery, the church that owned the cemetery at the time refused his burial. According to witnesses, it was because he had not fulfilled his "Easter duties" and was "unfit to be buried alongside good Catholics in consecrated ground." Fitzgerald's hard-living reputation had followed him to his grave. Instead, Zelda paid for him to be buried a mile down the road in Rockville Cemetery. In 1948, Zelda joined him when she died tragically in a fire at Highland. She was buried on top of him because Zelda had only bought one space. That's where they sat for 27 years.
In 1975, members of the Rockville Women's Club noticed the Fitzgeralds' grave was crumbling and deteriorating. Talking with family members revealed that the Fitzgeralds should have been buried down the road. The case was taken to the Archbishop of Washington, William Baum, who immediately gave his blessing to allow the Fitzgerald's to be reburied at St. Mary's Church Cemetery. In a statement, he said that Fitzgerald was "an artist who was able with lucidity and poetic imagination to portray the struggle between grace and death . . . His characters are involved in this great drama, seeking God and seeking grace."
Today, Zelda and F. Scott Fitzgerald lie together in eternal peace at the now-called St.Mary's Church Historic Cemetery in Rockville, Maryland. Written on their gravestone is the last line from The Great Gatsby: "So we beat on, boats against the current, borne back ceaselessly into the past."
Matt Blitz is the head of the Obscura Society D.C., the real-world exploration arm of Atlas Obscura. He writes about discovering the world's mysteries for Smithsonian Magazine, Atlas Obscura and Washingtonian.