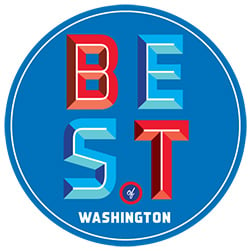 A Georgetown bakery might be the last spot you'd expect to find wounded veterans, but that's what the staff is mostly composed of at Dog Tag Bakery. Founders Rick Curry and Connie Milstein—he's a priest, she's an entrepreneur and philanthropist—opened the storefront in December. Their mission? To prepare disabled vets for gainful employment in civilian life. The work/study arrangement goes beyond baking and packing orders—Dog Tag Inc. fellows participate in a service-to-civilian transitional program, which includes earning a business-administration certificate at Georgetown University's School of Continuing Studies. The goal is to harness and feed their entrepreneurial spirit while providing a safe space to readjust to civilian life. And the cinnamon buns ain't bad, either.
3206 Grace St., NW; 202-527-9388.
This article appears in our July 2015 issue of Washingtonian.