What can I say about Silence! The Musical? No, really. Which of the raucous, racy jokes, the shockingly sexual physical gags or bawdy snort-inducing songs could I possibly describe in appropriate detail without having my hand slapped by my editor? The infamous off-Broadway musical, now playing at Studio Theatre's 2ndStage through August 9, makes The Rocky Horror Picture Show look like PBS Kids.
Director Alan Paul doesn't make apologies or tone down the hilariously appalling script for a Washington audience—and that's what makes the production so successful. Likewise, the talented cast never shows a moment of hesitation or discomfort that might leave the audience twisting uncomfortably in their seats. Like a master class in leaving humility at the door, the actors deliver filthy lines and evocative gestures, have their faces photo-shopped gratuitously onto ghastly explicit sexual images, and even display full frontal nudity without batting an eye.
From the minute you walk in to the room Silence! is an experience. Staged cabaret-style, the audience sits at intimate four-top tables adorned with dimmed black and red zebra lamps. Soft lounge music can be heard just over the din of the crowd.
Framed stills from the 1991 Academy Award-winning movie Silence of the Lambs—on which the musical is based—line the walls to jog memories of key plot moments. The shadowy bar serves cringe-worthy cocktails like the "Hannibal Nectar" and "Lotion in a Basket."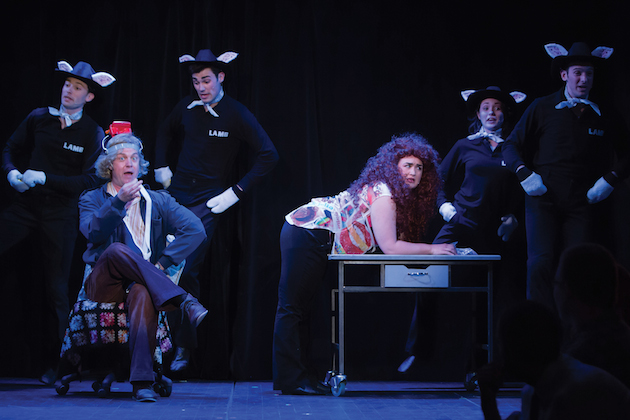 The show begins quite chastely, with a chorus of coquettish lambs. But the real action commences when Clarice Starling (Laura Jordan), the young FBI trainee, makes the long walk down the cellblock (a low catwalk that extends from the stage out into the audience) for her first meeting with serial killer Hannibal Lecter (Tally Sessions). Inmates lurking in the shadowy spaces between the audience's tables spit sexual slurs, inspiring Hannibal's first ballad, "If I Could Smell Her C–t." Coarse lyrics aside, Tally's rendition is jaw-droppingly gorgeous, clearly showcasing his Broadway chops.
Jordan, also a Broadway veteran (and who played Clarice in Silence! off-Broadway), speaks and sings through a thick Jody Foster twang that, while charming, sometimes muddles her musicality. However, her infectious energy, wacky face contortions, and physical comedy—all played straight for the audience—keep you drawn to her throughout the show.
Tom Story, who rounds out the trifecta, slays the audience as serial-killer-turned-skin-seamstress Buffalo Bill. His every move drips with the kind of creepy lasciviousness that makes you want to cross a street or lock your car doors at a stop light. He seems to be having a ball on stage, injecting the show with a ferociously giddy energy.
DC actor John Patrick Loughney (a young Steve Carell look-a-like) slid effortlessly among several roles including the humorless FBI Director Jack Crawford and Starling's dead father (complete with West Virginian accent and familial lisp), who dropped in from heaven throughout the show. Awa Sal Secka, another local with a serious set of pipes, delivered a brashy Aretha-worthy soul anthem as Ardelia.
There were some moments of uncomfortable silence in the show. Some jokes fell flat, either because they just weren't funny or the audience couldn't keep up. On a few occasions, the actors gave a little nudge-wink to make sure the audience didn't miss the really filthy bits. Following a particularly off-color joke regarding the shade of a dead girls' nail polish, Jordan announced, "I'm just going to wait until that one sinks in."
A few seconds later, she was rewarded with gasps of horror and guilty laughter.
Now playing through August 9 at Studio Theater's Second Stage. $20 to $50; 202-332-3300; www.studiotheatre.org.