Victor Hoskins, DC's former deputy mayor for planning and economic development, hopped across the Potomac to Arlington earlier this year to become the county's director of economic development. Arlington, which Washingtonian recently diagnosed with an identity crisis, could use a boost. And in an interview with the Washington Post published Wednesday, Hoskins proposed a solution:
"Everything is changing, and we have to change with it or we go down," Hoskins said. "The natural positioning for Arlington now is sort of like Brooklyn to New York, Bellevue to Seattle, Silicon Valley to San Francisco. We need to realize it, grip it, grab hold of it."
Whoa! Is Arlington going to suddenly fill up with fixed-gear bicycles, vegan beard-grooming products, sea-to-table fish smokeries, and limited-run doughnut shops? (And, if so, please email us; we love to get the early drop on that kind of stuff.) But seriously, if Hoskins is trying to play up Arlington's outer-boroughism, he's a bit late to the party. There's a long tradition of various parts of Washington being declared the regional equivalent of Brooklyn and its charming neighborhoods. Here's a brief history:
1889
Source: Washington Post advertisement
"Brooklyn": Rosslyn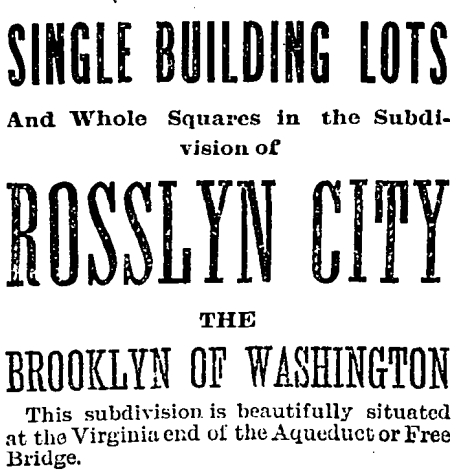 Via the Ghosts of DC blog, developers have been promising Brooklyn levels of cool for at least 116 years.
The "Washington-as-Brooklyn" trope then takes a long pause until 2012, when it resurfaces with a fury.
September 28, 2012
Source: Washingtonian
"Brooklyn": Washington
Introducing an interview with Marc Ratner, CEO of the development firm Streetsense, Carol Ross Joynt wrote: "Brooklyn and Washington are where the style and tone of the new century are emerging in how we eat out, how we shop, and how we choose a place to call home."
January 10, 2013
Source: New York Times Magazine
"Brooklyn": Logan Circle
In the lede of her "Washington-as-boomtown" story, Annie Lowrey took a look at the developer Jim Abdo's office: "It looked like a Brooklyn design studio or a Silicon Valley start-up, or at least how those offices might look in a Nancy Meyers movie."
September 15, 2013
Source: Washington Post
"Brooklyn": Shaw
"Bicycling around the neighborhood, you see all these construction cranes, houses that look like Brooklyn, a vibe of small entrepreneurs," said Hugh McIntosh, who oversaw the DC extension of the Brooklyn Flea. It closed in May 2014 because there were not enough small entreprenuers to sustain it.
November 1, 2013
Source: Andrew Sullivan
"Brooklyn": Washington
The famously prickly blogger briefly tried relocating his operations to New York, but moved home because New York was just a little too much for him. "I miss the oases of quiet and the energy of a new emerging city that is both a second Brooklyn and a global hub of media and politics," he wrote.
November 25, 2013
Source: Washington Post
"Brooklyn": Brookland
"Call it the Brooklynization of Brookland," Robert Samuels wrote of the resurgent Northeast DC neighborhood's "yarn-bombing" craze.
December 30, 2013
Source: Washingtonian
"Brooklyn": Silver Spring
"But elsewhere, the arrival of hipsters has snowballed, with young people pushing into and transforming more neighborhoods," Mary Clare Glover wrote in an article about Washington's many suddenly cool neighborhoods. "A banner announcing the summer 2014 opening of Denizens Brewing Co. recently went up in downtown Silver Spring. The next Brooklyn?"
January 29, 2014
Source: Gawker
"Brooklyn": H St., Northeast (as Williamsburg), and Petworth (as Bushwick)
Fed up with a country full of places comparing themselves to Brooklyn's trendiest neighborhoods, future (and now former) site lead Max Read polled Gawker readers to name their city's closest approximations.
February 11, 2014
Source: Washington City Paper
"Brooklyn": Ivy City
"He hopes that they'll be able to create a new 'entrepreneurial middle class in the food system,' " Jessica Sidman wrote of Union Kitchen founder Jonas Singer's ambitions for the culinary-development concern. "Brooklyn, watch out."
July 18, 2014
Source: DCist
"Brooklyn": Either downtown DC or Northern Virginia
A quote supplied to the popular "Overheard in DC" feature reports one Yellow Line passenger telling another, as their train crosses the Charles R. Fenwick Bridge, "It's like the Brooklyn of DC."
July 25, 2015
Source: Thrillist
"Brooklyn": NoMa
"There's a whole tab just for pop-ups!" Thrillist writers Kristin Hunt and Lee Breslouer shriek about the website operated by the relatively new neighborhood's business improvement district. "The neighborhood is so friendly to bikers, it has seven bike-sharing stations, the East Coast's only Bikestation, and free bike pumps in three locations. The free outdoor Wi-Fi ensures that you can post all the brunch Instagrams your heart desires—and NoMa Summer Screen ensures you can enjoy food truck eats all while watching Bollywood flicks in the fresh air."
But anyone who's been to NoMa knows that the Bikestation is at Union Station (firmly on Capitol Hill), that there are few brunch Instagrams to be found in the immediate vicinity, and that other neighborhoods have far greater densities of Capital Bikeshare stations. Also, NoMa wasn't even called that until the last decade, when developers started building apartments and office towers around a new Metro station. This isn't DC's Brooklyn, it's Riverside South.
July 29, 2015
Source: Washington Post
"Brooklyn": Arlington
"The natural positioning for Arlington now is sort of like Brooklyn to New York, Bellevue to Seattle, Silicon Valley to San Francisco," Victor Hoskins told Patricia Sullivan. "We need to realize it, grip it, grab hold of it"
April 19, 2016
Source: New York Times
"Brooklyn": Crystal City
"Think Brooklyn and Manhattan," Mitchell N. Schear, president of Vornado/Charles E. Smith, told the Times about his company's mission to repurpose its many high-rise properties in the—wait for it—"Arlington County enclave" with startup incubators, shared working spaces, bars, and tapas restaurants.
"Now I hear millennials and people of all ages saying Crystal City is so cool," adds Angela Fox, president and chief executive of the Crystal City Business Improvement District.
***
Sometimes, though, a part of Washington gets upgraded from the bridge-and-tunnel zone. A magazine published in August 2010 by the Rosslyn Business Improvement District claimed that the business-heavy neighborhood was "Manhattan on the Potomac." TBD.com Editor Erik Wemple took notice, and put the promotional glossy in his much-vaunted "Fuego" column.
But what of the inverse of "DC-as-Brooklyn"? That actually happened last week in Park Slope, when the firms behind a proposed redevelopment of a historic movie house into a mixed-use project with five stories of condominiums presented their plans to a community meeting. One resident disgusted by the plans compared renderings to "something you'd see in Washington, DC." Gothamist (which owns DCist and used to pay me to shrug off comparisons between Washington and Brooklyn) called the critique a "crushing insult."