Meet four-year-old Athens. This social cat loves snuggling and being near his people. He really enjoys playtime, as you can see in this video clip. Athens is FIV positive so he can live as a single cat or share his home with dogs or other FIV-positive felines. Athens would make a great buddy— to meet him, contact the Washington Animal Rescue League at adopt@warl.org or stop by the shelter.
At 12 pounds, three-year-old Camden has the size of a Chihuahua, and the markings and bearing of a Catahoula. This smart, curious boy is fostering in a home with kids, other dogs, and a cat, and getting along with everyone. He's a little shy at first, as many rescue dogs are, but he warms up with a bit of comforting. Scratch him behind the ears and he'll be your best buddy in no time at all. His previous owners neglected him badly, so he's going through heartworm treatment now, but he's doing well and will flourish even more once treatment is finished. Camden would do very well with a family that will help him improve his budding socialization skills while giving him all the affection he needs to keep gaining confidence. Meet him through K-9 Lifesavers.
Ashton is a sweet Catahoula who came to DC from a high-kill shelter down south. He's four years old and almost at a healthy weight of 85 pounds. He's loving, loyal, friendly, and smart. He's a happy dog, and you'll never catch him without the classic Catahoula grin on his face. He's very well socialized, has learned all the basic commands, and is ready to start learning more advanced skills. Nothing makes a Catahoula happier than learning new things with his people and going for walks. An active family will have a great time with Ashton. Meet him through K-9 Lifesavers.
Shelly is a gorgeous hound-mix, about three years old and 45-50 pounds. She gets along well with other dogs. Shelly is currently working through separation anxiety with her foster and will do best in a home where her family doesn't leave her often, or can bring her to doggy daycare while they're gone. She is crate-trained and likes to be in her crate-especially with a Kong or bone.She loves to spend time outside sniffing and exploring. Shelly will need a family who will help her work through her separation anxieties. From Shelly's foster family: "Shelly has really started to open up and she is incredibly playful. She's a sweet, friendly, playful dog. She loves tearing apart stuffed squeaky toys, playing with other dogs, and chasing squirrels and birds. She also likes to go after cats, so I'm skeptical of her ability to coexist nicely with a cat. She's also picked up basic training well and is pretty well-behaved. She knows all the basic commands. We house-trained her as well but are finding that she needs to be watched when in new spaces (just for a day or so). She does bark and get anxious if one of us leaves." To find out more about Shelly, please visit the Rural Dog Rescue website.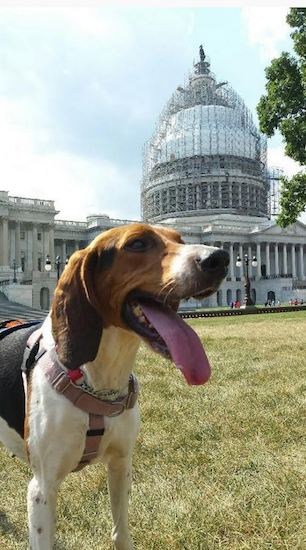 Lil Girl was surrendered by her owners when they could no longer care for her. She was scared and confused at the shelter but now she is safe and can't wait to find her forever home in the DC area. Lil Girl is shy, and while she likes other dogs and people she meet on walks, she prefers to be inside in her corner or on a comfortable dog bed. She sleeps through the night and does not have to be crated. So far, she has not had any accidents in her foster home. She's very sweet but not interested in toys. However, she may get more playful once she's more settled. She walks well on a leash and had no trouble acclimating to the elevator in her foster's building. To find out more about Lil Girl, please visit the Rural Dog Rescue website.