In the middle of the best summer of his tennis career, Denis Kudla is frustrated.
Despite a breakthrough at Wimbledon by reaching the round of 16 and reaching the semifinals of an ATP World Tour event in Atlanta last month, the 22-year-old isn't satisfied, especially after a three-set loss to Slovenian Blaž Rola on Tuesday at the Citi Open.
Since turning pro in 2008, the Arlington native has played his hometown tournament five times. He has yet to win a match.
"It sucks," Kudla, sporting a black Washington Nationals cap, says after his latest defeat. "This city has been behind me for a long time. I love playing here, but again, the results aren't all there."
Kudla first played the qualifying rounds of the tournament in 2009 and 2010, before receiving main draw wildcards in 2011 and 2013. But he missed last year's tournament with a severe case of mononucleosis that kept him off the court for almost three months, a spell that dropped him to a ranking of No. 150 as recently as April.
"It was a pretty scary thing for me," he says. "It ends some guys careers. I was watching this on TV. It was hard not to play this tournament."
Kudla is currently ranked a career-high No. 79, which earned him another wildcard berth into the Citi Open. Qualifying for tournaments like the Citi Open is a harsh reality for Kudla, who exists in tennis limbo. Seven years into his pro career, Kudla is no longer a young prospect, but his ranking still isn't high enough to get him into many tournaments automatically. Because of that, tournament directors have little incentive to grant Kudla opportunities to compete.
"I've had to earn a lot of the stuff that I've done in this sport," he says. "Maybe it puts a little chip on my shoulder sometimes and I think I've used it more as motivation than something to get me down."
Further, Kudla, who is listed at a generous five-feet-11-inches, doesn't have the flashy, big-serving game that typically excites crowds. That doesn't mean he can't provide some on-court fireworks.
Following a rain delay after just a handful of games in the third set of his match against Rola, Kudla found himself in a jam. Serving at 3-4 and facing a break point, the powerful, six-foot-four-inch Rola pushed Kudla side-to-side. Rola rocketed an approach shot deep to Kudla's backhand side, but Kudla crushed a two-handed winner, prompting a raucous ovation from the DC crowd. Sensing the shift in momentum, Kudla raised both arms to the sky, urging the crowd to get louder.
Kudla's first-round exit at a French Open qualifier in May prompted him to change up his regime. After years with the United States Tennis Association, Kudla parted ways with the organization and hired Billy Heiser. The results were immediate: Kudla's record is 17-4 in qualifying and main draw matches on the ATP World and Challenger tours since he made the change.
"He has kind of just delivered the message in a different way that my mind kind of processes the right way and has allowed me to play with a clear mind on the court," Kudla says of Heiser. "It really hasn't touched my tennis. It's been more about my mind and controlling what I can control."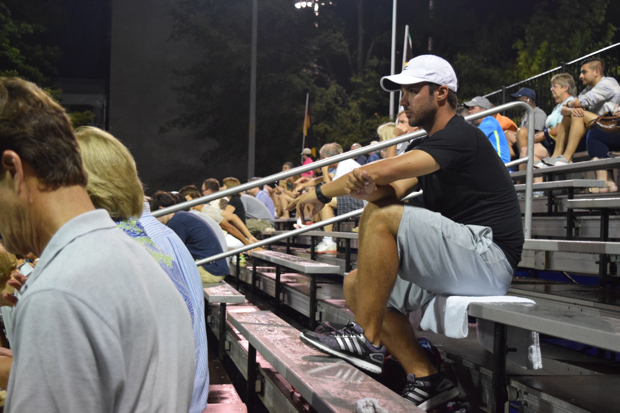 Heiser yells simple, repetitive messages to Kudla during matches. With Kudla facing match points at 1-6 in a third-set tiebreaker, Heiser reminded his player to focus on "one point at a time." Kudla came back to win four straight points to get to 5-6, before Rola put the match away.
For many younger players, repeating positive results and maintaining a consistently high level of play can be a challenge. A sudden surge in the rankings (Kudla has gone up 60 spots since early June) can leave a player unprepared for a higher caliber of opponents.
Losses like Tuesday night's are constant reminders of the unstable nature of professional tennis at Kudla's level. In early 2015, for example, Rola reached a career-high ranking of No. 78, only to drop all the way to No. 124 heading into the Citi Open.
On paper, the loss was an upset. But it's a loss on which Kudla can't afford to dwell.
But Kudla's journey to gain more respect and qualify for the top-tier pro tournaments continues. He'll go to Montreal and Cincinnati later this month to try to get in two of the hard-court season's biggest events ahead of the US Open in September.
"It's really disappointing to lose in DC," he says looking toward the finish of his otherwise superb summer. "I just got to move forward and know that I'm still playing pretty well."