Our Washingtonian Recommends lists bring you the best places to eat, drink, and be entertained—all selected by Washingtonian editors.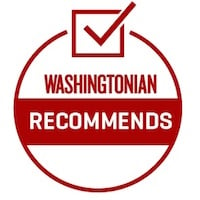 This cash-only dim sum parlor isn't exactly leisurely—instead of choosing dishes from rolling carts, you order them off a checklist, and the servers work the room briskly—but few places deliver such great bang for your buck. Come ready to load up on the starchy stuff: a hearty bowl of noodles tangled with ground pork and bean paste, sesame-sprinkled biscuits, and thousand layer pancakes.
2) Cava Mezze
The original location of this Greek-themed local chain looks like it was transported from the old country and plunked down in outer Rockville. At lunch, you can score three mezze for $15—the lineup includes the excellent, jalapeño-flecked feta dip and skewers of grilled meatballs—or get souvlaki and gyros in slider form.
3) China Bistro
This humble dining room is one of our favorite Chinese spots in the region—a perennial on our annual Cheap Eats list. The part of the menu to hone in on is the dumpling section. They're handmade and come by the dozen, and while there isn't a filled bundle we don't like, we're especially fond of the shrimp-and-chive and beef-and-celery varieties.
If you're looking for takeout, the Rockville Town Square branch of this Richmond-based grocery store has one of the better prepared foods sections we've come across. We go for the fresh crab cakes, creamy slaw, and roasted artichokes. The place focuses on locally made products, and the cheese and beer cases offer plenty of reasons for Marylanders to be proud.
5) Spice Xing
Sudhir Seth—who also owns Bethesda's beloved Passage to India—is behind this color-drenched Rockville Town Square dining room. During the week, a lunch buffet runs $10.95 per person (it's $14.95 on weekends) and is laden with salads, curries, tandoori meats, chutneys, and warm breads.