Mike Elk, who had an unusual tenure as a Politico labor reporter, may soon leave the publication. "I don't know what's going on," Elk tells Washingtonian. Last week, he says, he had what he felt would be a "very adversarial conversation" with Politico Pro editor Marty Kady, and says he invoked his Weingarten rights, which allow an employee union representation during interviews. "The publication has not given any information to the union," Elk says. "We know nothing right now." Reached by phone, Kady could not comment. Elk is no longer listed on Politico Pro's masthead. After this story published, the Huffington Post also reported Elk appeared to be on his way out.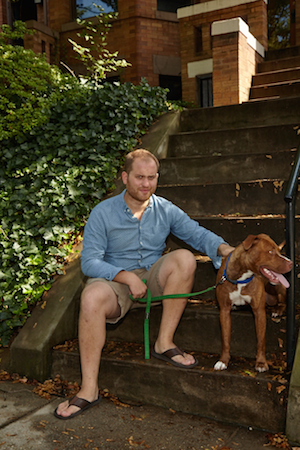 Politico employees do not have a union, but that's not for lack of trying on Elk's part. He started a drive to organize Politico's newsroom earlier this year. Since that began, he'd racked up barely any bylines, an unusual situation at a publication where many journalists file multiple stories a day. Some in the newsroom thought management couldn't touch him since he started the union drive. But in an interview with Washingtonian last month he said he was an at-will employee and didn't have any sort of employment contract that would make it tough for Politico to cut ties with him.
Late last month, Elk covered a Bernie Sanders campaign event and asked the Vermont senator and presidential candidate whether he thought Politico should make it easier for its staffers to organize. (Sanders said yes.) Not long afterward, my screen lit up with instant messages from some of Elk's mortified coworkers. Some were actually open to joining a union. Soliciting public solidarity from a candidate they were supposed to be covering? Not so much.
Elk, 29, doesn't just cover labor—he's a true believer. Growing up in Pittsburgh, he assumed he'd end up as an organizer like his father, Gene, a longtime representative for United Electrical, Radio & Machine Workers of America, but in college he became interested in journalism. In 2010, after working briefly for a progressive think tank, Elk joined the left-wing monthly In These Times. When he was laid off last June because a grant ended, Elk started a GoFundMe campaign to continue his reporting about a union drive at a Chattanooga Volkswagen plant.
Then in September, to his surprise, Politico hired him.
Elk's principles have made him a curiosity among the strivers of the Washington press. Upon landing at Politico, he asked to work from home, claiming that secondary traumatic stress—resulting from the suicide of a story subject—made office work difficult. "I was getting overstimulated looking at the TVs in the newsroom," he told me.
His attempts to organize the newsroom won far more attention than his writing. In October, he'll convene a conference in Louisville where he and other organizers will issue statements of principles about reporters in the digital age. (For instance, Elk suggests they should be able to work 40-hour weeks.)
Earlier in July, Elk told me Politico has a "culture of fear." But later that month, he told me he had come to some accommodation with his employer. (I sought comment from Politico management multiple times but have got nothing on the record.) He said the publication has agreed to pay for a psychiatrist from Walter Reed to help with his stress, and that when Politico moved offices, he got a quiet desk near a window, which he found more salubrious. He also said his story drought was ending and called his tussles with Politico merely a "little bit of turbulence as the airplane's going up."