Veterinarians detected what appears to be a fetus during an ultrasound examination of giant panda Mei Xiang at Smithsonian's National Zoo Wednesday.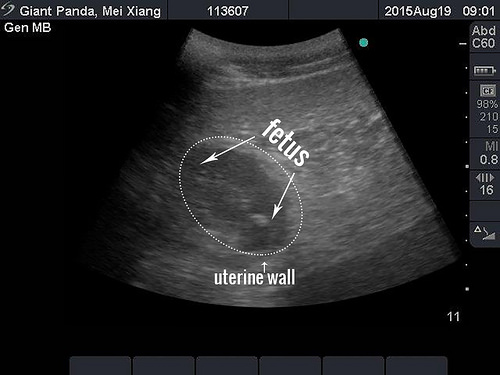 Mei Xiang could deliver "early next week, or possibly in early September," the zoo says in a press release, adding: "There is a substantial possibility that Mei Xiang could resorb or miscarry a fetus."
Panda fetuses are very small and difficult to detect via ultrasound. This fetus is about 4 centimeters long, the zoo says. Zoo director Dennis Kelly says he is "cautiously optimistic" about the pregnancy.
The zoo announced earlier this month that Mei Xiang may be pregnant. Mei Xiang gave birth to Tai Shan, a.k.a. Butterstick, in 2005, to a cub that died in 2012, and to Bao Bao in 2013. She has also had several pseudopregnancies.