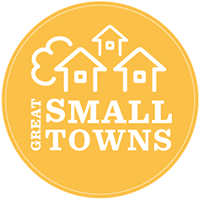 There are small towns, and then there's Port Tobacco, Maryland. According to the 2010 census, its population is just 13. But when asked for a more updated number, all resident Kay Volman has to do is crane her neck and count the houses.
"Let's see—one, two, three . . . ." she says. A visitor has a view of just about every residence in Port Tobacco from the front of the historic courthouse. Many are restored from the original Colonial-era constructions, the oldest dating to 1720. Some residents, most of whom are retirees, can chart their Port Tobacco heritage to the 19th century.
Volman finishes counting: "Sixteen! So we've grown a little bit."
Port Tobacco isn't what you might think of when you hear about a town with 16 people. It isn't isolated in the hinterlands—La Plata, a town of 9,000 with plenty of shops and restaurants, is just up the road.
Surprisingly, Port Tobacco was once the second-largest port in Maryland. It shipped the crop for which it's named across the globe during its 1700s heyday and boasted three hotels, two newspapers, and abundant taverns, shops, and amenities.
"This was a metropolis," says Sheila Smith, the local historian. Captain John Smith mapped the hamlet in 1608, and George Washington frequented it. "His doctor lived right up the road," Smith says.
Ironically, the tobacco crop that made the town thrive also proved its undoing. As more trees were uprooted to make room for farms, topsoil flowed into the river. By the turn of the 19th century, it had become unnavigable for large trading ships.
Port Tobacco was still the seat of Charles County, but in 1892 a fire destroyed the courthouse. Suspiciously, the fire came after two unsuccessful votes to relocate the county seat, and residents found all the court and land records already safely moved outside as the building burned. A new railroad company had chosen to go through La Plata instead, and in 1895 the county seat was moved there. Merchants picked up their wares and left, many also taking the stores, brick by brick.
Yet that wasn't the end of the town. The Society for the Restoration of Port Tobacco formed in 1948 with the intention of creating a mini-Colonial Williamsburg. The group finished restoring the courthouse in 1973 and installed a museum featuring Civil War uniforms, a replica tobacco barn, Native American artifacts, and the town hotel's original ledger. Kids come from around the county for field trips.
Today Charles County, in collaboration with the village and the restoration society, has even more ambitious plans. It wants to make the town into a destination, with kayak rentals, biking trails, boardwalks through the marshes, and replicas of other historic buildings. Port Tobacco may just rise again.
This article appears in our August 2015 issue of Washingtonian.