Before Rin Tin Tin, Sergeant Stubby, Lassie and Checkers, there was Owney the dog. During the late 19th century, this terrier-mix was the most famous dog in America, if not the world. As the Railway Mail Service's mascot, he rode the rails delivering smiles and mail across the country. In 1895, he became a seafaring dog, venturing across the ocean to other continents. At every location, from Albany to China, he was met with adorning fans and tags memorializing his visit. Owney carried so many heavy tags around his neck that Postmaster General John Wanamaker made him a special harness to display his "trophies." Today, one can still see Owney proudly showing off his tags forever preserved at the National Postal Museum next to Union Station.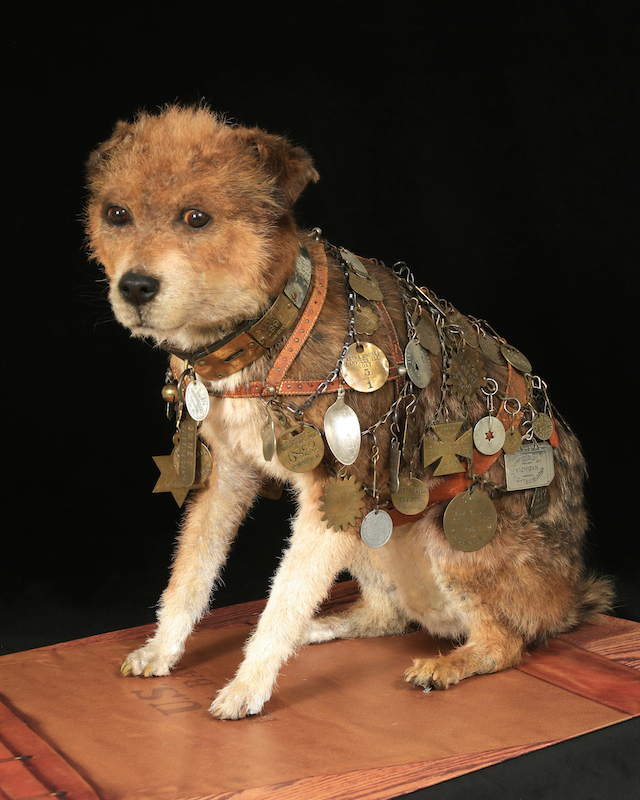 We do know that the legend of Owney starts in Albany, New York. The story goes that it was a cold, dark night in New York's capital city when a homeless scraggily puppy found his way into the local postal office. Finding warmth among the bags of mail, he curled up and fell asleep. The next day, mail carriers found him and took a liking. But this ragtag story may not be completely true. As it tends to happen with historical figures, the myth often times takes over the reality. After exhaustive research through period newspapers and accounts, Curator Nancy Pope at Smithsonian's National Postal Museum found that Owney's beginnings might not have been so humble. According to her, he was the dog of an Albany postal employee. The employee called him "Tony," not Owney (it is uncertain how he later acquired that name) and allowed the dog to follow him to work everyday. Eventually, everyone at the post office became so familiar with Tony's presence that when the employee quit, Tony stayed around—either by abandonment or his own volition. Soon, he was following mailbags onto trains.
For the next nine years, Owney was a rail-riding mail dog. At a time when traveling around the United States, much less the world, was costly and complicated, a common mutt was doing it with great fanfare. The press adored him and newspapers had regular features saying that he had "traveled more miles than some of the wealthiest sightseers." While records differ about exactly where he went, they do seem to indicate that he spent time in all 48 states of the continental United States. It is also quite possible he made it to Alaska, Canada and Mexico. His greatest journey, however, was in 1895 when he ventured far beyond America's borders.
In 1895, a group of Tacoma, Washington, businessmen contacted the Post Office to recruit Owney for a publicity stunt. They wanted to send the dog around the world. They believed (and the rumor still exists today) that the eccentric 19th-century American businessman George Francis Train was the inspiration for the character Phileas Fogg in Jules Verne's Around the World in Eighty Days. One of his voyages began and ended in Tacoma. They wanted to honor Train by sending the country's most famous canine around the world on a mail ship. On August 19, 1895, Owney set sail on the steamship Victoria. Records reveal that he at least visited Japan, China and Egypt. He did not, however, go to Europe.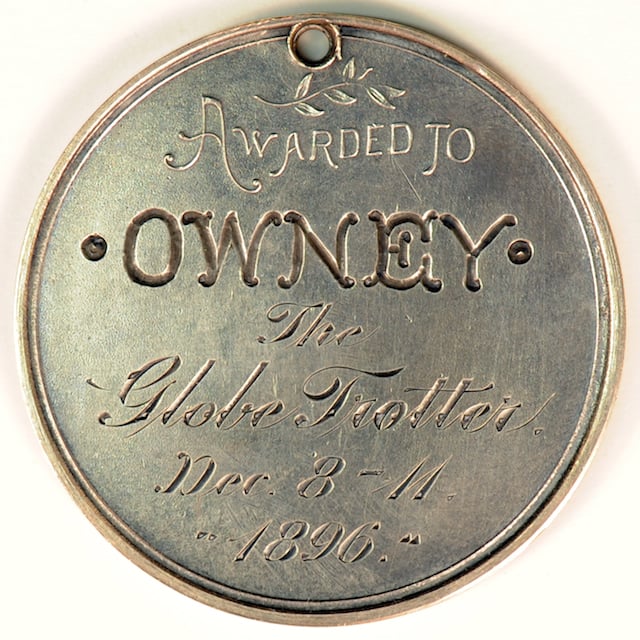 Everywhere Owney went he got tags to mark his arrival. Many were made out of brass, but some were also fashioned from other materials, including silver, aluminum and leather. Some of them had the names of people who wished Owney well. Others were commemorative medals from organizations that wanted to honor him. Some were just tokens, stating where he was and when. Today, the Smithsonian has about 400 of the tags that Owney received on his travels.
At times, Owney could get a bit aggressive, especially when it came to his mailbags. One account from a San Francisco newspaper stated Owney "will defend a mailsack against anybody but a postal clerk, and is quite savage in his defense." Unfortunately, as he got older, he also got more ornery. No one really knew how old Owney was in June 1897, but reports from the time said he looked tired and scrawny. He just arrived in Toledo after a fairly typical ride on a mail train. When a mail clerk approached him and reached for his tags, Owney bit him. A deputy US Marshal was summoned to the site of the incident. Owney attacked him too. The marshal shot Owney in the head, killing him instantly.
Mail clerks across the country insisted that Owney be preserved and not buried. They raised money to have him stuffed and presented to the Post Office Department headquarters. He even made an appearance at the 1904 St. Louis World's Fair. In 1911, he was presented to the Smithsonian Institution. Today, he is at the National Postal Museum, looking refreshed and dapper thanks to a 2011 restoration. (He's also on Twitter.)
Additionally, in 2011, the U.S. Postal Service honored Owney by issuing a stamp with his furry face on it. Owney will forever be immortalized on the thing he loved the most: the mail.