Among the many wonderful things about owning Redskins season tickets during the team's 1980s glory days was one benefit for which I was especially grateful. It got me out of Hebrew school a half hour early.
Eight Sundays a year—give or take the occasional 4 o'clock kickoff or Monday-night matchup, or when I had to surrender one of my family's two tickets to my no-account little brother (who cared nothing about football and only wanted to go for the nachos)—my father would pick me up at Temple Sinai on Military Road at 11:30. We'd zip through Rock Creek Park, past the Lincoln and Jefferson memorials, onto the Southeast Freeway, and into the RFK parking lot. At our first game, my dad innocently asked the attendant guarding the VIP compound, "Let a small car in?" and he waived us through—a ritual repeated for the next five years. At the last game of each season, we gave him a tin of my mom's homemade lemon squares.
Inside RFK, the upper-deck seats around ours were filled by a microcosm of Washington itself: the black civil servant from Northeast, the white dirt contractor from Chantilly, the Jewish dentist from Potomac. I was introverted, but I knew a lot about the Redskins—such as who our third-string, emergency backup quarterback was (offensive lineman Russ Grimm) or what Darrell Green's time was in the 40 (4.15 seconds). For three hours on those Sundays, I held court. "Let the kid talk!" people around us shouted when some more voluble but less knowledgeable adult tried to interrupt.
It would be hard for anyone who didn't live these moments to capture their splendor, just as it's hard to explain to anyone who knows only FedExField, Daniel Snyder, and the belatedly recognized racist team name how special Washington football was 30 years ago.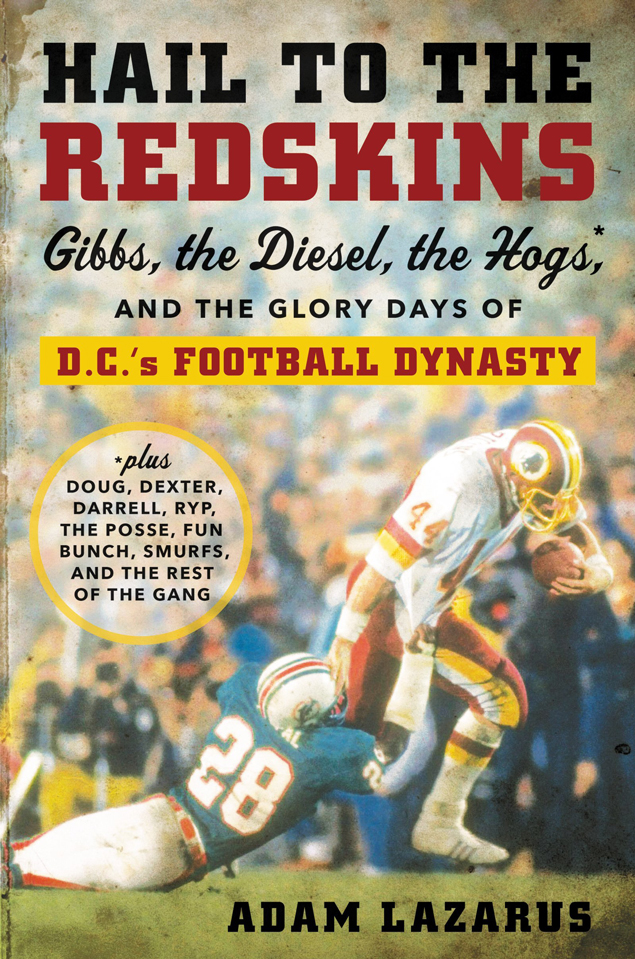 In Hail to the Redskins: Gibbs, the Diesel, the Hogs, and the Glory Days of D.C.'s Football Dynasty, Adam Lazarus takes a stab at it. But Lazarus is not a memoirist, much less a cultural anthropologist of Washington. He's a sportswriter whose last book chronicled San Francisco's late-'80s quarterback controversy between Steve Young and Joe Montana, an equally parochial moment in football history. I don't mean that in a bad way. Despite the scores of people Lazarus interviewed and the countless hours he apparently spent in the Washington Post archives, Hail to the Redskins, for those of us who recall the city back then, is not parochial enough.
• • •
The book introduces the period's main characters: Bible-beating, teetotaling head coach Joe Gibbs and hard-drinking running back John Riggins—whose first meeting came at a breakfast during which Riggins drained his Budweiser and then the one Gibbs wouldn't touch. Pretty-boy quarterback Joe Theismann, with his Corvette hair and myriad endorsement deals, and Theismann's eventual successor, Doug Williams, whose Job-like perseverance through his wife's death and his exile to the USFL was rewarded when he became the first African-American starter at his position to win a Super Bowl. And of course, Jack Kent Cooke, the free-spending, General MacArthur-quoting owner who presided, not always benevolently, over the entire operation.
Lazarus replays the three Super Bowl wins in 1983, 1988, and 1992, hitting the obvious high notes: Riggins's 43-yard touchdown run in '83 and Williams's 340-yard passing in '88. But he features some deep cuts from the catalog, too, recalling the 17-point, fourth-quarter comeback against the Raiders in the 1983 regular season and the 1988 playoff triumph over the Bears at a frigid Soldier Field. The author's character sketches of the more unheralded Redskins from that era, from mammoth offensive lineman Joe Jacoby to tiny but tough wide receiver Gary Clark, get at something fundamental about those teams. Unlike other NFL dynasties—typically built around one or two superstars, such as Joe Montana and Jerry Rice's 49ers or Tom Brady's Patriots—the Redskins, Lazarus writes, were "[q]uintessentially egalitarian."
But the story of the Redskins in those years was about more than players, coaches, or the owner, more even than the games—it was about the city itself. Or rather, two cities. Washington in the 1980s was home to both the parsimonious Ronald Reagan and the felonious Marion Barry, to both white Republican revolutionaries who came from California and Texas to end the federal government's war on poverty and homegrown black Democrats in the District eager to finally enjoy the spoils of home rule. Then there were the rest of us, caught in between and not always sure where we belonged in the Washington ecosystem.
For six days of the week, everyone existed in separate spheres. On Sundays, for a few hours, the love of the local football team brought us together. As an old Post beat writer tells Lazarus, "The Redskins had that unique ability to unite Washington's two sectors: the political sector and that urban core." After the first Super Bowl triumph in 1983, Reagan and Barry gave federal and city workers two hours of paid leave to attend the victory parade along Pennsylvania Avenue, and half a million people showed up.
The unity produced its own tensions. The holier-than-thou Gibbs—who lobbied Congress to return prayer to public schools, "to put God back in his rightful place in our life"—availed himself of womanizers and drug users (even, in one instance, a drug dealer), so long as they racked up sufficient sacks and rushing yards. Blind-side end Dexter Manley, meanwhile, a semiliterate cocaine addict, registered Republican after being awarded a plaque naming him "Secretary of Defense" by Caspar Weinberger, Reagan's actual Secretary of Defense.
Lazarus mentions these and other details, but he doesn't explore them. In his monochromatic retelling, there were some very big football games, and then way off in the background were a political revolution and a drug scourge.
• • •
Inevitably, then, it's not the sins of commission that drag the book down (though they exist: Lazarus writes that "car horns honked across Capital Avenue" after one big win; RFK is on East Capitol Street). It's the sins of omission. He rightly quotes Joe Jacoby's wife, Irene, explaining that her husband retired because "he can't walk," but shamefully fails to mention her primary cultural contribution: the wonderfully low-budget commercial she and Joe cut for Theater Vision, a local big-screen TV retailer. Lazarus name-checks long-forgotten dining establishments in the Virginia suburbs—Jay Schroeder's All-Pro Restaurant off Route 50, anyone?—but devotes no ink to Duke Zeibert's, the downtown power-lunch spot where Cooke displayed his Super Bowl trophies, or the Malt Shop, the Tenleytown bar where players traditionally caroused after their appearances on Redskins Sidelines at Channel 9's studios nearby.
Sonny, Sam, and Frank's lone appearance in the book is their playing of a diesel-horn sound effect whenever Riggins ran the ball—as if that covered a fraction of their place in the era's zeitgeist. As far as Lazarus is concerned, Ken Beatrice, host of WMAL's post-game and of the weeknight Sports Call show, might as well have never shouted, "You're next!" His name is nowhere in the book. Having summoned these figures in my mind without calling them forth, Hail to the Redskins threatened entire swaths of Washington's cultural history—not to mention my childhood.
Of course, some things I'd like to forget. In 1988, during the Redskins' playoff run en route to their second championship, the Bethesda insurance agent who had long sold my dad our seats from his family's block of season tickets realized he could fetch a prettier penny elsewhere. That year, I watched the NFC championship game on CBS. The insurance man never sold us tickets again, which spelled the beginning of the end of my love of the Redskins and football.
It was just as well. In a few years, I'd be done with Hebrew school and in a few more the Redskins would be in Raljon, Cooke would be dead, and Snyder, disastrously, would be calling the shots. Not long after, we'd learn about the widespread use of performance-enhancing drugs and the dangers of chronic traumatic encephalopathy and other things that called the entire sport into question. The insurance agent's mercenary act was merely a precursor of the failings to come. In that way, he unwittingly did me a favor. I'll always have the Redskins of my childhood. The Redskins of my adult years are somebody else's problem.
Jason Zengerle is the political correspondent for GQ.
This article appears in our September 2015 issue of Washingtonian.