On September 26, Art All Night: Nuit Blanche DC will transform the city into a crazy patchwork of art exhibitions, concerts, and video installations, with even a silent disco thrown into the mix. More than 250 artists, musicians, and performers will invade dozens of local venues, ranging from the Carnegie Library to vacant, weed-covered lots.
Ariana Austin brought the concept to Washington after attending a similar event in France. While teaching English at a high school outside Paris in 2008, she learned of the original Nuit Blanche–named after a French expression for all-nighter that translates to "white night." The one-night arts extravaganza started in Paris in 2002 and has since spread to cities around the world, including Montreal, Rome, and Melbourne. "I had never thought about a nighttime arts and culture festival before," Austin says. "There was a spirit of openness and egalitarianism that you could feel, and the quality of the art was really, really great."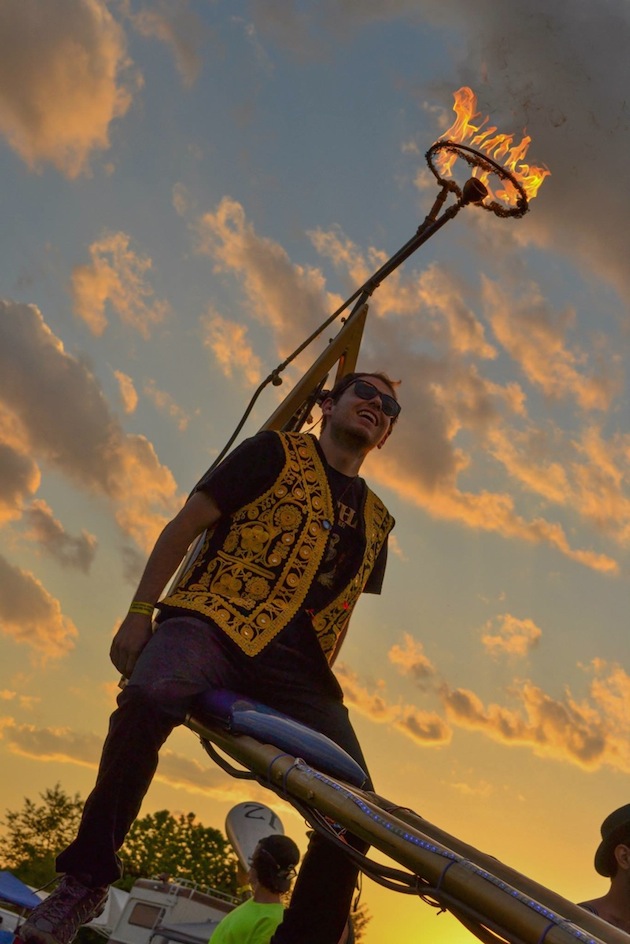 Austin decided to bring Nuit Blanche to DC. In 2011, she got a $15,000 grant from the DC Commission on Arts and the Humanities and launched the event. Art All Night has been growing since; last year, more than 30,000 people filled the streets. "It's public space reimagined," she says. "It's great for neighborhoods, it's great for businesses, and it's great for artists."
With a $300,000 budget this year, there are ample reasons to stay up late that Saturday night. (Full disclosure: I'm a mixed-media artist and will be staging an installation at the Carnegie Library as part of the event.) Here are a few of this year's highlights:
Dupont Circle
Several art galleries will be open late with special exhibitions. The Embassy Row Hotel will host local and international short films from the Parallel Film Collective, a DJ party by One Love Massive, live painting by artist Jonn Marc, and a neon black-light rooftop party.
H Street, Northeast
Art Whino, a National Harbor, Maryland gallery known for its eclectic art events, will open a satellite location at 700 H Street for its G40: Art Summit. The gallery will fill a 20,000-square-foot vacant building with artwork, murals, and light installations by more than 70 artists. Gallery O on H will feature video installations, fire sculptures, and a bit of burlesque. A giant projection by the New York-based Laia Cabrera & Co. will cover the Bank of America façade at 722 H Street, Northeast and will be accompanied by a musical ensemble.
Shaw
The neighborhood where Art All Night started, Shaw will have venues spread along Seventh and Ninth Streets, including a vacant lot where people can cast their silhouettes onto a five-story building. Downstairs at the Carnegie Library, Olivia Tripp Morrow will create a "sculptural painting" suspended from the ceiling using donated clothes from dozens of women.
North Capitol/Bloomingdale
Guests can don headphones and pick a music channel for a silent disco while watching video art projections in a vacant lot at Florida Avenue and Q Street, Northwest. In another lot across the street, artists will show their work along with performances by fire spinners, acrobats, and several bands, including Batalá Washington, an all-female Afro-Brazilian samba and reggae group.
Congress Heights
The Gateway Pavilion on the east campus of St. Elizabeth's Hospital will feature performances by local bands, including Footwerk, which mixes go-go, hip-hop, and reggae. The JoGo Project will create a sonic stew of jazz, funk, and go-go.