Few people will be as busy as Cardinal Donald Wuerl next week when Pope Francis spends three days in DC. Wuerl, the leader of the Archdiocese of Washington, plans to spend the entire trip at the pontiff's side, from a visit to the White House to Francis's address to Congress next next Thursday. Ahead of the pope's visit, though, Wuerl and other Catholic leaders around Washington still have a lot of preparations to make.
One thing Wuerl crossed off the checklist is the renaming of Providence Hospital's emergency care center in Northeast DC after Francis. The facility was rededicated Friday morning following an extensive renovation funded by philanthropist Judi Teske and her late husband, Richard. Along with Wuerl and Teske, Mayor Muriel Bowser spoke at the event, calling Francis "my kind of pope."
Next week will not be the first time Wuerl welcomes a pope to Washington—Francis's predecessor, Pope Emeritus Benedict XVI visited in 2008—but Wuerl, who is politically close with Francis, says the current pope has a rare ability to connect with people outside the Catholic Church. Wuerl can also claim a bit of credit for Francis's visit. About a year ago, he says, he traveled to Vatican City and hand-delivered an invitation to DC to Francis. In a brief interview with Washingtonian, Wuerl talks more about the "Francis effect," whether the pope's calls to address climate change urgently will be received by a potentially hostile Congress, and getting to ride around in the popemobile.
What's special about Pope Francis that inspired the renaming of this emergency care center?
The decision was made since this is a whole new expanded emergency center, and it cares for the marginalized, the poor, people with all kinds of immediate needs, women who are about to have their baby. It brings in care of everyone. We thought, "Who does that? Who speaks well of all of those people and encourages to care for them?" It's Pope Francis. It's Pope Francis who is constantly calling the whole community to be there for the people who have needs. It just seemed to be the appropriate thing to do, especially because he's coming to our country.
Last year you hand-delivered a letter to the Holy See inviting the pope to visit. How big of a deal is it that he's coming next week?
It's an extraordinarily exciting time, and I think we see that everybody in this community—Catholic, people who are not Catholic, people who have no faith at all—everybody seems to be excited about his visit because he is such an authentic voice for goodness. It's a huge event for Washington.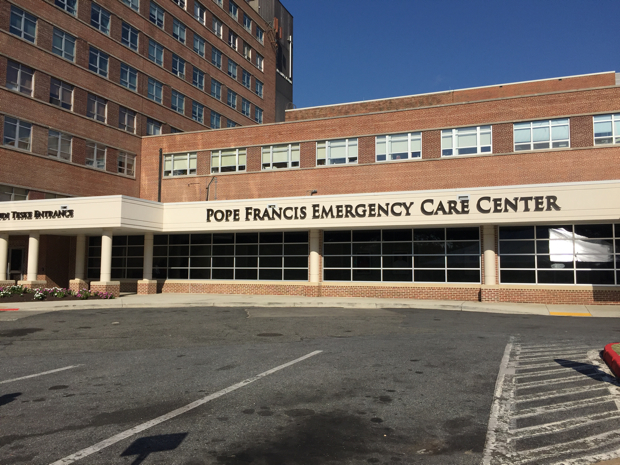 You've talked a lot about what you call the "Francis effect." There's an excitement around this visit with non-Catholics that hasn't been seen in a long time.
I think the effect is the impact he's having on people because they're responding to what he's saying. He is calling all of us to recognize that we need to be in solidarity with one another, that we need to respect one another, care for one another, and also take care of the good earth that's our common home. I think that message resonates with people, but the reason they're hearing it is because he is so transparently authentic. That's the heart of who he is.
Do you think he'll be able to deliver that message to a receptive audience when he speaks to Congress?
I think when he speaks to Congress he will be speaking as a pastor, as a spiritual leader. I think he's going to be calling all of us to be the very best we can be and to address the issues of our day.
You'll be spending a lot of time with him next week. You get to ride around in the popemobile. What's that going to be like?
I think it's going to be a very wonderful time. I was able to do that when Pope Benedict came. You see the joy on the faces of people when they see the pope. When you're in the popemobile you get to see that in a very exceptional way. I will be with him from the moment he arrives to the moment he leaves, and so I'm anticipating being caught up in the excitement and the joy of all those people wanting to be with him.