Officials expect more than 200,000 people to flow into Washington to catch a glimpse of Pope Francis this week. But even for people whose schedules don't allow them to knock off work and try to get into one of the pontiff's public appearances, there will be ways to track Francis's three-day stay in DC. Francis's first visit to the United States will be trackable through a number of apps and other mobile services.
Text alerts:
Much has already been made of the dozens of road closures, security barricades, detours, and truncated bus routes that Francis's presence will cause. But on the chance there are additional inconveniences, several agencies offer text-message alerts for (hopefully) timely updates. Metro, which is expecting a severe crush at the Red Line's Brookland station tomorrow, when the pope celebrates a canonization Mass at the Basilica of the National Shrine of the Immaculate Conception, offers text- and email-based alerts. The US Park Police also offers a text-update service, which may come in handy for the pope's parade from the White House down the National Mall, and for the thousands expected to gather outside the Capitol on Thursday when Francis addresses a joint session of Congress.
Pope emojis:
It's 2015. Of course there are adorable little phone graphics commemorating the pope's visit. There is a set of Francis-in-America-themed emjois available for both iOS and Android devices. The ten-image set covers the pontiff's entire US itinerary, though there are a few DC-specific icons with Francis drawn in front of the Washington Monument and Lincoln Memorial. Additionally, Twitter is stamping all tweets with the hashtag #PopeinDC with a little Capitol Dome emoji.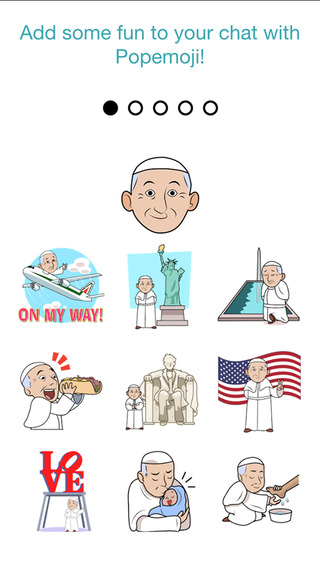 The Pope App:
Francis's predecessor, Pope Emeritus Benedict XVI, was the first pontiff to get on social media, but Francis is a digital superstar. It only makes sense, then, that his movements can be followed on the Holy See's official mobile app, which is literally called the Pope App. Among its features: headlines from the Vatican's state media, Francis's latest tweets, and live video streams of the pope's events, which might come in handy for people who want to see Francis celebrate Mass or address Congress, but can't make it in person. The Pope App is available on iOS and Android platforms, and can be set in English, Italian, Spanish, French, and Portuguese, but not Latin.