The October issue of Washingtonian marks the magazine's 50th anniversary. While the magazine's look has evolved over the decades, its cover pages have mostly featured lead images surrounded by many blocks of text teasing the issue's contents.
This issue needed something special though. Washingtonian's staff looked at other magazines' anniversary books for inspiration. Philadelphia's 100th anniversary issue in December 2008 featured a mural of that city's most famous faces. Time's 75th anniversary led with a montage of memorable covers. Eventually, the decision was made that for its 50th anniversary, Washingtonian should give its readers a striking keepsake to mark the occasion—an iconic black-and-white photograph with as few words as possible.
"We wanted an anniversary issue to feel important and timeless, to be something people would want to keep for months and months," says Washingtonian editor Michael Schaffer. "This argued for a gorgeous and classic kind of picture. The problem was, we also wanted to show off all the amazing, roiling journliasm and art and design inside the issue—and doing a whole bunch of headlines on the cover would have spoiled the timeless elegance."
Washingtonian's covers are often colorful and flashy. To find a a black-and-white cover, you have to go all the way back to the January 1969, which led with "Letters From a Dead GI" at the height of the Vietnam War.
To achieve the anniversary vision, Jason Lancaster, who joined Washingtonian as its creative director in August, selected a photograph from the mid-1960s by H. Armstrong Roberts that depicts a young family looking across the Tidal Basin toward the Washington Monument and perhaps—for this issue's purposes—the future. But to make sure newsstand buyers are drawn in when the issue hits the racks over the next few days, Lancaster also designed a flap giving a taste of the special anniversary content.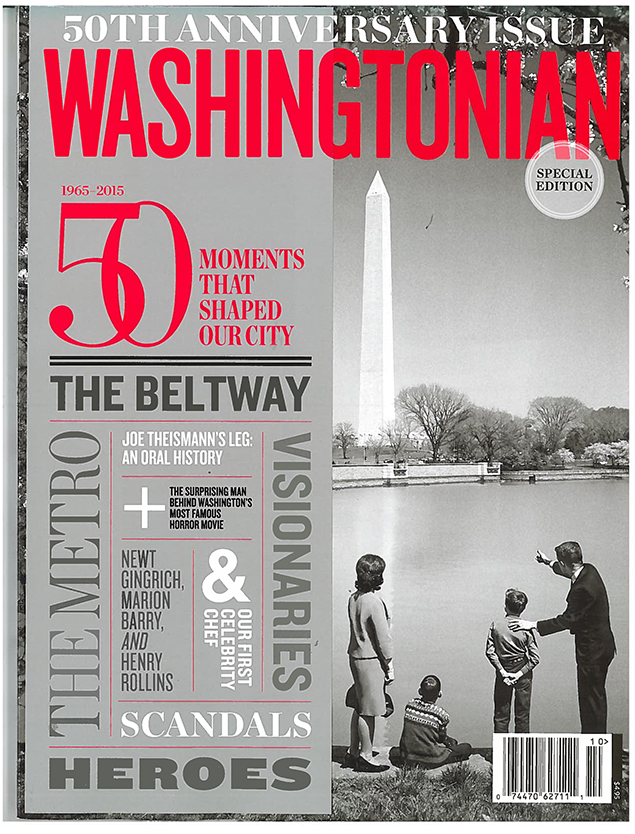 Inside the issue is an expanded feature well telling the history of Washington over the last half-century. There's an oral history of the leg injury that ended Joe Theismann's career; reminiscences of the city in the '80s from people like Katie Couric, Henry Rollins, and Kojo Nnamdi; a look at the religious fervor of The Exorcist author William Peter Blatty; and a list of the 50 moments that shaped our city, including our nastiest scandals, loftiest visionaries, and a wide cast of heroes, villains, and surprising cameos.