When multiple black churches turn out their congregants to a meeting to discuss a proposed bike lane and the only defenders of said bike lane are a handful of mostly white transportation planners and cycling advocates, the meeting is about a lot more than just getting around on two wheels.
And that was the scene Thursday night at the Watha T. Daniel/Shaw Library at Rhode Island Avenue and Seventh Street, Northwest, when hundreds of members of two nearby churches swelled a conference room that eventually had to be cleared out by library security officers because it was far beyond its capacity.
The District Department of Transportation recently issued a propsal to build a protected bike lane running through Shaw, most likely along Sixth Street. But not long after those plans were floated, United House of Prayer, a church at Sixth and M streets, sent DDOT a letter claiming the installation of a bike lane on Sixth would infringe on its rights to congregate and exercise its religious freedom—specifically, the religious freedom of getting more parishoners in on Sundays by parking diagonally outside the church. The letter cited the federal Religious Freedom Restoration Act, state versions of which have been noteworthy recently for other reasons.
Churches have clashed with the city over bike lanes before. A cycle track built in 2013 on M Street between downtown and Georgetown lost its protective barricades between 15th and 16th streets after Metropolitan AME Church complained that a bike lane with a physical barrier would reduce the parkings apaces its members use on Sundays.
But claims of religious intolerance barely describe the conflict on display last night in the library bowels. The proposal of a north-south bike lane running through Shaw has ripped bare the racial and economic tensions that have been bubbling under the surface of a DC neighborhood that has perhaps seen more change than any other over the past decade.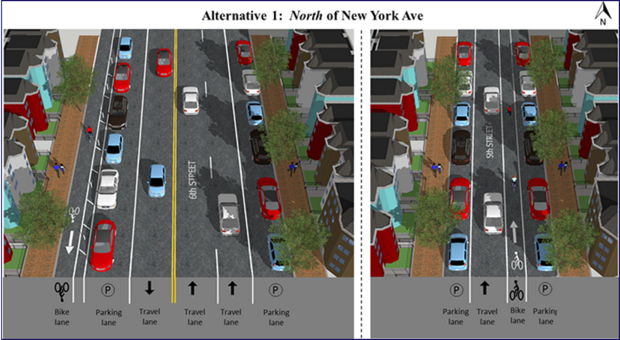 "Who's running these backroom deals where you all create these activities?" shouted Bob Green, a member of New Bethel Baptist Church on Ninth Street, which mobilized many of its nearly 900 parishoners after learning one of the alternatives to a Sixth Street bike lane would put stripes down on Ninth, potentially impeding its members' ability to park. Another in the crowd equated bike lanes with Chipotle and Whole Foods, the latter of which is often viewed as a symbol of economic displacement.
Others said they don't have specific beefs with cyclists, they just don't want to give up space on the road.
"We should not be forced to do one mode of transport," said Roger Mitchell, DC's chief medical examiner, who said he attended in his capacity as a New Bethel member and not a city official. "But streets do not belong primarily to bike riders. Bike riders will not be inhibited from riding down Seventh Street. This [planned lane] will have a deleterious effect on those who wish to practice their faith."
Seventh Street features bike lanes in both directions between Florida Avenue and N Street, but many cyclists who ride along that route feel unsafe once the lane markings end. That was an unconvincing argument for the room.
"I live here, I work here, and I vote here, so I do not think it should happen here," one woman in the crowd said to loud applause.
When Megan Peterman described the peril of riding alongside cars and buses without the protection of a bike lane, and also mentioned that she lives and votes in Shaw, she was jeered, with at least one person shouting, "you just moved here."
In the last five years, Shaw has undergone as much physical and economic change as any neighborhood. Seventh Street, and increasingly many cross streets, are now lined with buzzing restaurants, chic new stores, and remodeled condominiums and apartments. The median sale price for a home has jumped from $505,302 in 2010 to $618,000 this year, according to the real-estate information firm Trulia, and many of the new buyers are changing the neighborhood's demographic makeup. While the churches still have many members living in the neighborhood, an increasing number live in the suburbs.
Even though the churches that packed Thursday's meeting are less than three blocks from the nearest Metro station, they cite the transit service's weekend unreliability and that public transit can be difficult for elderly members.
"It's about burdening a community who are already being squeezed," said Lisa Gray, a minister at New Bethel. "If people cannot park they're not going to patronize the small businesses that have sustained the neighborhood."
While DDOT has to tow the line that it is just "talking about a bike lane study," in the words of spokesman Terry Owens, no one left the library thinking about just a few more stripes on the roads.
"Of course it's not about a bike lane," said Greg Billing, the executive director of the Washington Area Bicyclist Association, which claims to have over 2,700 members within a one-mile radius of the library. "There's a lot of concerns in the community. People are getting hurt."
Billing cited data acquired through a Freedom of Information Act request showing that 12 cyclists were struck by cars in 2014 on the part of Sixth Street eyed for the bike lane. "We don't need to make traffic safety a pawn in a bigger battle," he said.
But it might be too late for Billing's wish to separate traffic safety and bike infrastructure from rapid socioeconomic change. Martin Moulton, a WABA board member who has lived in Shaw for 20 years, said he avoids biking on Sixth "because it's so dangerous."
"I get the concerns for parking, but there's a need that's never been addressed for cyclists or kids walking to school," said Moulton, who is black. "I think everyone's tightening their belts, and churches have the luxury of not having parking enforced. Everyone's got to make adjustments as the city grows."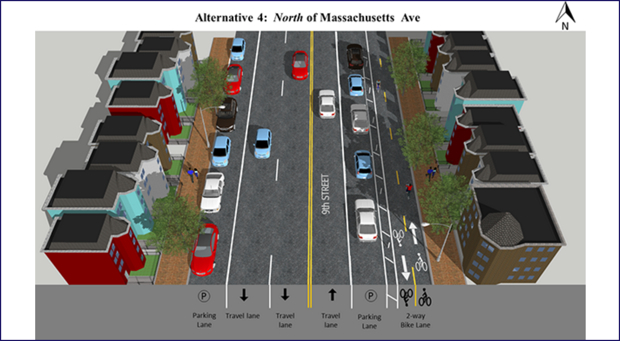 Outside the library, though, Gray and her friends from New Bethel put it in far more direct terms. Where traffic-planners and cyclists see a bike path, they see active displacement.
The bike lane, Gray said, is symbolic of "new residents who don't think they have to be good neighbors and try to force change."
"I hate using the term gentrify because that makes it seem like the community isn't already good enough," Diana Waters said.
Viola Bradford, another New Bethel minister, made her opposition the starkest. "It's criminal," she said. "Dominant groups don't want to address unearned privilege. They could move here two weeks ago and they displace people who have been here 100 years. It's a problem when a dominant group that's not really dominant tells you what to do."
When Sam Zimbabwe, who oversees DDOT's bicycle program, said the meeting would have to end early, he said it would resume in two weeks in a larger room. Several in the audience suggested the sanctuaries at New Bethel or United House of Prayer, though those venues seem unlikely to diffuse Thursday night's tension.