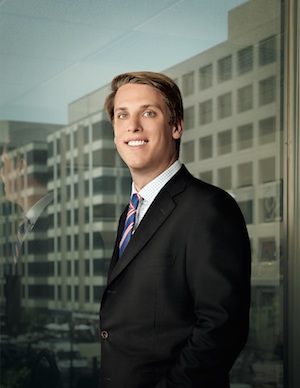 Politico Magazine Editor Garrett M. Graff will leave the magazine, Politico Editor Susan Glasser and Executive Editor Peter Canellos told staff in a memo Friday. Graff, who previously edited Washingtonian, appears to be leaving journalism altogether, at least for the moment. He's returning to his home state of Vermont "for the next chapter in his life," Glasser and Canellos write.
That almost sounds like the cautious phrasing of someone who's entering politics! Reached by phone, Graff said only, "I will have more to say in a few weeks." He and his wife, Katherine Birrow, have bought a house in downtown Burlington, whose real estate market, he notes, is "certainly cheaper than Washington."
Graff never fully cut ties with his home state in his 11 years in Washington. His Twitter handle is @vermontgmg, and our conversation took place on a telephone with an 802 area code. His folks still live there; Graff's dad, Christopher Graff, was the head of the Associated Press' Vermont bureau and is now a life-insurance executive.
Steve Heuser, who edits Politico's Agenda, its "home for the daily conversation around the ideas reshaping the country," will edit both properties "on an interim basis," the memo says.
Graff led Washingtonian from 2009 to 2014. Before that hitch, he was the first editor of the media blog FishbowlDC and worked on Howard Dean's 2004 campaign. He joined Politico last July.
I've loved my year as @POLITICOMag editor & am grateful to @sbg1 for the chance to help build the mag, but Vermont is calling me home. (1/6)

— Garrett M. Graff (@vermontgmg) October 30, 2015
164 years ago, Stephen Douglas said VT was a good state to be born in as long as you move away when you're young. He was half-right. (2/6)

— Garrett M. Graff (@vermontgmg) October 30, 2015
Vermont still is a great place to be born, it's what made me who I am—and today it's the most exciting and vibrant it ever has been. (3/6)

— Garrett M. Graff (@vermontgmg) October 30, 2015
During my years in D.C., I've always believed Vermont was a good state to return to, as well, and I've always known that I'd go home. (4/6)

— Garrett M. Graff (@vermontgmg) October 30, 2015
My Twitter handle, after all, is a sign of where my heart has always been. (5/6)

— Garrett M. Graff (@vermontgmg) October 30, 2015
And now's the time: My wife & I have bought a home in @Burlington_vt, and we're excited to begin a new chapter in the Green Mountains. (6/6)

— Garrett M. Graff (@vermontgmg) October 30, 2015
Memo:
Good morning and congratulations to all on an extraordinary October, with great coverage of a newsy Washington month to remember, from the tumult-filled election of a new Speaker of the House to major shakeouts in both parties' presidential campaigns. When the dust settles, it will be our biggest month of the year for audience — part of a growth surge in recent months that has us 75 percent ahead in page views from last fall.
And here's some more news from Politico Magazine: Garrett Graff, who's done a star turn as the magazine's editor this year, has decided to put editing aside and leave Washington, returning to his home state of Vermont for the next chapter in his life. Garrett has been both an absolute pleasure to work with and a force for good here at Politico, and we all wish him the best. He's helped the magazine continue to grow and shine through its second year — as you can see from the terrific Campaign special issue out in print today (that Hillary Clinton cover is a Politico original, shot by the legendary David Hume Kennerly for us).
We are delighted to announce that Steve Heuser, who has so ably launched The Agenda, our sharp new policy magazine, earlier this year, will become editor of both The Agenda and Politico Magazine on an interim basis. This promotion reflects our deep confidence in Steve, who has quickly established himself here as an entrepreneur and newsroom leader with terrific editing skills. Steve came to us a year ago from the Boston Globe, where he edited the newspaper's weekly Ideas section and before that led its Pulitzer Prize-winning science team, and he's excited to work closely with creative director Janet Michaud, newly promoted deputy editors Elizabeth Ralph and Margy Slattery, national editor Michael Hirsh and the rest of the award-winning magazine team.
The move also reflects the first step of our plan to expand and enhance what we see as an entire ideas and magazine division of our newsroom. To that end, Steve has our mandate to unite the staffs of the magazine and The Agenda (and what firepower he has there, with terrific writers like Michael Grunwald and Darren Samuelsohn); hire additional editors; and work on conceiving new projects for 2016. Bill Duryea, our great enterprise editor, will also join this team, and as part of his portfolio will take on leadership of our What Works series. Michael Kruse, the other half of our terrific Tampa duo, will officially hang his trademark hat with the mag team as well — he's already a star writer for it, as his print piece out today on Jeb and Hillary and 1994 shows. Luiza Savage, our events editorial director, will caucus with this enhanced staff too, brainstorming more great ideasy events and video projects, like the mini-docs she's been leading on urban innovators. As we celebrate the magazine's second anniversary today, it's clear that the kind of sharp, ideas-driven reporting and insight offered by the magazine and the Agenda have become a pillar of Politico's journalism, a hit with audiences and a huge area of potential future growth.
Please join us in congratulating them all — and wishing Garrett well! We'll have cupcakes in the newsroom at 3 pm today to celebrate this team and their latest stellar issue.
<
Susan Peter