Our Washingtonian Recommends lists bring you the best places to eat, drink, and be entertained—all selected by Washingtonian editors.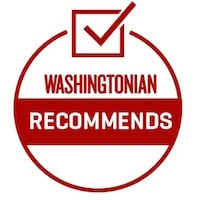 1625 I St., NW; 202-689-8999
You could stuff yourself silly just on freebies at this bright, classic-rock-playing dining room—a pot of chicken-liver spread served with good, crusty bread followed by towering, hot-from-the-oven popovers with butter and a shaker of coarse salt. There are plenty of reasons not to OD: a peppery Caesar, fat cocktail shrimp, a hulking but tender veal chop, and a cut of buttery Dover sole chief among them. Of the steaks, we found the bone-in Kansas City strip had the most savor; a $55 Wagyu skirt steak didn't pack enough flavor or richness to back up the price for this traditionally cheap cut. (Both meats benefited from sauces, whether a tangy blue-cheese or a silky béarnaise.)
Desserts are strong, especially for the steakhouse universe: Instead of refrigerated slabs of cake, you'll find creative seasonal sundaes (a winning strawberry version in summer) and an ethereal layering of crepes with passionfruit sauce.
2800 Pennsylvania Ave., NW; 202-944-2026
Many steakhouses stick to a signature formula for their cuts—a fixed time for aging, a specific breed of cattle. By contrast, Michael Mina's dining room in the Four Seasons feels like a carnivore's playground, with eager servers ready to detail the array of flavors and textures available: funky, 35-day dry-aged steaks; buttery corn-fed cuts and their venison-like, grass-fed counterparts; Texas Wagyu versus $36-an-ounce A5 Miyazaki Japanese Wagyu. The unifier: a tenderizing butter bath before a turn on the oak-fired grill, which lends even wallet-friendly cuts a divinely rich, smoky quality.
Executive chef Joe Palma's accoutrements are eclectic (green-chili and barbecue sauces, a topping of bone marrow or crispy oysters), as are sides, though it's hard to pass up a classic cauldron of potato purée with gravy or a pile of crab hushpuppies. When it comes time for dessert, diners can summon a whiskey cart to go with a round of citrusy Arnold Palmer-glazed doughnuts.
101 Constitution Ave., NW; 202-547-8100
New York chef Charlie Palmer paved the way for new-wave steakhouses in Washington when he opened a few blocks from the Capitol in 2003, trading the old boys' model (dim, meat-heavy) for a brighter, sleeker restaurant serving tuna tartare and lobster corn dogs. The buzz has softened—blame the competition and the decline of the lobbyist lunch—though executive chef Jeffery Russell's cooking remains strong, and the 6,000-plus wines curated by sommelier Nadine Brown make the window-walled dining room a destination for oenophiles. (Insider tip: Corkage is waived for up to two American bottles or, on Fridays, six of any origin.) Still, for all the modern touches, hefty cuts of dry-aged beef are the most pleasurable order—we're partial to the filet mignon, kicked up with black pepper and béarnaise.
Seasonal sides from Russell's plot in Alexandria's community gardens are another draw, though it's worth eschewing locavorism for an order of crisp-skinned, twice-baked potatoes, flecked with truffle and smoky bacon.
777 I St., NW; 202-289-7377
Chef Victor Albisu devised Del Campo as an homage to the communal campfire cooking native to Uruguay and Argentina, and from start (cocktails punched up with grilled lemons) to finish (grilled empanadas with burnt cinnamon-coconut caramel), nearly everything has been touched by smoke. As might be expected, the approach yields its fullest rewards with the char-grilled meats, served up in portions fit for a ravenous gaucho who has arrived sweaty from the Pampas. There are grander cuts than the short-rib steak, but it would be hard to find more satisfaction than in these two long, crusty strips, cut laterally and paired with chimichurri.
Albisu is part Peruvian, and many of the best dishes are culled from that culinary mecca, including the sharply defined ceviches, a fabulous grilled octopus poised atop racing stripes of aji amarillo and scallion-potato purée, and an upscale take on pollo a la brasa, with juicy meat and crisp skin. Save room for the crepe soufflé, a confection of almost meringue-like lightness anchored in a rich pool of dulce de leche.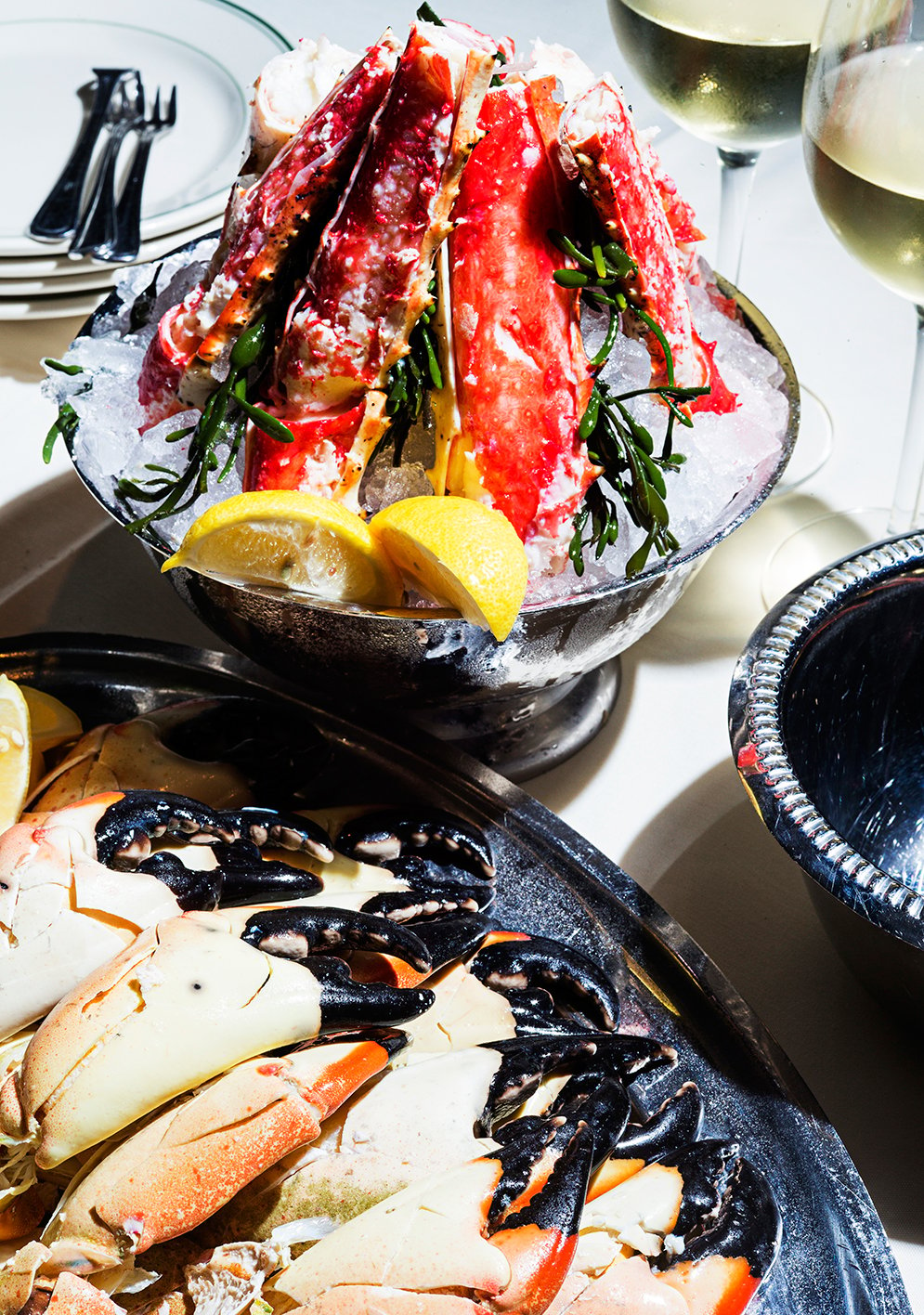 750 15th St., NW; 202-489-0140
If you've had a bit to drink, you might look around the room and wonder where you are. Vegas? Chicago? New York? To the foodie ever on the lookout for a meaningful connection with a chef, this bespeaks a sleek corporatism, no matter how high-toned. But it also happens to be the great strength of Joe's. The floor is staffed top to bottom with pros who usher you from moment to moment with seamless ease, and the kitchen executes the no-fuss fare with the efficiency of a military operation.
The most rewarding dishes are those that have been handled the least (sorry, steaks). Joe's made its reputation, in Miami Beach, on crab, specifically the clean, sweet meat of king-crab legs and stone-crab claws. Order a round—or better, two—and you'll feel there are few places in the city you'd rather be.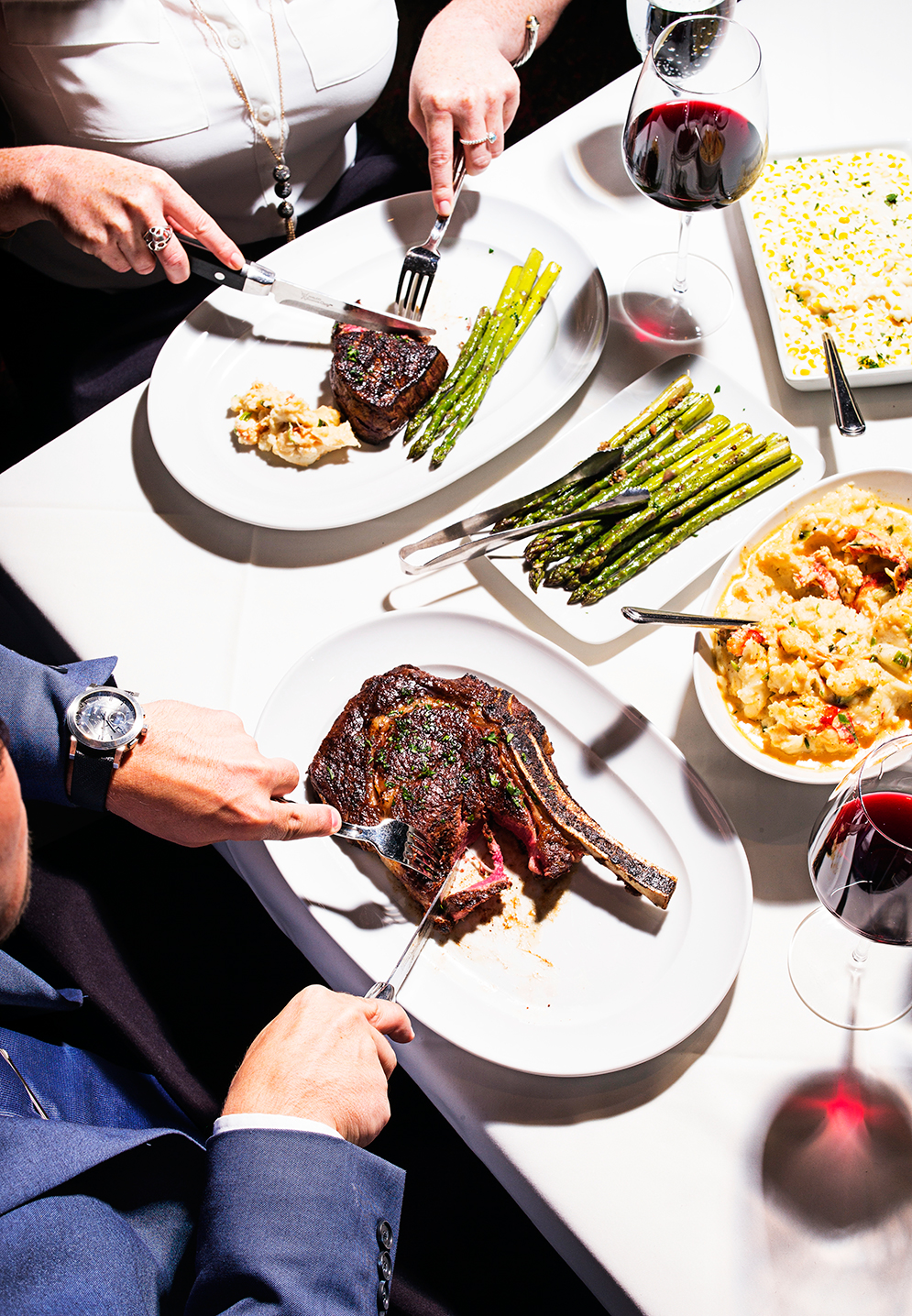 600 13th St., NW; 202-347-1500
You don't come to this Scottsdale import to eat—you come to indulge in a fantasy. You can have had a hard day, the world can have a conspiratorial look to it, but then you brush past the chanteuse at the piano, a smiling waiter in crisp coat and tie installs you at a handsome leather booth, and you watch as the grand parade of three-tiered trays of glistening seafood passes by.
The cooking is better than it needs to be—a credit to chef Rob Klink, who ran the kitchen at Oceanaire (a fishhouse pretending to be a steakhouse) and knows how to bring flair to the table without veering into fussiness. The Eastern Shore native makes one of the better steakhouse crabcakes around, lightly bound on the inside, crusty on the outside, and you can feel confident in loading up at the start on high-quality sashimi and crudo. The steaks are wet-aged and—smart touch—arrive on blazing-hot plates primed with butter. Klink also has a way with sides: The comforting creamed corn tastes like the kind of thing someone's grandma might have made.
3500 Connecticut Ave., NW, 202-237-1432; 515 Eighth St., SE, 202-601-7136
Steakhouses are seldom synonymous with bargains, but at Mark Bucher's pair of Paris-style bistros, that's exactly what you'll find. For $19.95, you get a hunk of country bread with butter, a simple green salad, and a double helping of steak with skinny, crispy frites. The meat is a coulotte—a sirloin cap—that, while lean (you won't slice through it like a stick of butter), is long on robust flavor. Perhaps the best part is the sauce that comes with it—slightly tangy, slightly creamy, heavy on umami earthiness.
The only decisions to be made are what to drink (we like the smooth Talbott Pinot Noir), how you want your steak cooked, and what to end with (go for the classic hot-fudge sundae swirled with whipped cream and showered with rainbow sprinkles).
2020 K St., NW; 202-466-8811
With its leopard-print carpet, pianist playing Rat Pack standards, and Deco-era Louis Icart etchings, the Prime Rib feels like a relic, but this is a relic nearly as sparkly and seductive as the Hope Diamond. The must-order is—surprise—the prime rib, an endlessly juicy slab of beef hit with crunchy salt and ringed with savory fat. (We found the two-inch-thick signature cut plenty satisfying but spotted many a diner happily polishing off a double-cut.)
Nothing else quite lives up to that glorious piece of meat—a crab imperial arrived with bland lump, and a hearts-of-lettuce salad was drowning in blue-cheese dressing—but the star entrée, and maybe a side of crunchy-fried potato skins with two cool and creamy dipping sauces, is enough to make the jacket-required dining room a destination.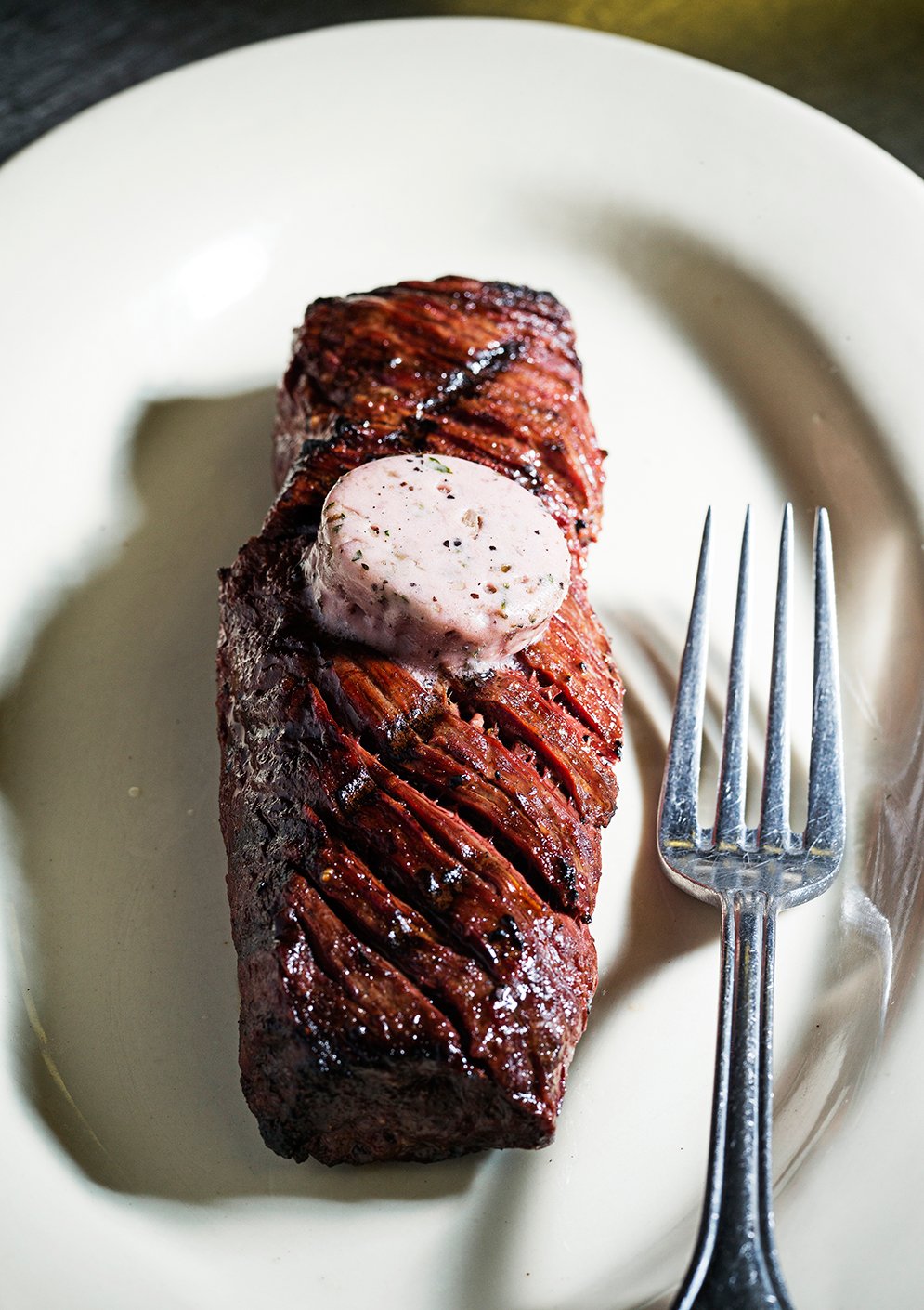 2300 Wilson Blvd., Arlington; 703-841-7297
One of the best steaks in the area is also one of the cheapest—news that should come as no surprise if you're at all familiar with the work of Michael Landrum, whose independent burger and steak places have for years extended a middle finger to the corporate big boys. His Arlington flagship sacrifices aesthetics and ambience (you won't even find the tiny votive candles of old on the table) in order to keep prices low.
Hanger steak can sometimes be chewy, even if it delivers big, almost gamy flavor, but this one is succulent, a fat rope of wet-aged, corn-finished meat. (You'll have to keep reminding yourself it costs just $20—and that's with complimentary mashed potatoes and fresh creamed spinach, at a time when many steakhouses charge $15 for sides.) Another rarity: Landrum offers a 45-day New York strip and 60-day dry-aged côte de boeuf; the latter comes bone-in and nicely charred and delivers the kind of rich, subtle pleasures that can be appreciated only with a good red wine. (Here again, you're going to find bargains.) Be sure to bookend your meal at the start with the crab bisque and at the finish with a terrific Key-lime pie.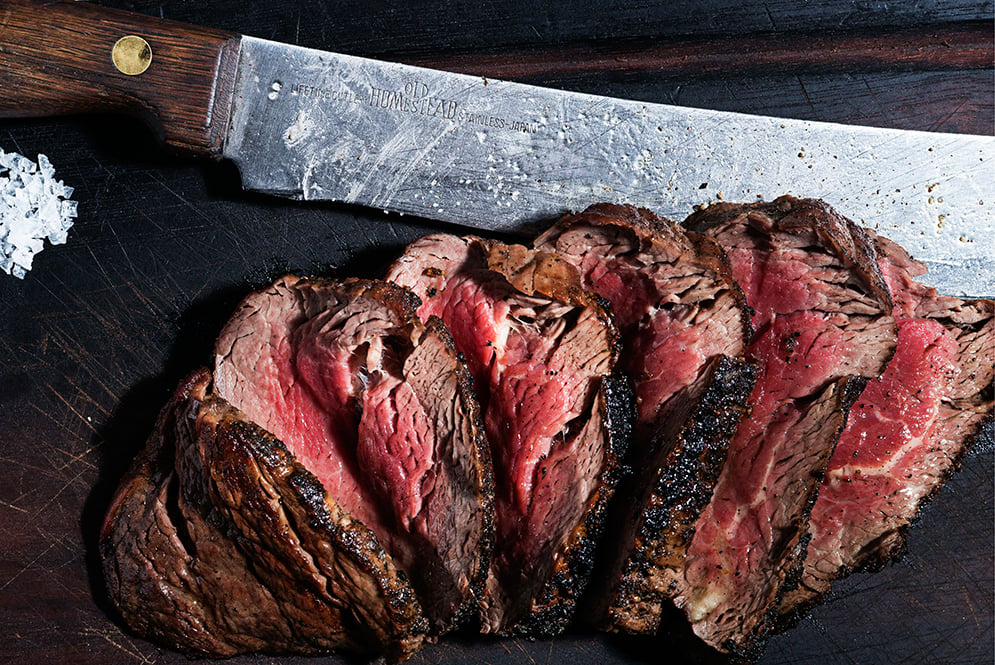 1177 15th St., NW; 202-587-2629
A $20,000 wood grill, its flames licking up at the forearms of the guys tending it, is the centerpiece of this otherwise sedate dining room, overseen by Philly chef Jose Garces. The action can be mesmerizing, and the good news is it's not all for show. Some of the best meats we've had all year came off these grates—including a small tenderloin of grass-fed Uruguayan beef brushed with Malbec butter and served with chimichurri; an ultra-flavorful Jidori chicken (the Prada of poultry breeds); and links of zesty chorizo.
When it comes to sides, focus on the menu's extensive potato section—whether spuds roasted with truffle hollandaise, mashed with gooey mozzarella curd, or fried and paired with aïoli. The menu stretches beyond the usual steakhouse fare with pastas, but they're a weak spot. Instead, go for a fugazza, a foccacia-like flatbread that has the caramelized crust of a deep-dish pizza.