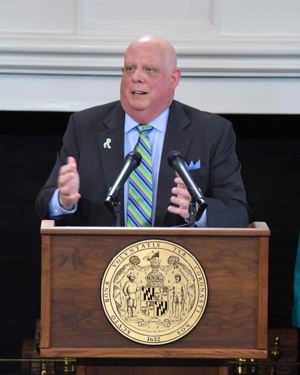 Maryland Governor Larry Hogan is the latest state leader who wants to turn away refugees fleeing war-torn Syria, joining a growing cavalcade of governors seeking to close their states' borders in the wake of last Friday's terrorist attacks in Paris.
"As governor of Maryland, the safety and security of Marylanders remains my first priority," Hogan says in a statement released by his office. "Following the terrorist attacks on Paris just four days ago, and after careful consideration, I am now requesting that federal authorities cease any additional settlements of refugees from Syria in Maryland until the US government can provide appropriate assurances that refugees from Syria pose no threat to public safety."
The Islamic State in Iraq and Syria, a militant group that has prompted the flights of millions of Syrians, has claimed credit for the Paris attacks, which killed at least 132 people and injured more than 300 others. Since Syria descended into civil war in 2011, fewer than 2,000 of that country's displaced citizens have been resettled in the United States. Of those, fewer than 100 have moved to Maryland, according to a map by the New York Times.
But since Friday, more than two dozen governors—all Republicans, except for New Hampshire's Maggie Hassan, a Democrat—have said they would like to keep future Syrian expats from landing in their states. The Obama administration plans to eventually allow 10,000 refugees from the country to settle in the United States, an expontentially smaller figure than the hundreds of thousands some European countries intend to take on.
Hogan's and the other governors' worries are also largely overblown, and largely ineffective, as immigration policy is set by the federal government, not knee-jerk local politicians. As Slate's Will Dobson writes, refugees who are settled in the United States are some of the most exhaustively vetted exiles in the world, with an average wait time of 18 to 24 months and a review process that begins only after they are cleared by the United Nations High Commissioner on Human Rights.
Virginia Governor Terry McAuliffe said Monday he will not block additional Syrian refugees from settling his state, making Virginia the only part of the American South to not attempt to close its borders.