Our Washingtonian Recommends lists bring you the best places to eat, drink, and be entertained—all selected by Washingtonian editors.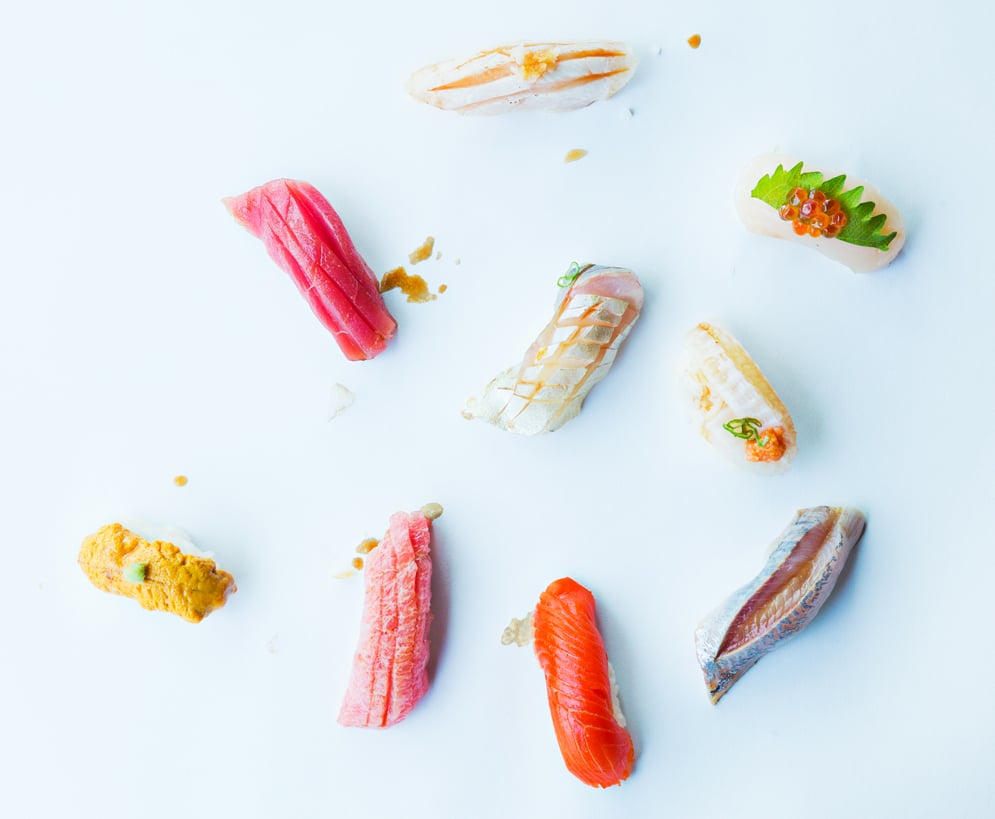 You don't have to know that chef Minoru Ogawa sources top-quality fish from some of the finest suppliers in the country. All you have to do is take one look at this jewel-like assortment of sashimi, with each delicately carved slice of yellowtail, salmon, and scallop glistening as if it's just been styled for a photo shoot.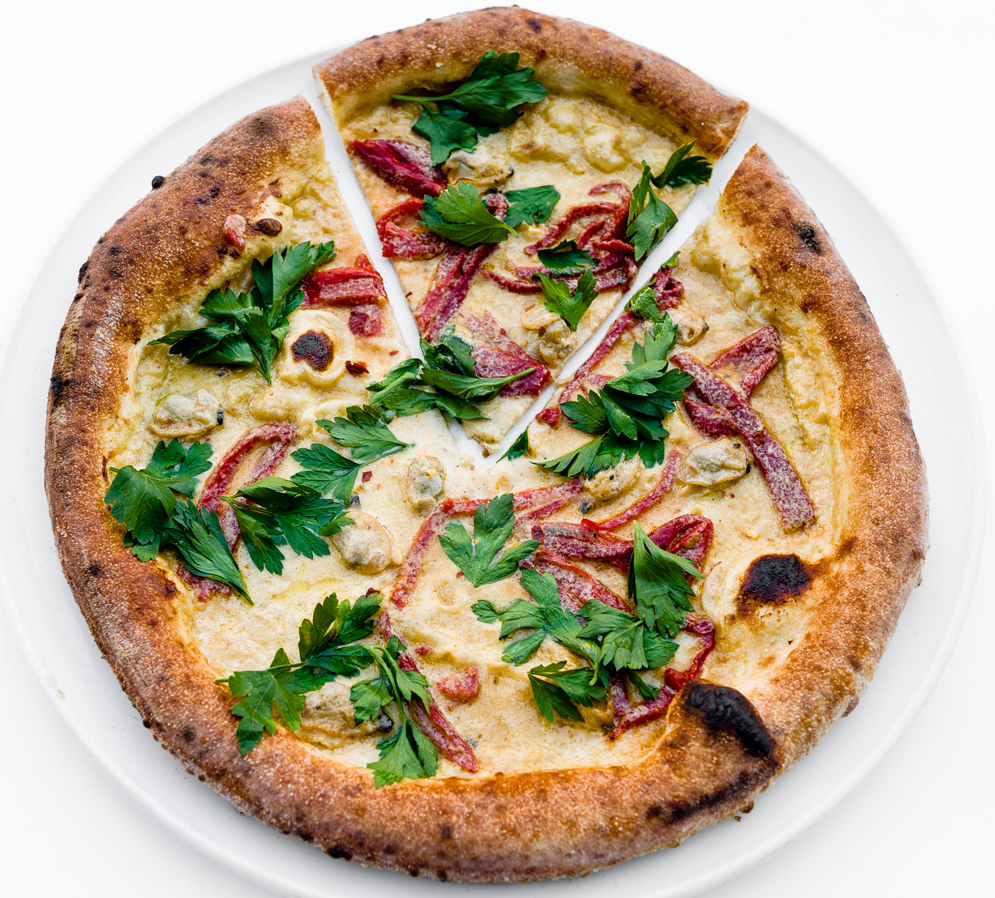 Clam pizzas can make us feel like Goldilocks—they're often too garlicky, too briny, too soupy. Not so at this darkly lit Italian place in Logan Circle. The crust is thin, but it never dissolves under the mozzarella and middleneck clams, and the kitchen uses a liberal hand with brightening accents such as sweet and tangy roasted peppers and snips of parsley. Every weekday at the bar between 4 and 6:30 (and weekends 3 to 6:30), it's discounted from $20 to $12.
Certain dishes are the culinary equivalent of an earworm: You can't get them out of your head. So it goes with the mapo tofu at this motel restaurant. It's not that mapo is unusual—any decent Szechuan spot serves it. But none in DC is as good as these custardy cubes of tofu cloaked in an incandescent chili oil. Ask the staff for an extra-spicy preparation if you're seeking sweat, as the heat is sometimes tamed for the general public.
4. Yellow & Black Cake at Rare Sweets
This almost comically tall yellow cake with thick chocolate icing tastes like the kind of sweet you don't find much anymore. (Many boutique bakeries favor lighter buttercreams and fluffier crumbs.) So it comes as no surprise that owner Meredith Tomason cribbed the recipe from a 1930s church cookbook. She added a few of her own touches, folding whipped cream into the batter and sour cream into the slightly tangy frosting.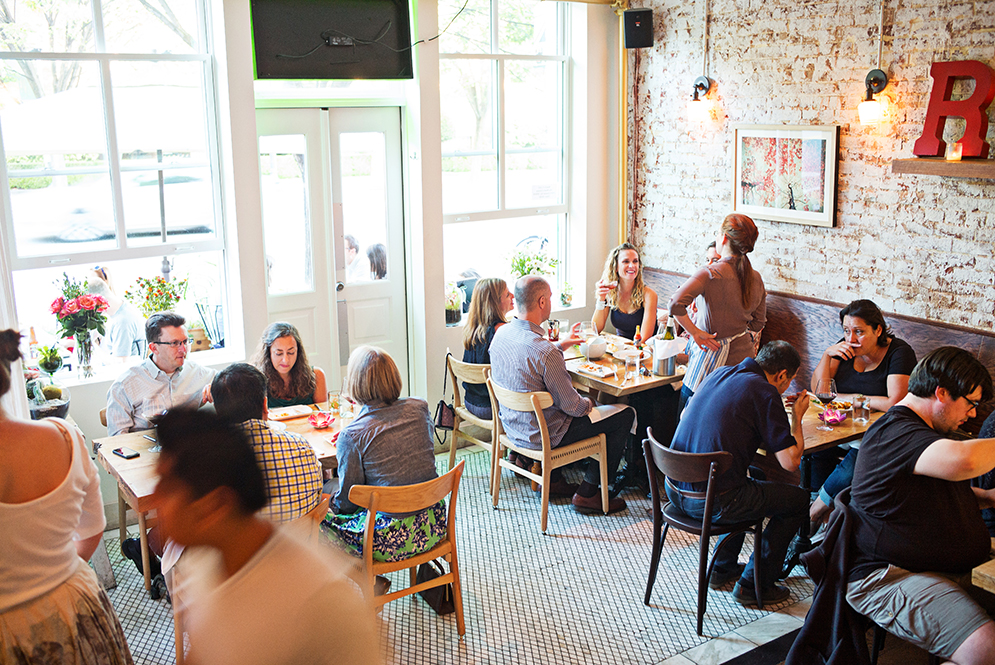 Aaron Silverman doesn't put many soups on the menu at Rose's, but when he does, they're lick-the-bowl good. We fell hard for this coconutty curry shot through with lemongrass, ginger, and vadouvan, a southern Indian spice blend, then poured atop nearly burnt bananas, grapefruit, and sweet potato. The recipe's roots sound exotic, but it can be traced back to the kitchen at New York's Aldea, where Silverman once trained.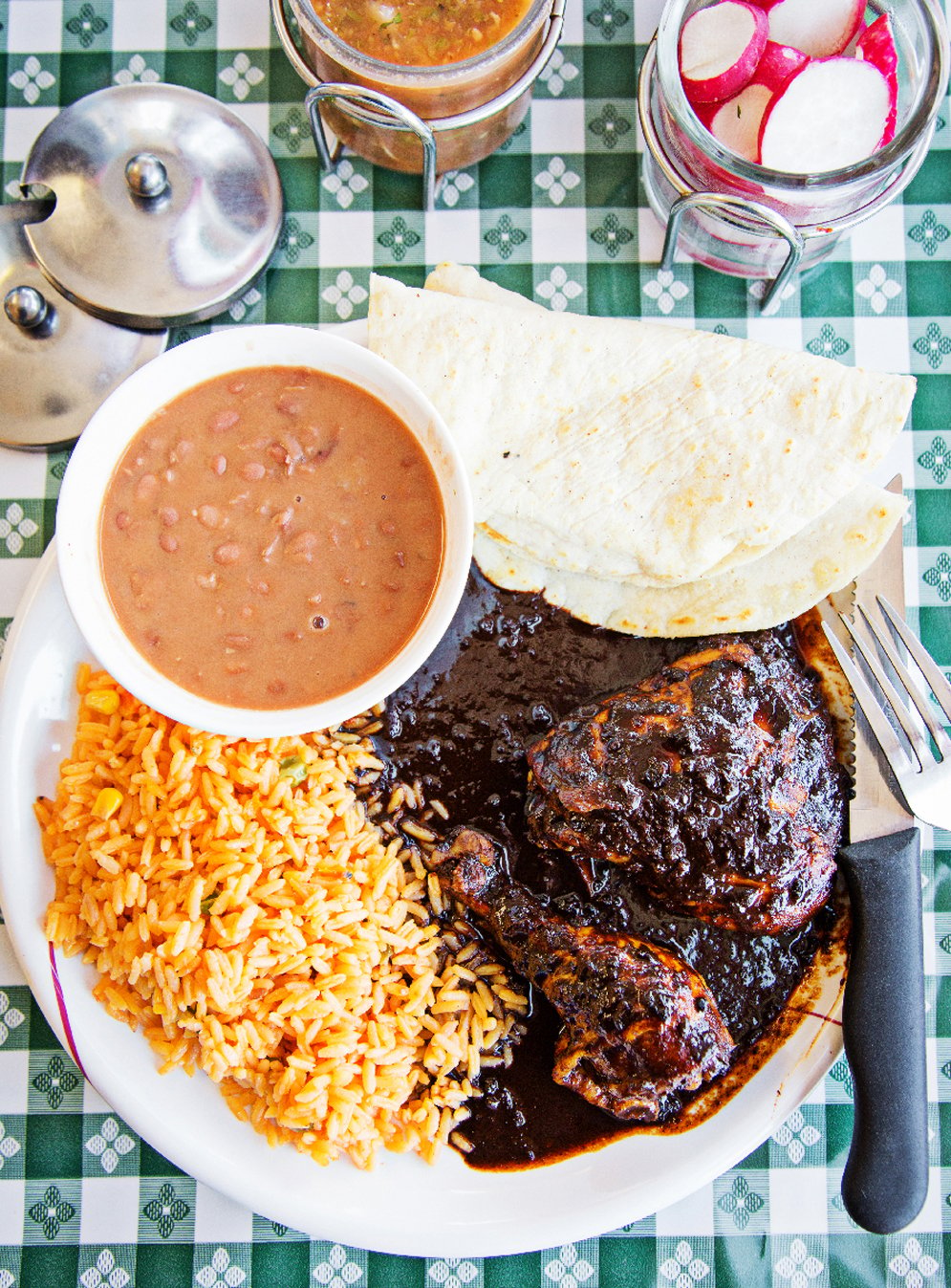 We love the mole and the sopes, too, but this dish is the one we always return to at the area's most rewarding Mexican spot. The rib meat is drenched in a rich chili sauce that, like so much else here, bespeaks an unhurried approach. Don't miss the warm tortillas, for breaking down the entrée into tacos.
7. Potato Fries With Greek Island Dressing at Kapnos Taverna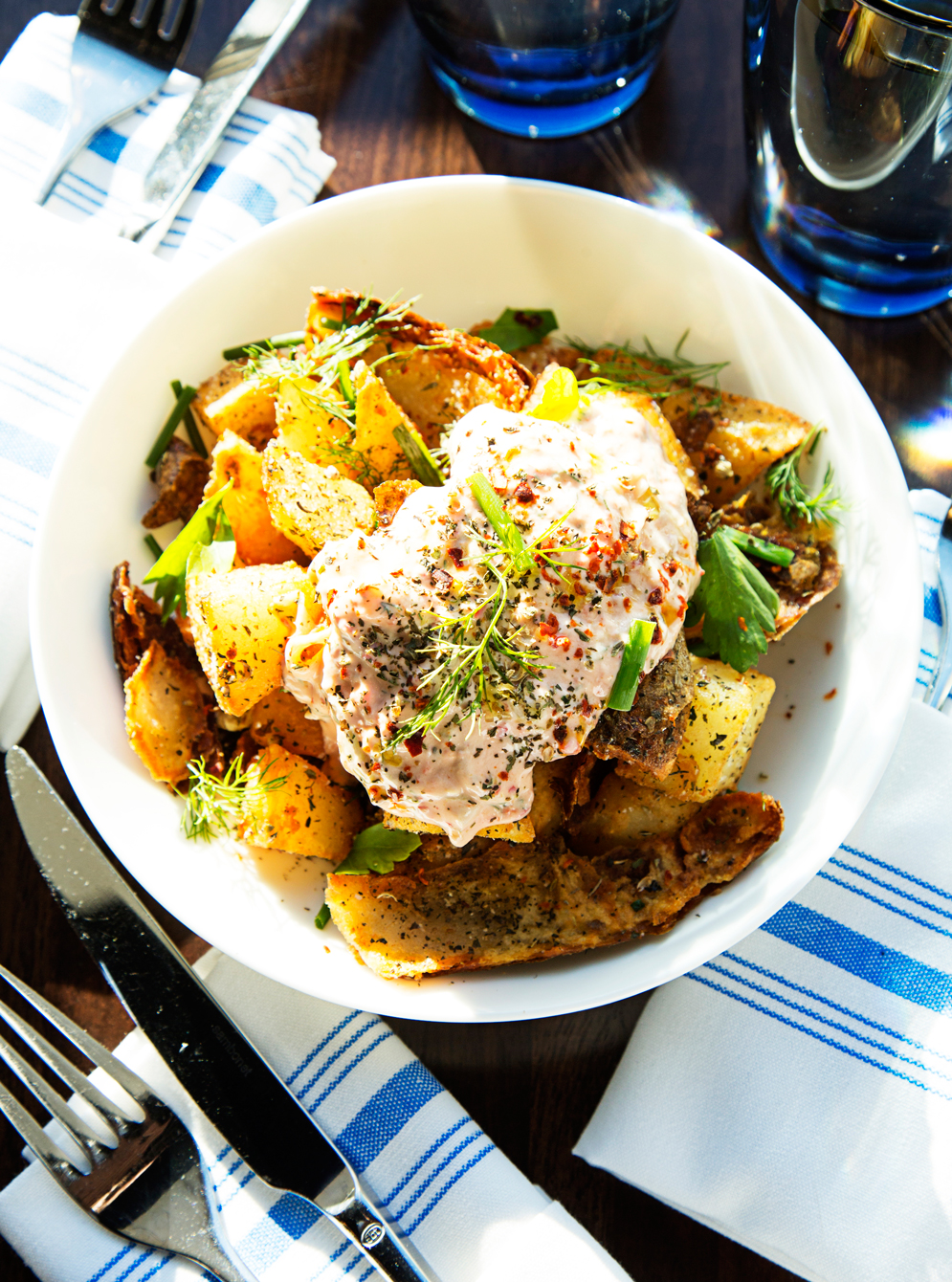 You won't find a recipe for Greek Island dressing in any cookbook, so far as we know—it's a tongue-in-cheek twist on that midcentury accompaniment to a cold, crisp wedge of iceberg, Thousand Island dressing. Chef Mike Isabella's Aegean-inspired sauce is zestier (thanks to dried mint), spicier (you can taste the aleppo peppers), and tangier (there's a good dollop of Greek yogurt) and makes an unforgettable companion to a plate of olive-oil-drizzled potatoes.
8. Turmeric Fish at Hai Duong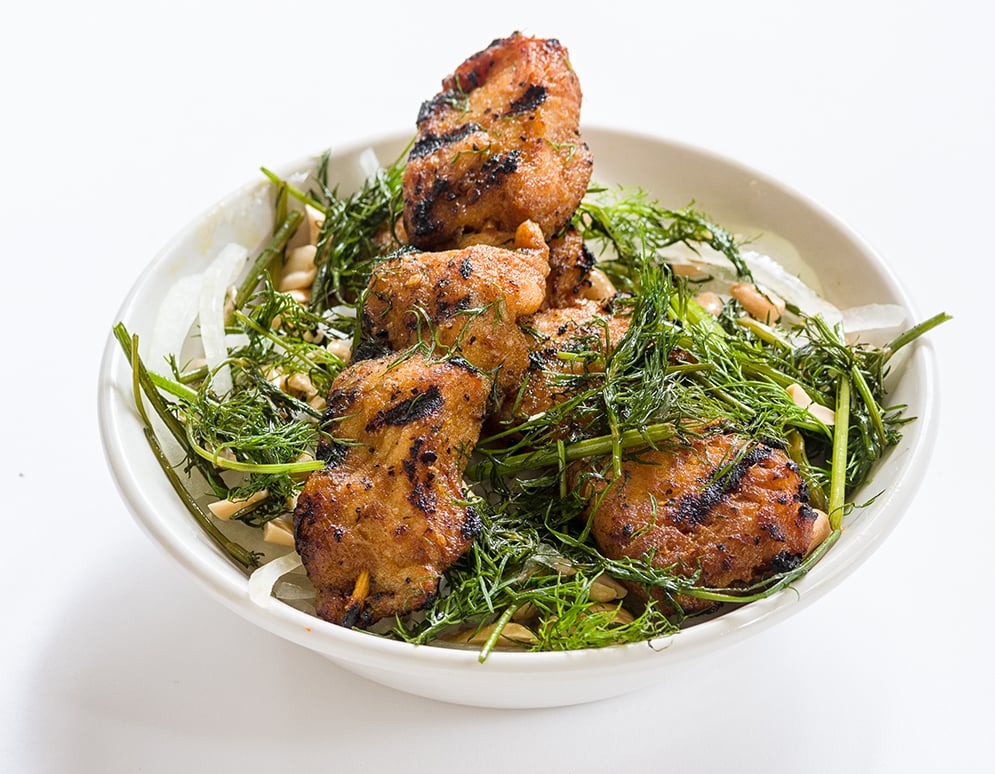 Nothing about this crowded, harshly lit Eden Center dining room hints at the delicate touch of the kitchen when it comes to house specialties like the turmeric-scented fish called cha ca thang long. Sizzling filets of flaky white fish arrive on a platter atop a bed of caramelizing onions heaped with feathery piles of fresh dill.
9. Fried Chicken Skins at Jack Rose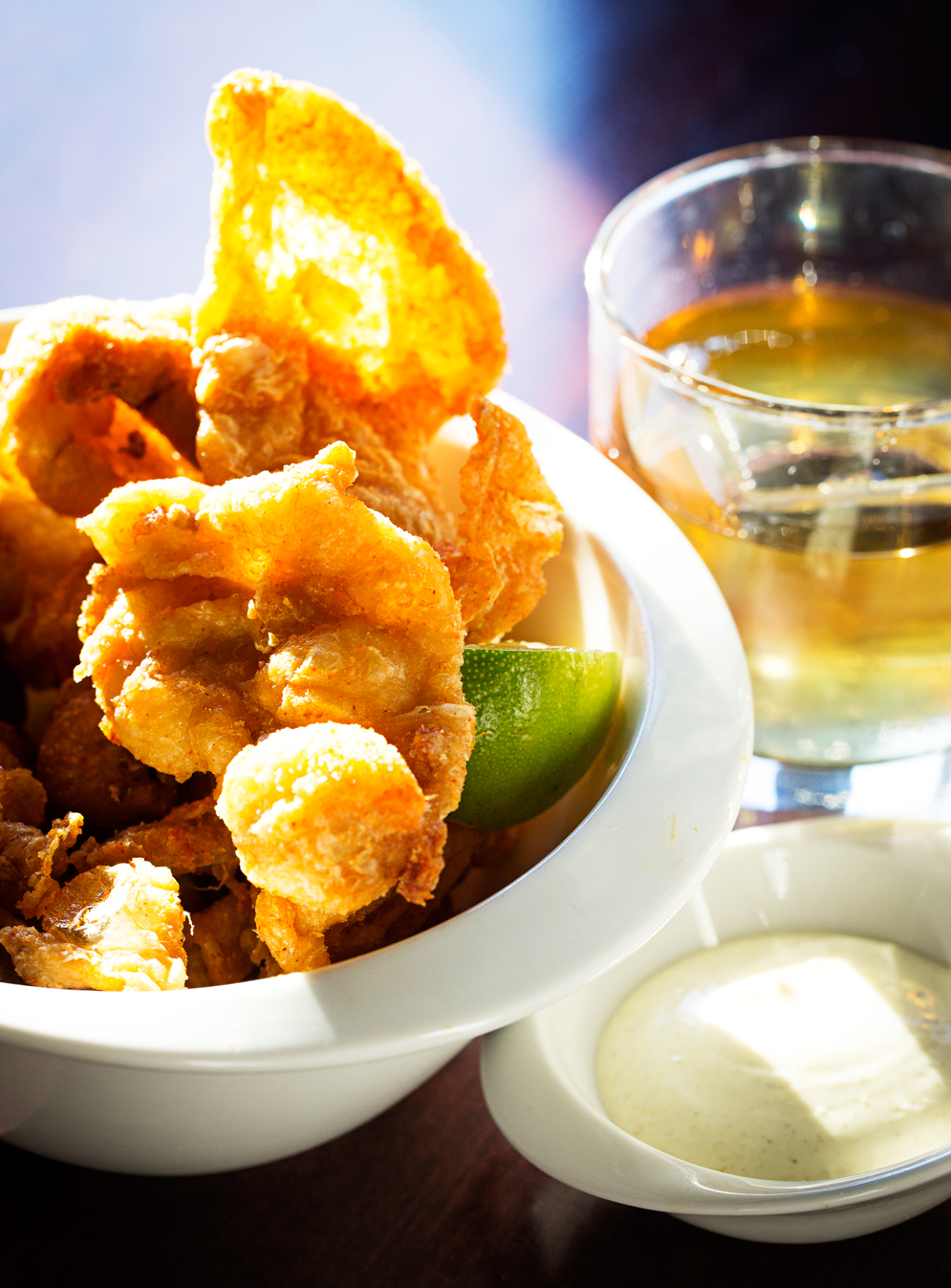 Crispy skin is the best part of a chicken, so it makes sense that chefs are now serving bowls of the stuff. We can't get enough of Russell Jones's version, the airiest and crunchiest around. Morsels of skin are puffed in the fryer, then tossed with a mix of lime juice, salt, and smoked paprika. What better accompaniment to one of the bar's deftly mixed cocktails? And we're not the only ones—the kitchen goes through 50 pounds of "chick-arones" a week.
10. Yellowtail Crudo at Marcel's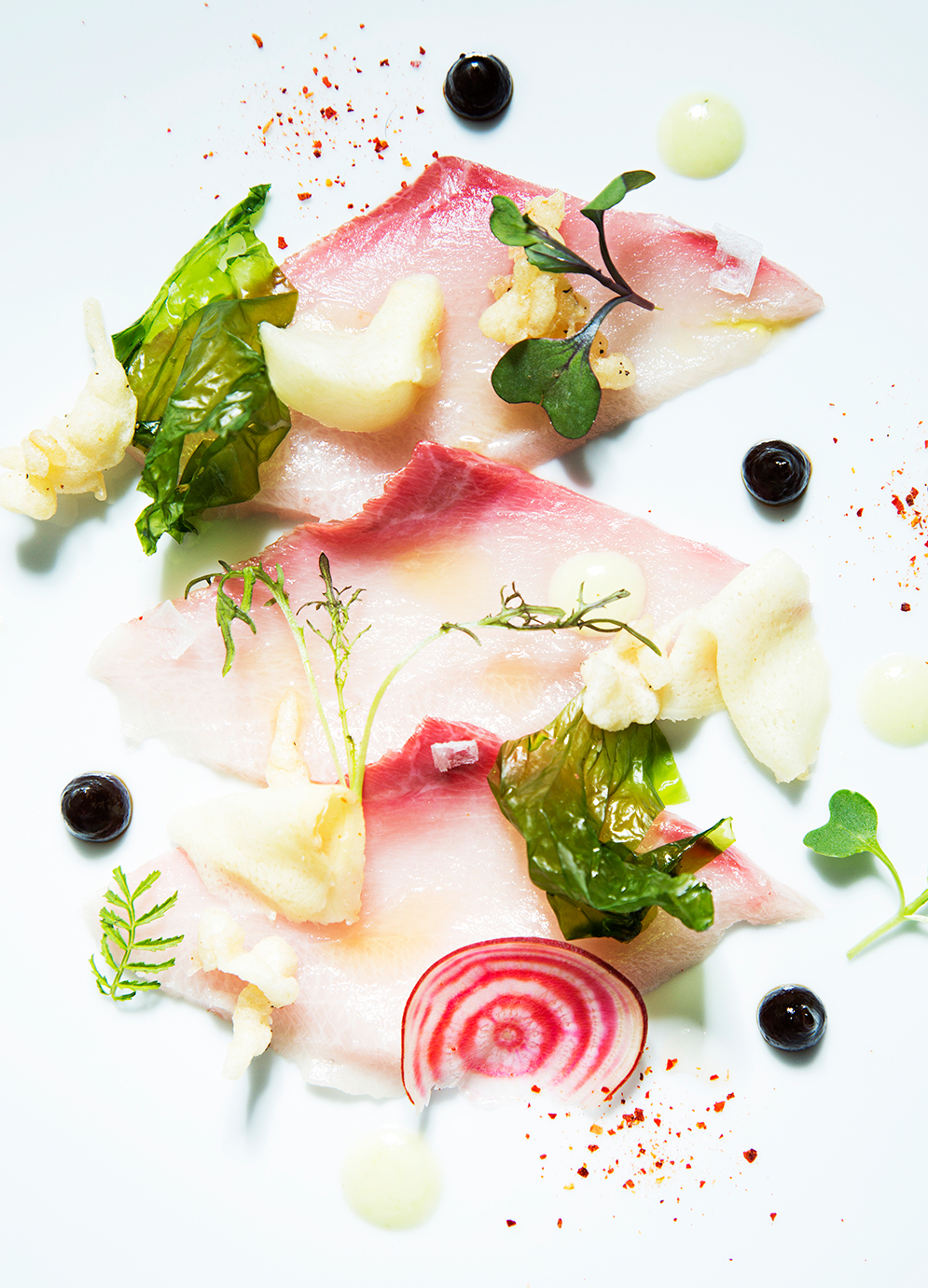 At his quietly refined West End flagship, Robert Wiedmaier revels in the kind of time-tested dishes—coquilles St. Jacques, boudin blanc—you'd find in an Escoffier cookbook. Occasionally, though, he pulls a surprise move like this thoroughly modern take on sashimi, in which slices of superlative Japanese yellowtail are dotted with dabs of ponzu gel and wasabi mayo, then sprinkled with crunchy bits of tempura.
11. Grilled Sardines at the Riggsby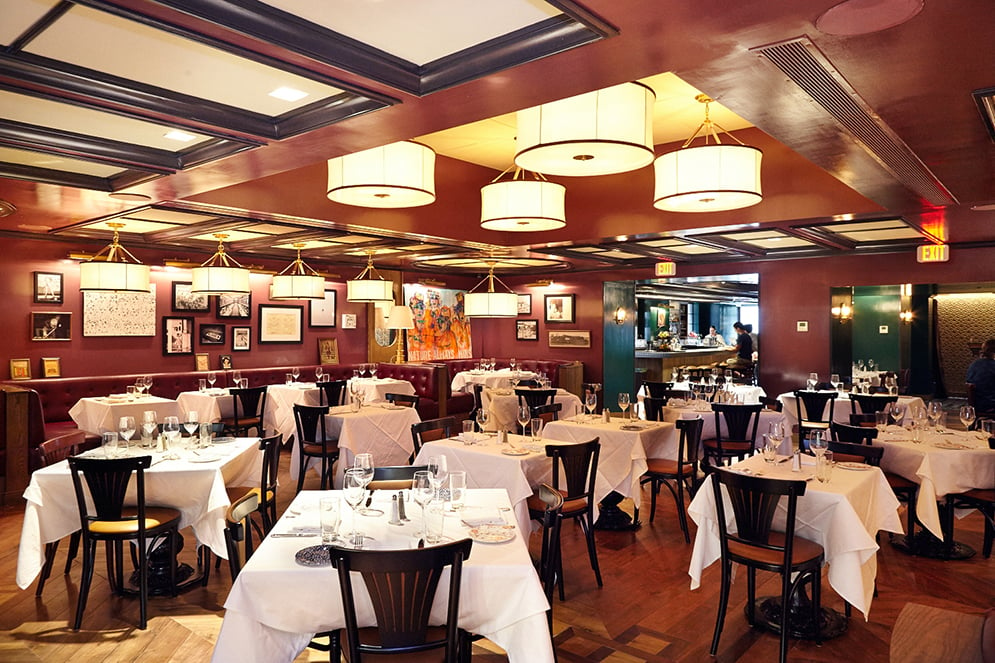 It's almost never worth it to order a whole sardine in a restaurant if you're not dining in a coastal European city. The fish themselves are seldom fresh enough, or firm enough, and if you should happen to get lucky, some kitchen hand kills the deal by grilling the things too long. But Michael Schlow's Toots Shor-style throwback gets them right. The chef buys sardines of impeccable freshness and quality, and his staff handles them with care. They arrive butterflied and lightly smoky, shimmering beneath a fine dice of pickled fennel and piquillo pepper.
12. Hake With Champ Potatoes at Garrison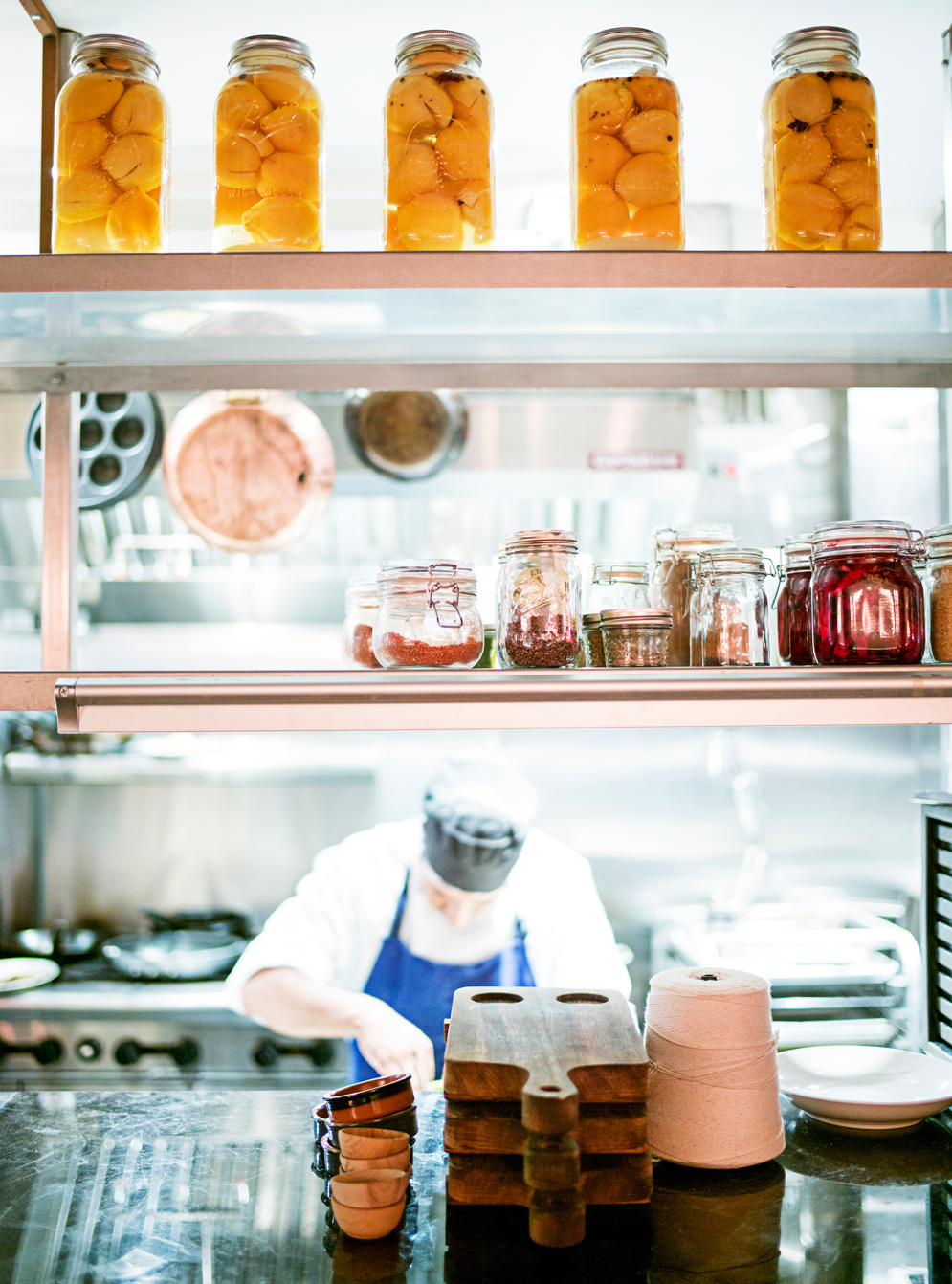 The sublimely supple pastas at Garrison are deservedly winning low-key chef Rob Weland some new fans. But the dish we crave most at this stellar newcomer is similar to one the chef trotted out on his menus two stops ago at Poste—a crisp-skinned filet of fish, in this case hake, perched atop a mound of champ potatoes (think mashed, but with chopped scallions and more milk), alongside a red-wine-poached egg, for a subtle sauce. This is precisely the sort of cooking, simple and lusty, that causes legions of Americans to hop a flight to Paris every year.
13. Spicy Fish With Brown Sauce at Hunan Taste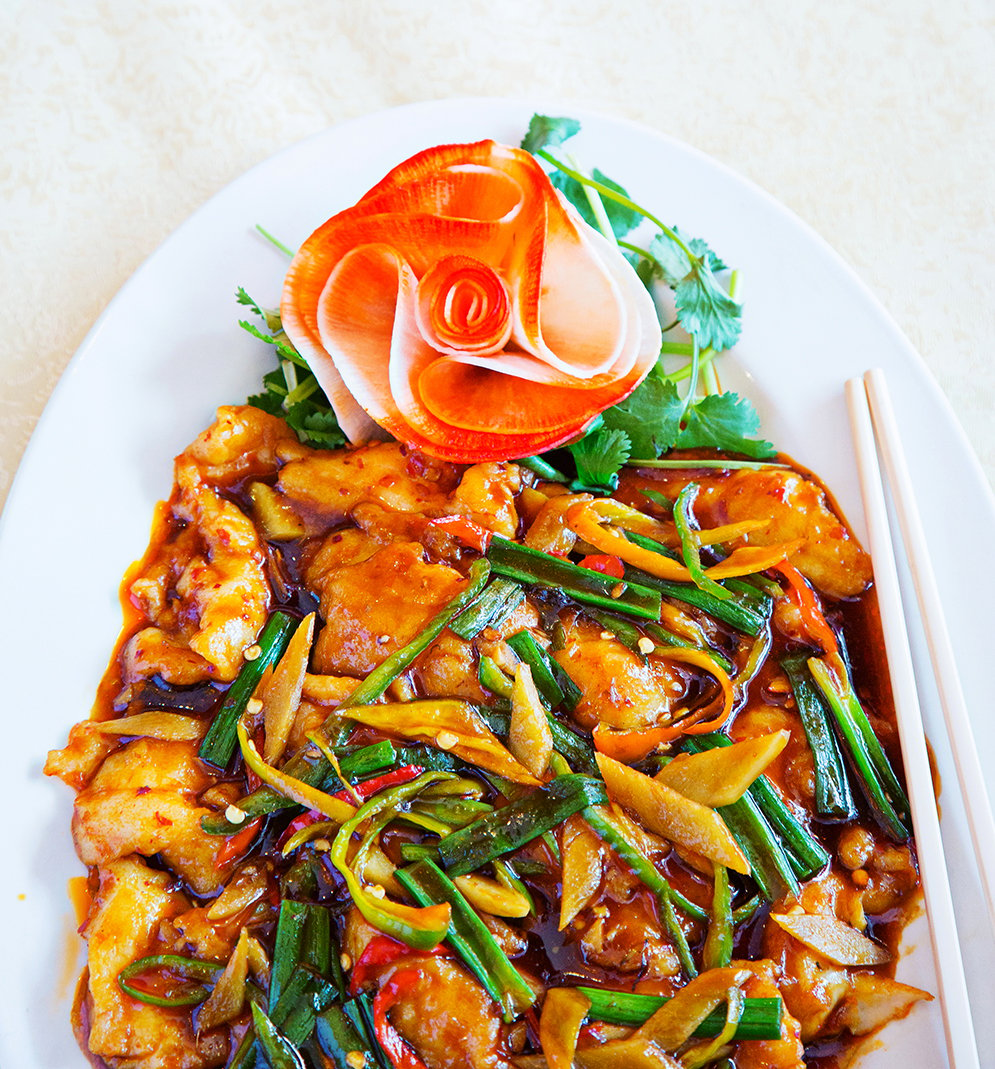 Every Chinese restaurant puts out some kind of stir-fry of fish in sauce. What makes this one sing? The delicacy of the handling, for one. Look at the way the filet of flounder flakes into tender medallions. For another, the way fish, bean-curd sauce, minced garlic, and chopped ginger all knit together into a tight, controlled harmony.
14. Fried Chicken at Maketto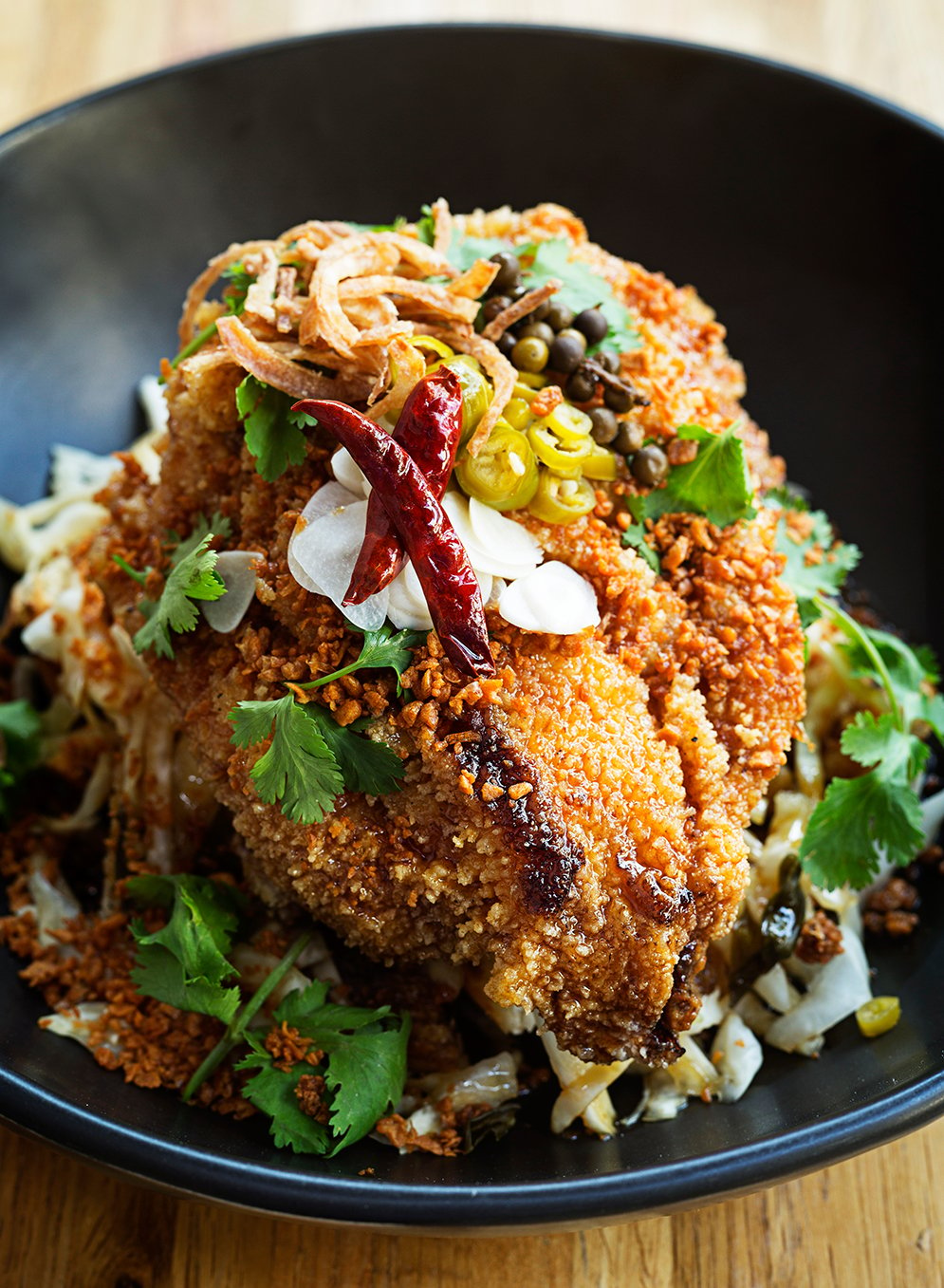 At a time when chefs all over town are trying their hands at myriad regional styles of fried chicken, this version is a creation all Erik Bruner-Yang's own. Instead of black pepper, he employs a hefty dose of mouth-numbing Chinese five-spice. Then, in place of batter, there's a simple dredge of sweet-potato flour, which makes the Amish bird extra-crunchy. But perhaps the most genius touch is that after the chicken is fried, it's doused in fish-sauce caramel and set atop torn hunks of bread, which soak up all the salty, sweet, spicy juices.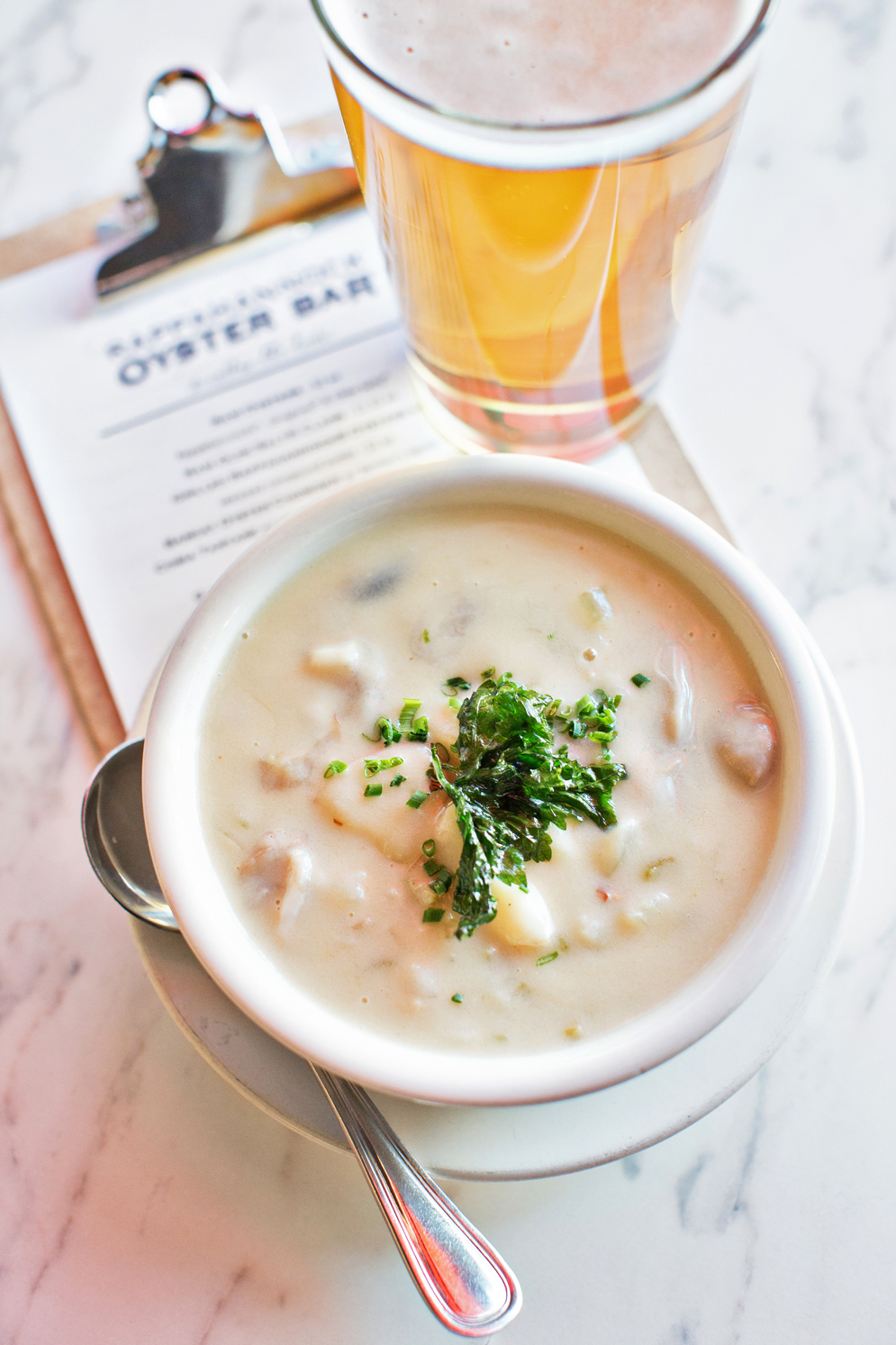 There's not much that's as soothing as a really good soup, and this Union Market oyster bar's chowder is one of our favorite cure-alls. Other versions skimp on the shellfish, whereas bowls of this silky stew brim with whole, plump Chesapeake oysters and smoky bits of Benton's bacon. No wonder the dish hasn't moved from the menu since opening day.
16. Squab With Italian Plums and Spring Onions at Masseria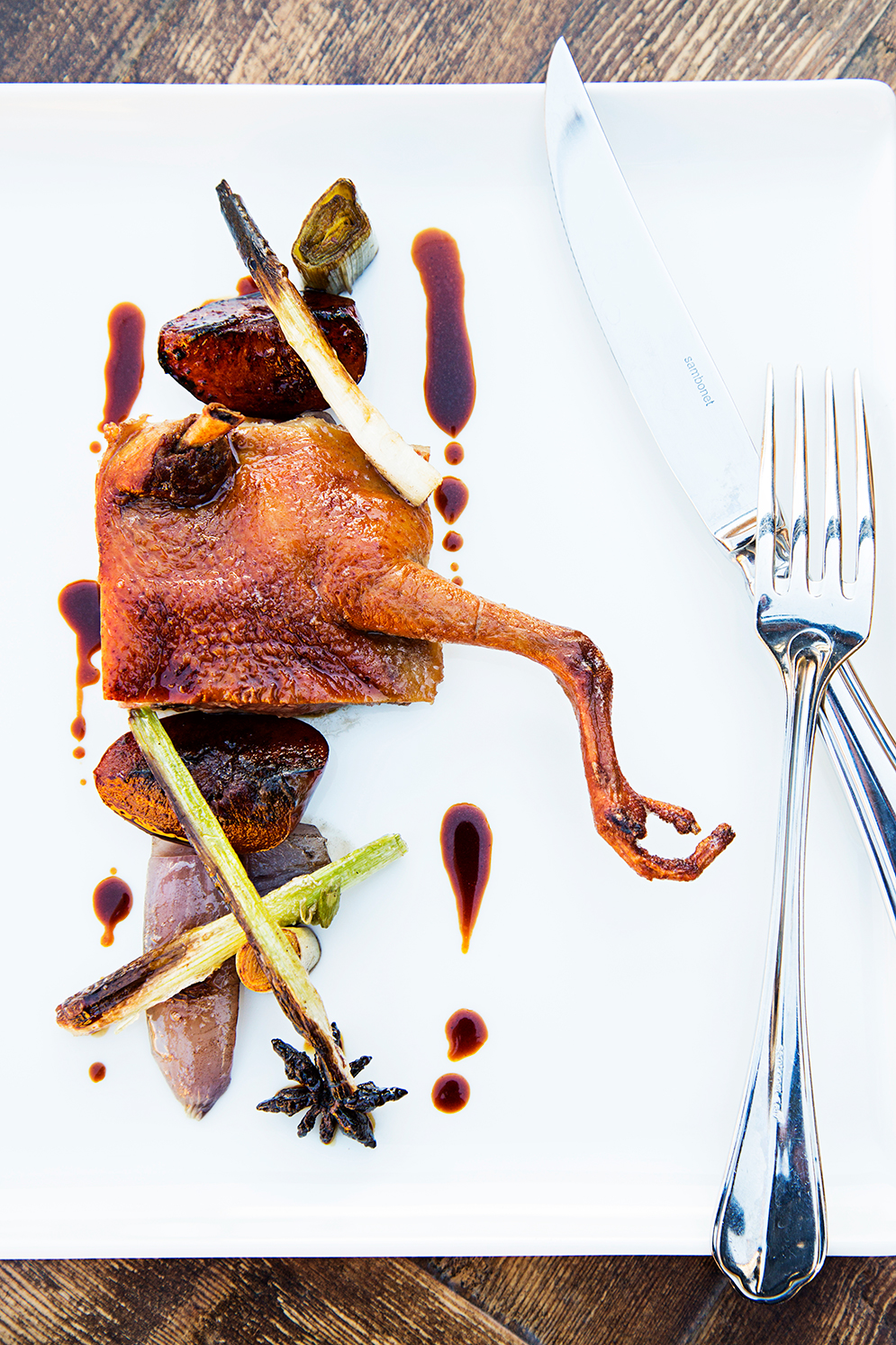 There's usually no white meat on a squab, but that doesn't mean that tender juiciness is a guarantee. It is, however, with this sumptuous preparation of the game bird, one of the stars on the menu at Nick Stefanelli's new tasting-menu spot. The meat, cooked to a perfect blush, almost puts you in mind of foie gras in the way that its complex richness lingers on the palate, and the complementary pieces—pickled Italian plums, leeks, and spring onions—bring a bracing freshness to the plate.
17. Vegan Platter at Enat
Perhaps the best way to sample the vibrant cooking on offer at Enat—one of the best Ethiopian restaurants in the area—is to spring for a "fasting" platter, where among other treats you'll find a zesty and aromatic mesir wat(a spiced red-lentil stew); a sharp and stinging azifa, made with green lentils, mustard, and jalapeños; and kik alicha, a soothing porridge of yellow split peas.
18. Pork With Sauerkraut at Preserve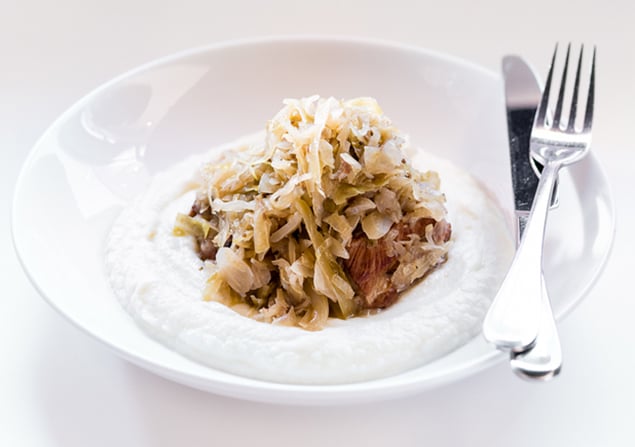 Half of Jeremy Hoffman's menu is devoted to the Asian-accented flavors the young chef picked up during his stints at, among other places, New York City's Nobu Fifty Seven. The other half is drawn from Hoffman's childhood on the edges of Pennsylvania Dutch country. This strapping entrée shows him to be an affectionate observer of his culture. We love the contrast between the sour-edged roast pork and the creamy whipped potatoes, the pungency and crunch of the sauerkraut, and the way Hoffman can take what might have been a caloric monstrosity and leave you feeling light.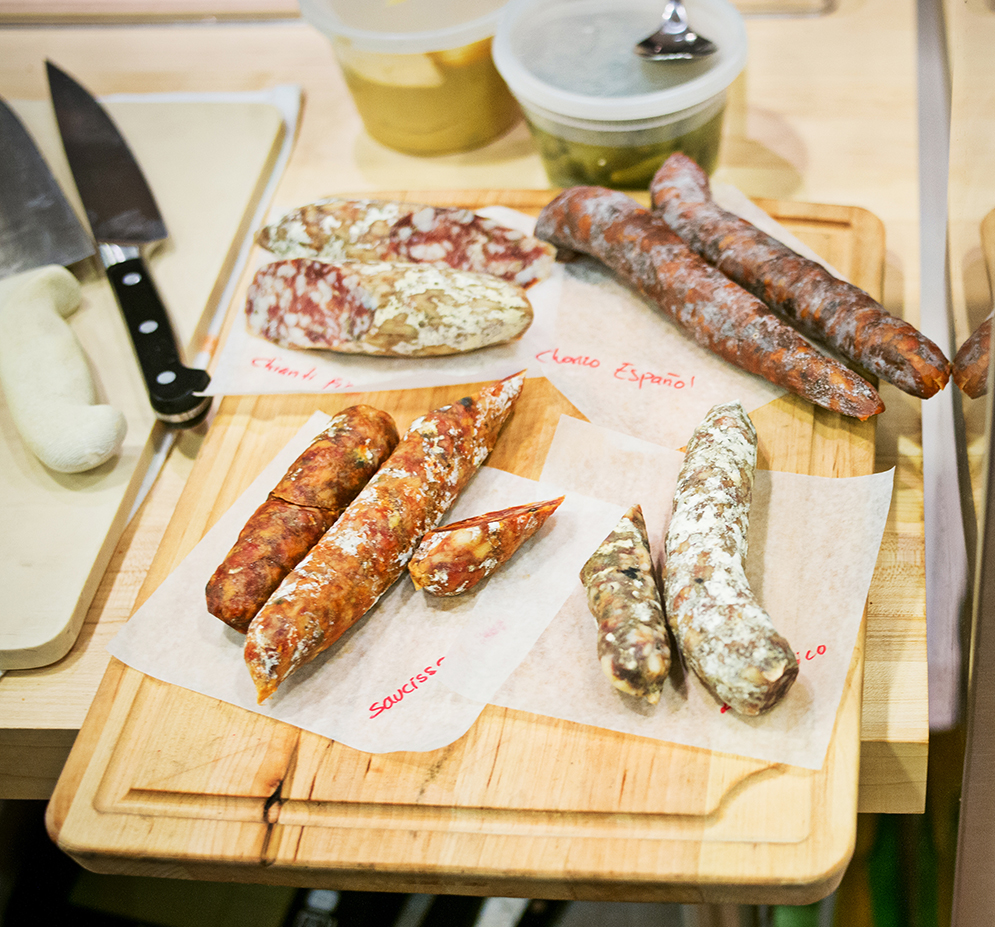 lomo and intricately spiced salamis—ought to reawaken your interest. This is old-school charcuterie, more countrified than citified, with every bite meant to deliver the intense flavor of meat that has been cured and concentrated to its essence.
20. Italian Coffeecake at Casa Luca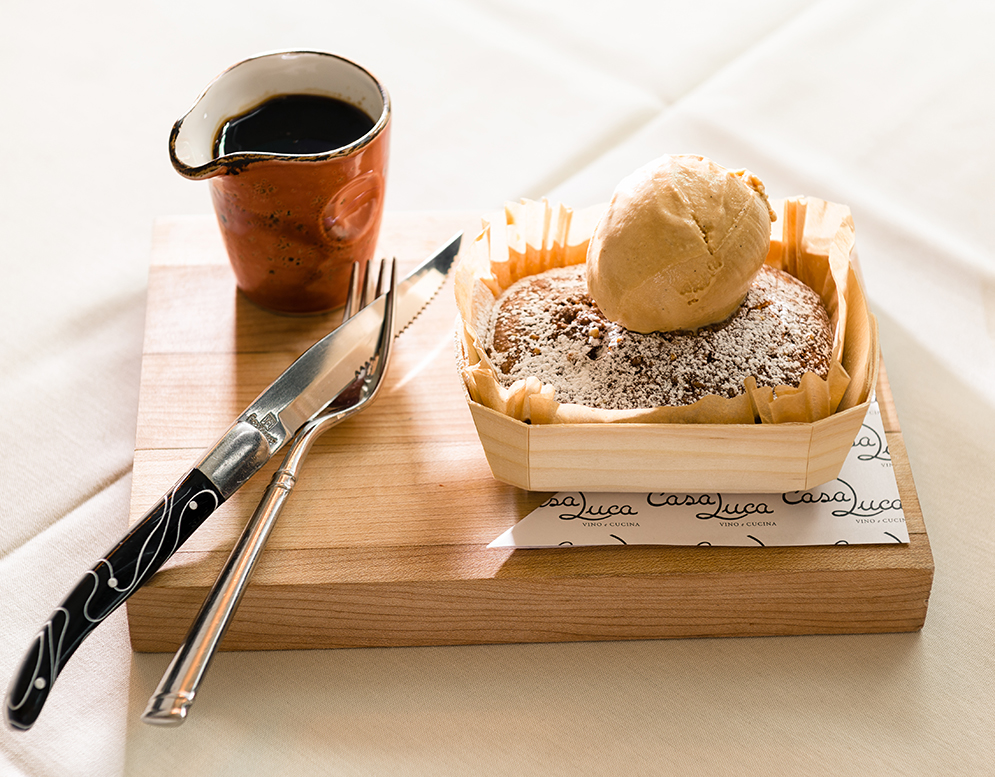 The robust Italian cooking at Fabio Trabocchi's osteria doesn't lend itself to craving a whole coffeecake come dessert, but order it anyway. Few other dishes pay tribute to his home region of Le Marche as soulfully. The cake, called a ciambellone—traditionally a midafternoon snack brought into the fields—is a riff on Trabocchi's grandmother's recipe, with oranges and rum-soaked raisins baked into the batter and a crunchy hazelnut topping. His upmarket twist: caramel gelato and warm vin cotto (a thick wine syrup) drizzled tableside.
This article appears in our December 2015 issue of Washingtonian.