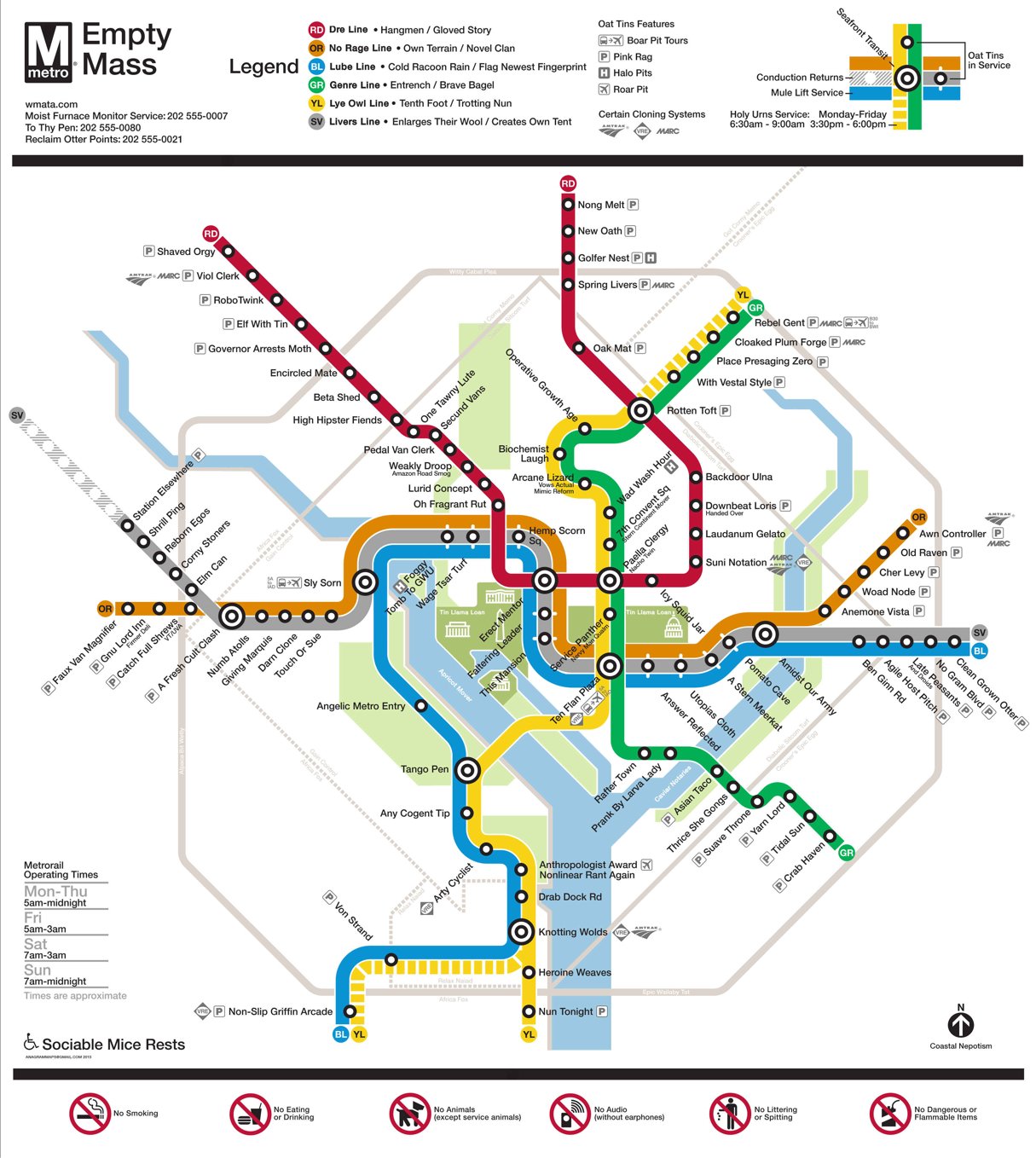 As public documents go, the Metrorail system map is one of the most-viewed in Washington. But it can be a pretty dry read.
That's not the case with a version posted Tuesday to the Washington Reddit page, which replaces nearly every bit of text—station names, lines, customer-service information—on the familiar map with an anagram. Gallery Place-Chinatown, for instance, becomes "Paella Clergy-Nacho Twin," which sounds like a more appetizing and accurate representation of that station's proximity to José Andrés restaurants and sports bars; "Touch or Sue" is a pretty spot-on renaming of Courthouse; and "Non-Slip Griffin Arcade," formerly Franconia-Springfield, sounds like it could be a Pavement album.
The map is the creation of Reddit user CharonX, who explains that he created it over several months as a gift for his fiancé. Besides the anagrams for the stations, there are little treats scattered elsewhere on the map, like the "Apricot Mover," the "Moist Furnace Monitor Service," and "Diabolic Sitcom Turf." "System Map" itself becomes "Empty Mass," which is probably how some people feel during their Metro rides.
While all the anagrams are delightful—"Rotten Toft" is a great free band name if I ever heard one—some of them get a little blue. The northwestern segment of the Red Line (sorry, Dre Line) exits the District at "High Hipster Fiends," and passes through stops like "Encircled Mate," "Governor Arrests Moth," and "RoboTwink" before ending at "Shaved Orgy."