Independent, brick and mortar bookstores in DC are thriving. How is this possible? For one, the city is filled with avid readers. A recent Bureau of Labor Statistics study showed that Washingtonians spend more money on books than residents from any other area. But small shops are also benefitting from the lack of corporate retail chains in DC. The last downtown Barnes and Noble shuttered in December 2015 allowing for stores like Politics & Prose to open more locations and small, hole-in-the-wall establishments like Bridge Street Books and Capitol Hill Books to stay in business. Here is a list of nine local bookstores worth checking out.
The Chevy Chase bookshop markets itself as "DC's premier cultural hub," an apt name considering its almost-daily book signings and author talks; just last month it hosted Jesse Eisenberg, Isabel Allende, and Ted Koppel. The 31-year-old store employs a 50-plus person staff eager to help find what you're looking for, and the bottom floor has a coffeehouse with art displays, a weekly open mic night, and tasty grilled cheese. But Politics & Prose is also helpful on alternate fronts that transcend your average bookstore/cafe—it has a machine in-house that will print out-of-print books, as well as your own manuscript. And if you think the written word is dead, just look at how Politics & Prose has expanded its brand by teaming up with Busboys and Poets to open satellite bookstores in three of the restaurant's Washington locations.
Kramerbooks, a short walk from the Dupont Cirlcle Metro, can be anything you want it to be. Looking to drop by and scoop up an esoteric work of postmodern lit? Kramerbooks is perfect. Looking to browse and make a new friend over by the stack of 33 ⅓ works? Kramerbooks is perfect. Looking to sit, enjoy the full menu at Afterwords cafe, and maybe listen to some live jazz? You get the idea.
Petworth neighborhood bookstore Upshur Street Books stocks every genre, but it's best for literary fiction, graphic novels, music books, and cookbooks. The shop is expanding its music selection; it will start selling vinyl in January after a release party with live performances from local Dischord bands. Upshur is also a great destination spot for a different kind of fun night out, with events that run the gamut from intimate dinners with local authors to book-related movie screenings.

This cozy used bookstore was founded in 1981 and has been at its current location in Adams Morgan since 2002. Open till 10 PM every day of the week, Idle Time is a low-key escape from the chaos of the bar and restaurant scene that surrounds it. The three-floor selection of books covers an impressive range of genres, but it's a particularly good place to look for sci-fi works and collectible comics, along with records and CDs.
At this Dupont Circle spot, you can linger, browse, and emerge with a hidden gem. The eclectic stock of used and rare titles covers "everything from 50-cent paperbacks to really obscure and expensive antiquarian material," says manager Eric Passaglia. And while Second Story may not carry every latest must-read, this store has a strong selection of travel narratives, philosophy and scholarly history, as well as popular fiction. Plus it's got that nostalgic musty smell that used-book aficionados love. You can also sell your own books there for store credit, provided they meet the staff's (very choosy) standards.
Upon walking into this old Georgetown hole-in-the-wall, you're greeted by overflowing shelves of books shoved into a tiny space. It feels like someone's apartment, and there's not much room to move around. But if you can score some elbow room, Bridge Street is a great place to browse, especially if you're an avid devourer of history, religion and philosophy works. There's not much literature, but there is a pretty impressive shelf full of literary criticism.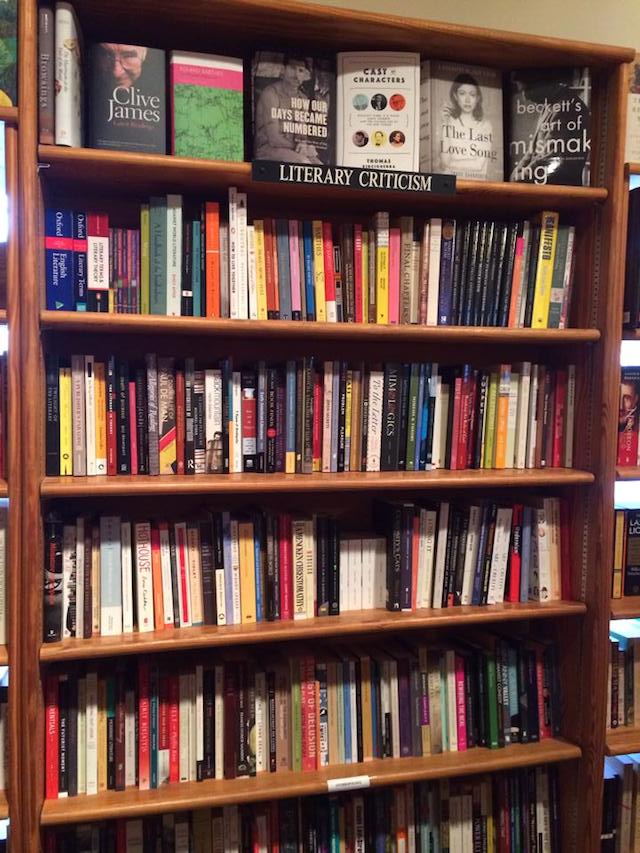 Used books take up every inch of available space at this unassuming shop near Eastern Market. Cookbooks are intuitively placed in the kitchen, and there's even "a weird section for those who like witches, dreams, and things that go bump in the night," according to the store website. Jim Toole, who has owned the shop for 20 years, worries his shop will get phased out by corporate America someday, but for now it manages to keep the outside world at bay: If you head in to browse, don't take a phone call or say the word "Kindle." That's against the rules.
This Adams Morgan cafe/bookstore may specialize in texts on social movements, activism, cultural studies, and spirituality, but its mission statement encompasses more than just literature topics. Potter's House is also a nonprofit that helps those in need with a pay-what-you-can daily soup available at the cafe as well as a pay-it-forward coffee program where customers can buy a cup of coffee for someone who can't afford one. Also stop by for community-oriented events–everything from children's storytime to writing letters to political prisoners.
The shelves at this shop on George Washington University's borders are lined with technical, scientific, and academic texts, including those about architecture, medicine, math, politics, law, and economics. Also on hand: stethoscopes, diagnostic sets, and other medical supplies.