Quick quiz, is this paragraph from the Washington Post or the Onion?
ROCKVILLE, MD.—Warning that it's getting really nasty out there right now, local mother Diane Burchill, 56, reported Friday that she saw a car that slid off the road and into a ditch. 'I was driving home on Route 28 and passed a minivan that had gone right off the road and down into a ditch, said Burchill, further confirming that cars were moving slowly near the scene of the accident.
Yep, that's the Onion. But real news often sounds like satire when a historic blizzard halts Metro service, spawns epic snowball fights, and, apparently, strands our journalists–leaving them to scrutinize their front driveways. Under two feet of snow, the mundane (man shovels, waits for plow!) is elevated to headline-worthy heights.
• ITEM: RAT HAS TROUBLE WITH SNOW
A rat was walking on a shoveled sidewalk, Rachel Sadon reported for DCist. Edgewood resident Jeff Lieberman, walking on the same sidewalk,  took careful notes:
"He would try to climb the walls, just to slide back down into the path I carved," Lieberman says. "So, eventually he gave up and patiently waited, slowly walking behind me for about 10 minutes until I reached the street."
• ITEM: AS BLIZZARD RAGES, MAN DRESSED LIKE COW PROMOTES MILK
WJLA's Kimberly Suiters was graced by Milkshake, "a diehard worker for USDA out promoting nutrition," during a live report. Milkshake used his camera time to tout the benefits of dairy and to show off his Christmas gift, new snowshoes.
Milkshake: We have kids giving us all sorts of gifts from around the world, and the gifts this year was surprising, it's snowshoes, which you wouldn't think you would need in Virginia, but with this weather event here, these are the perfect gift for Milkshake…
The "dedicated government employee" fell in the snow repeatedly as he tried to walk away.
• ITEM: DC POLICE CAR BLASTS MUSIC FROM "FROZEN" DURING STORM
"Do You Want to Build A Snowman" blasts out of a cruiser's window as it rolls through Adams Morgan on Saturday night. Washington Post reporter Aaron Davis was also all over this after he "noticed an unusual sound" when walking in the snow.
• ITEM: DOGS ENOY SNOW
And there were pictures to prove it.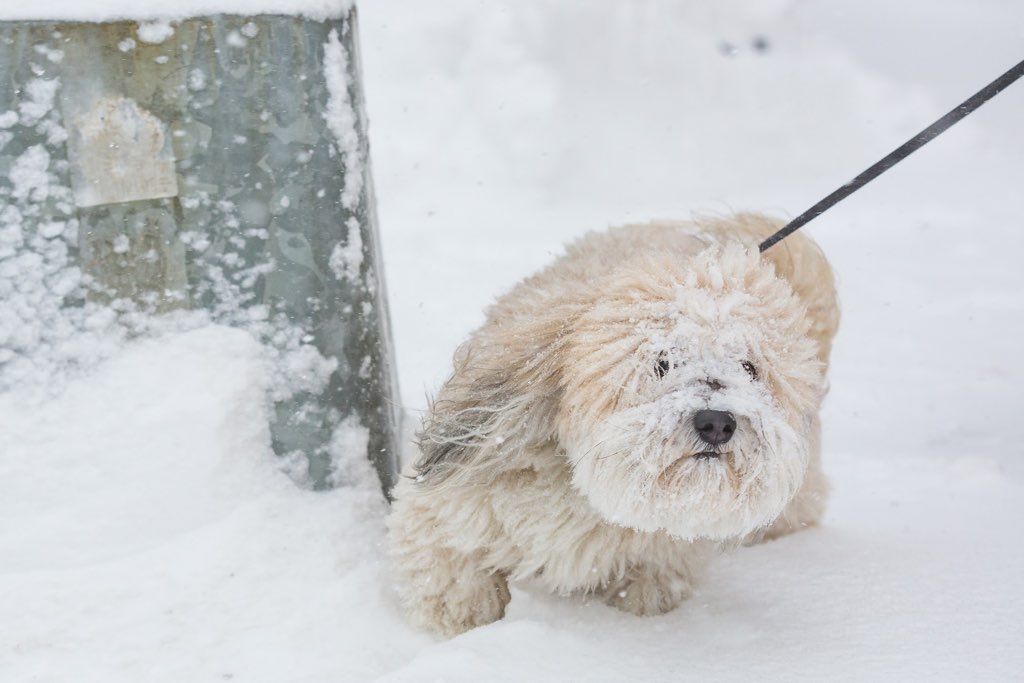 • ITEM: SOME LIKE SNOW. OTHERS DO NOT.
Washington Post reporter Steve Hendrix investigated both sides of the "great white divide between those who rush to grapple with winter on its own turf and those who gladly retreat to the climate-controlled comfort of wood fires, soup pots and Scrabble." Hendrix interviewed weather wimp Temple Morris, who:
…made two vats of soup, a heaping stroganoff and organized two closets. She is equally delighted to stay where the teakettles are steaming and the period dramas are streaming. "I watched three episodes of 'Downton Abbey.' My husband thinks it was only one," Morris confessed.
• ITEM: PANDA GOES OUTSIDE.
Milkshake wasn't the only celebrity to take a tumble. The National Zoo's adult male panda Tian Tian, father of Bao Bao and Bei Bei, made news when he played in the snow. Local, national media, and international outlets pounced on Tian Tian's frolicking like…a hungry panda eyeing up some sweet bamboo: The New York Post, Time, NBC Washington, the Baltimore Sun, the CBC, the Guardian, Mashable, and Washingtonian were among the many outlets to cover it.
#TianTian is still rolling in the snow, but we're still clearing it for visitors! The Zoo will be closed Jan. 26. pic.twitter.com/SHcWHIVt3d

— National Zoo (@NationalZoo) January 25, 2016