Just because it's sweater weather doesn't mean you can't head outside for a drink—especially when bars light up their fire pits, pour hot cocktails, whip up fondue, and make themselves extra-cozy for imbibing.
1340 Fourth St., NE
One of the chicest spots to sip in DC is the courtyard of chef Nick Stefanelli's Italian tasting room near Union Market, outfitted with sofas and fire tables (the feel is very LA). Try the aptly-named Skiing in a Sombrero cocktail, made with tequila, lemon, and vanilla.
523 Eighth St., SE
Drinkers on the patios can cozy up under colorful blankets when the temperature drops, and sip a Belgrade mule (plum rakia, house-made ginger beer) to warm up. An extra incentive for this balmy Tuesday: all-night happy hour specials on drinks, outside and in.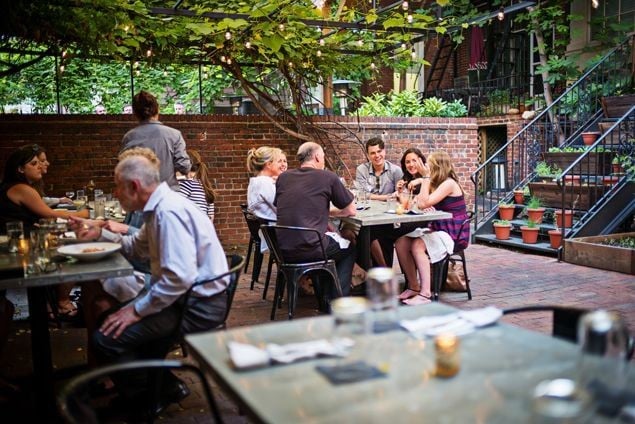 1734 N St., NW
One of DC's most atmospheric patios is equipped with heaters and fire pits for cold weather drinking and eating under the century-old wisteria vines. Keep things toasty with a bottle of Greek wine and family-style specials like vinegar-braised chicken leg with capers and olives.
524 Eighth St., SE
Fondue-lovers can head to Garrison's patio (and indoor bar) for the alpine special, Tuesday through Thursday. The bubbling pots of cheese serve two-to-four ($18 per person), and come with bread, or extras like veggies or gougères for dunking. We'd warm up with a rum-fueled Dark & Foamy cocktail.
1801 14th St., NW
The popular 14th Street beer garden just reopened for the season on Sunday—and was so busy that the beer ran out. Thankfully they've restocked, and are open for brews, barbecue, and outdoor fun under the heat lamps starting at 5 on weekdays (noon on weekends).
401 E Braddock Rd., Alexandria
Thin-crust pizzas aren't the only things getting crisped by flames at Lena's, which built a special fire table on their outdoor patio ringed by several seats. The rest of the courtyard is set with heat lamps to keep everyone cozy.
700 F St., NW
Complimentary s'mores, hot cocktails, and heaters make Poste's winter lounge one of the most festive places to hang in cool weather. The official hours are Thursday through Saturday, 7 to 9 pm, though guests can head outdoors with their drinks and enjoy the fire pits today.
925 N Garfield St., Arlington
The outdoor beer garden of this Arlington brewhouse boasts room for a 100-plus, as well as fire pits and hearty eats like poutine and grilled sausages. Grab a "roasty" pint like a Flying Dog smoked Belgian stout.