Not long ago, the Washington Post dubbed Mary Timony, who lives in her childhood home in Glover Park, DC's "rock idol next door"—a demure image backed up by her sloe-eyed looks and tinkling laugh. But from the time Timony, a standout student at Duke Ellington School of the Arts, broke into Washington's boy-dominated punk-music scene in 1990, she didn't spend much time waiting by the phone.
Her early, all-girl band, Autoclave, helped make Washington a center of the punk-feminist Riot Grrrl movement. Decamping for Boston University, she spent much of the next decade with Helium, a coed quartet that established her as one of the most influential women in indie rock. In 2004, while working on the third of three solo albums, Timony returned to DC, renting her old house from her parents and giving lessons in the basement. But her hard-edged guitar work, at once rambunctious and meticulous, and her ethereal lyrics have never gone out of style—"I just kept putting out records," she says with a shrug—and have kept her in demand.
After a one-album, two-year stint with Wild Flag—a supergroup featuring her and Sleater-Kinney (and Portlandia) star Carrie Brownstein—Timony, 46, has come full circle, heading the all-female DC-based group Ex Hex. Back from touring for the band's new album, Rips, she sat down to talk about Washington's music scene now and then.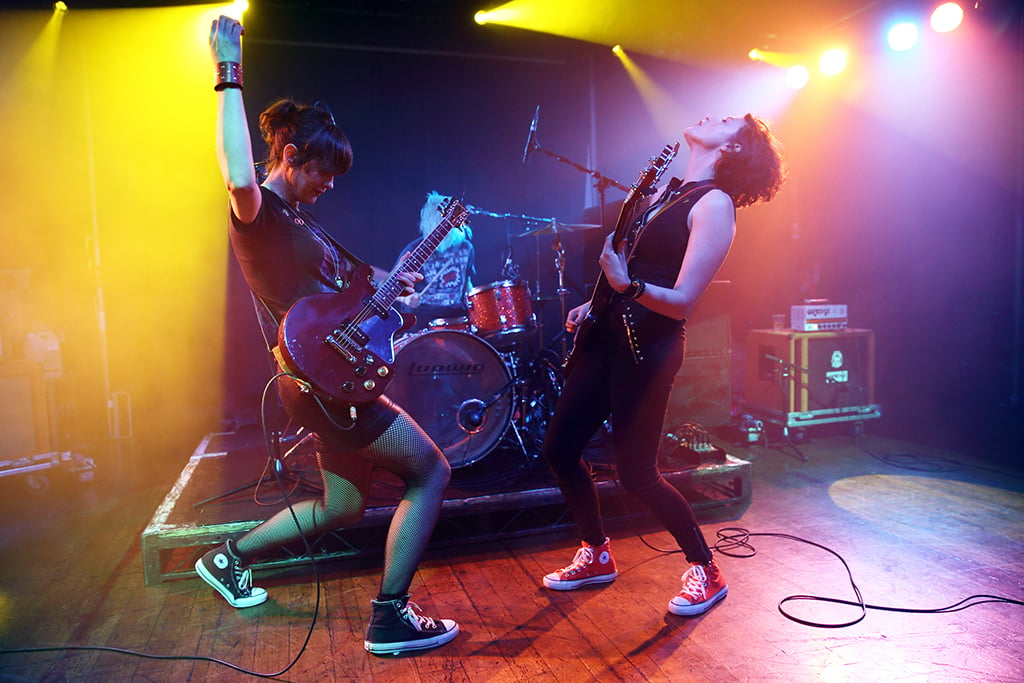 Karen O, the leader of the Yeah Yeah Yeahs, lived in suburban New Jersey, where she grew up, long after she'd become a star. Patti Smith retired for a while to the Detroit suburbs. Here you are in your childhood home in Glover Park. What's happening to our rock rebels?
I know, it's weird. My boyfriend, Jonah [Takagi], is a designer, and he gets that, too: Why aren't you in New York? On the one hand, I travel so much, it doesn't matter where I live. But my family is here, and there's still a great music community in DC that I love, so it just made sense. And we have this amazing house, where I can have my studio in the basement.
It's also not far from your rock roots. Where did Autoclave first perform?
We played at DC Space, at Seventh and E, which is now a Starbucks. At the time, there was nothing there. Nothing.
How different was the idea of an all-girl band back then?
There was one other girl band in DC, Fire Party—but, yeah, the punk scene was pretty much all guys when we started, in about 1990. Then the Riot Grrrl thing happened. [Riot Grrrl pioneer] Kathleen Hanna, who had grown up here a little bit, moved to DC. It was all kind of happening at the same time.
Was the Riot Grrrl movement, this punk form of women's empowerment, something that developed consciously?
We definitely thought of ourselves as female. At the time, all we knew of the rock world was that it was a boys' club. There was something going on in the '80s, with hair metal and hardcore, that was a real male energy. Riot Grrrl came out of a reaction to that, I think.
But was there a difference in how Autoclave played?
We used different time signatures and noodly guitar, and Christina Billotte's vocals were more melodic. And as we got into the '90s, there was this aesthetic of angst and anger and catharsis. Riot Grrrl also fits into that sort of thing. Rock is so different now. The '90s was the last decade when there was something to rebel against.
Or maybe you're just not a teen anymore.
I don't know. I don't see that spirit with kids making music now. It's much more about making art, which is great. There's great music being made now, but it's not being made out of rebellion. It's hard to shock people anymore.
Some bands from that time were more about shock and shouting slogans than, say, knowing how to play their instruments. You came at it from a very musical point of view.
I'm kind of weird in that I grew up playing viola and went to college for classical guitar for a year. Then I realized I'm not this music nerd; I'm a creative weirdo—what I really want to do is write and play songs. When Helium started, I wanted to deconstruct everything I'd learned on guitar, so I would play really sloppy. I've been putting together the Helium stuff lately, to reissue it, and it's embarrassing. I'm, like, playing with one finger. It sounds like I just don't know how to play.
But that's what the indie period was about—seeing if you could mess things around, write a song using just two chords.
For sure. There was a feeling everyone should play. You don't have to have studied music. If you want to play, just get up and do a show.
Why did that sensibility suddenly inhabit DC?
A few bands were really inspiring. Ian MacKaye, who was in Fugazi and founded Dischord Records, was inspiring to a bunch of kids who had learned how to make records on their own. We played for each other. We were cut off from the industry. I don't think it could have happened that way in another town.
After college, you stayed in Boston and formed Helium. How was Boston different?
In DC, the music was all really separate. There were punk kids doing their thing over here, and over there was go-go. In Boston, there was a ton of musicians, all playing different kinds of music. DC has always been small and extremely supportive. Boston felt more competitive. That was interesting, and maybe motivating.
Yet those early Helium albums are still pretty bleak. Was that you or the music?
I was a pretty depressed kid, working out my issues. I had big things to express at that point. But music then was pretty angsty, too, so it made it acceptable for me to do that, and I came from all those punk shows in DC. That music was completely coming out of anger.
Anger about what?
You'd have to look at specific songs, but most of it was about political stuff. Seventy-five percent of the shows were benefits. Homeless shelters, Whitman-Walker Clinic, Food Not Bombs.
That sounds very wholesome—and very DC.
Oh, yeah. Fugazi—all their shows were benefits. Those bands didn't play to make money. Pretty crazy when you think about it, and pretty different from other towns.
Since you bring up money, let me ask about the economics of the music industry, which have flipped upside down. Instead of touring to support record sales, bands now put out records so they can make money on tour. Indie bands have always relied more on touring for income. Has the internet changed anything for you?
The internet has made it possible for bands to upload their stuff, and if they're good enough, they can get to a level where they tour a little bit. But it also means there are a million bands on tour, and they can't make a living on it. They just keep on touring and touring. It's not like you get signed and people play your records on the radio.
Does that change how you tour?
You have to be smarter about it. There are a lot of festivals, which pay pretty well. Ex Hex has toured a lot. We toured be-fore we even made the record, just to get tight, and then we just decided, let's tour a lot. We're taking a break now, but we played 200 shows over the past year and a half.
Do you like going onstage night after night?
It depends on how much responsibility I have in the band. Now I have fun because our jobs onstage are nailed down and I'm not totally overwhelmed. With my solo stuff, I used to play four different instruments and I was like, what's going on? Wild Flag was really fun, too, because all I had to do was play guitar and sing a little.
Wild Flag, which was a return to an all-girl format for you, ended too soon for a lot of fans. Was it always meant to be a short-term thing?
I don't think we ever talked about it. Carrie [Brownstein] and Janet [Weiss] quit because they wanted to go back to Sleater-Kinney. But Ex Hex is awesome, too, so I wasn't that bummed out.
Ex Hex ended their tour at the 9:30 Club. Can you tell that DC has changed from the stage?
Obviously, there are more hip people who live in town. When I first moved back, there was a feeling of one thing ending—a lot of people who'd been active in the '90s had left. I feel like now there are a bunch of really cool kids in their twenties who are in bands with really neat things going on.
How are they different from you at their age?
I think there's a higher standard now. People are so aware of music because the internet makes it so easy to do research. I think it's changing music a lot. I teach guitar a few hours a week. There's one kid who comes for lessons who asked me to teach her songs by this all-female band that used to open for the Grateful Dead in the '60s. I didn't know anything at their age except what was on the radio.
This article appears in our March 2016 issue of Washingtonian.