Update (10/17/2016 12:19 p.m.): Arboretum officials first noticed a crack in the shell of one egg around 7 p.m., Wednesday, March 16. They're now predicting the first baby eagle will arrive sometime in the next 12 to 48 hours. Keep your eyes peeled!
Right now, perched in a Tulip Poplar tree in the National Arboretum, the American Bald Eagle named "First Lady" who last year successfully hatched an eaglet in the same spot, sits atop another egg which is due to hatch literally any moment now. And lucky for us, there's a live cam recording every second of it and sharing it with viewers.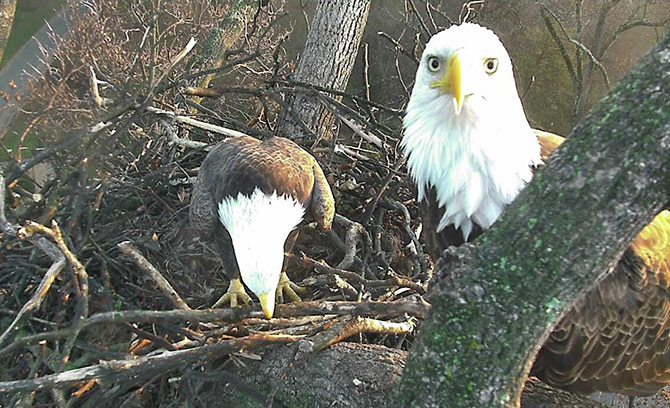 First Lady and her mate, the aptly named Mr. President, returned for a second year to the same spot, despite the fact that no American Bald Eagles have nested in the Arboretum in the last 47 years. As to why they chose this exact spot now, the American Eagle Federation (AEF), which is broadcasting the Eagle Cam, explains
The Arboretum has a number of mature trees that are large enough to support an eagle's nest. Even though this nest is in an urban area, the Arboretum provides quality wildlife habitat and enough open space to dampen the commotion and noise from the city. Also, the Arboretum's eastern boundary is the Anacostia River, which is a significant food source.
This year the eagles are sitting on two eggs, the first of which may start hatching today, although the AEF rather forebodingly warns, "we hope that two healthy juvenile eagles will end up fledging from the nest this summer, things like sibling rivalry, predators, and natural disaster can affect this eagle family and and may be difficult to watch."
And on this same day, two vultures have taken up residence on K Street, perhaps drawn to the familiar crowd populating the office buildings there. #lobbyistjokes
I'd throw a little bird pun in here, but I bet it would just fly over your heads! #someonetakeawaymywebsiteaccess