The ostentatious New York hotelier Donald Trump visited his company's property at the Old Post Office on Pennsylvania Avenue in an attempt to show off progress on the upcoming luxury accommodations. But when it came time to answer questions, the only questions Trump could elicit from the crowd of several hundred reporters were about his status as the frontrunner for the Republican Party's presidential nomination.
"The rooms are almost complete—super-luxury," Trump said from behind a podium bearing a placard with his hotel company's logo, rather than his standard "Make America Great Again" slogan. "This was considered one of the great buildings of Washington."
As of Monday, the Romanesque Revival landmark building is still very much an active construction site, with exposed beams, steel girders, and unopened boxes of building materials filling the massive, but unfinished, atrium where the press conference took place. The scene was another oddball stop on Trump's campaign tour, a blend of his real-estate development interests with his presidential ambitions. (His son-in-law, New York Observer publisher Jared Kushner, was skulking behind the scaffolding off to one corner.)
But instead of hospitality and service, Trump wound up talking mostly about political machinery—his conclave with Republican Party big-shots at the office of the Jones Day law firm, his speech Monday evening to the American Israel Public Affairs Committee's conference at the Verizon Center, his suggestion that the Heritage Foundation is consulting him on a list of judges he would potentially name to the Supreme Court, the mutual-admiration society he is building with Russian President Vladimir Putin.
Chalk it up to the ranks of national and international campaign reporters vastly—or "bigly," to use a Trumpian adverb—outnumbering the local hacks who just wanted to know if the Trump Organization has hired the full complement of the hotel's staff or if it has found a second restaurateur to take the place of the eateries originally planned for the hotel by José Andrés and Geoffrey Zakarian. (Trump is currently suing both chefs in DC Superior Court after they quit following his incendiary comments about immigration.) But the sheer number of media from all beats proved that while not all reporters cover presidential politics, we all cover Trump.
The only hotel talk during the formal part of the press conference came when Trump called on a woman several rows back and invited her to the podium and invited her to interview for a job with the hotel.
"I looked at her, and she asked a question, and she just seemed like a good person to me," Trump said of the woman, who was later identified as Air Force veteran Alicia Watkins. Although she had a media credential, Watkins did not appear to be affiliated with any publication, raising suspicions among the rest of the crowd that she was a campaign plant.
When he wrapped it up, Trump pivoted back to the hotel, even though he had spent nearly an hour overlooking questions about it in favor of political ones.
"No one asked me about the hotel," he said. "Who wants to go on a tour?"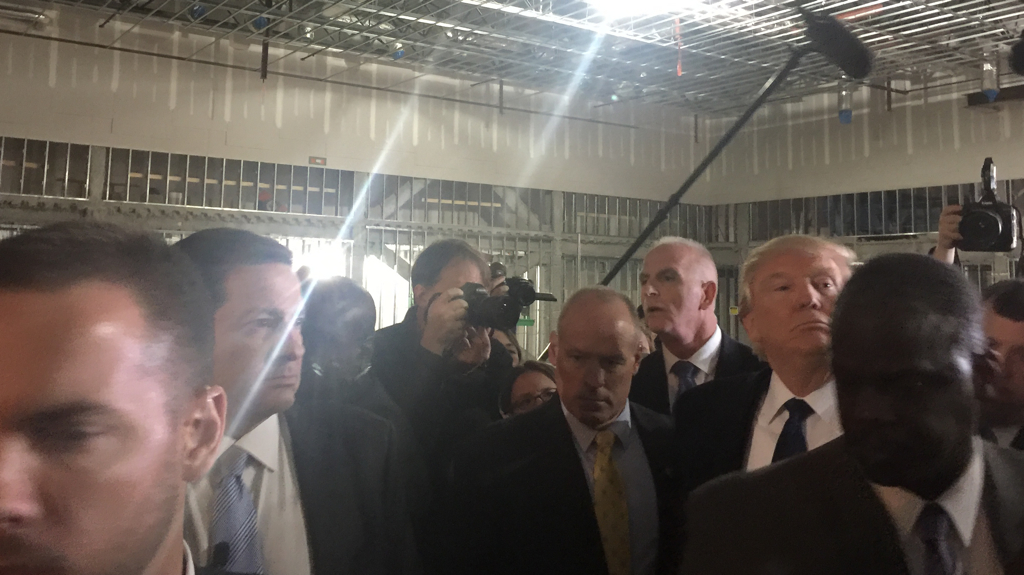 Tours of under-construction hotels, apartment buildings, and office towers are common on the real-estate beat, but they are typically small groups led by mid-level real-estate executives with everyone wearing a hard hat. On Monday, the leading candidate for a major political party's presidential nomination led hundreds of hard-hat-free reporters and photographers through an active construction site, with boom mikes brushing up against drywall and writers trying to avoid holes in the ground while they live-tweeted.
Inside the ballroom—which Trump said will be the "largest luxury ballroom in Washington, maybe the entire Washington area" but currently resembles a stripped-down warehouse—the talk was just more politics. Washington Business Journal's Rebecca Cooper, separated from Trump by just one Secret Service agent and a television camera, attempted to ask Trump about the restaurant situation several times. But Trump could only hear Bloomberg's Mark Halperin, who shouted into the nape of Trump's neck some milquetoast questions about the candidate's opening a hotel in a city he regularly bemoans.
That's as local as Trump's visit got, and Halperin lives in New York.