Since Serial catapulted podcasting into the mainstream, more people than ever are trying to enter the field. That's where Goat Rodeo comes in. It's a new DC podcast collective trying to wrest a piece of the audio storytelling market away from public media. To do that, they're bringing on independent hosts with little podcasting experience and providing them with the tools, platform, and audience to make a show. If you have an idea for a locally focused podcast, Goat Rodeo wants to be the first place you'll go. 
Podcast networks are not a new idea, nor is competition for innovative producers. Radiotopia, a podcast network from PRX, is always searching for fresh and inventive shows. So is Alex Blumberg's podcast company, Gimlet, a magnet for former public media veterans looking to get in on the resurgence of the medium.
"We want to find radio producers where PRX and Radiotopia aren't looking," says Ian Enright, the 25-year-old co-founder of Goat Rodeo. "If there ever was a network out there to kill your idols and do something different, I really think and hope we are that." Enright says the group is experimenting with non-narrative forms told from singular perspectives, rather than trying to include voices from all sides of an issue. They're also trying to stake out a place in the local media sphere—something not many podcast networks are doing.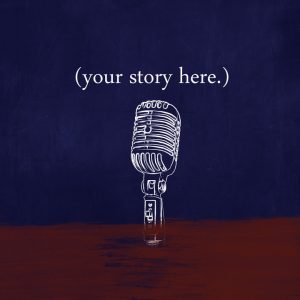 Goat Rodeo launched last fall and has since released three shows: A music history podcast called Between the Liner Notes, a show called Revivalism that collects audio stories from an American road trip, and Your Story Here, which features interviews with strangers around DC. The network doesn't yet have advertisers, but Enright says local businesses have already expressed interest in buying in. Goat Rodeo's strategy is to first build up a solid collection of shows, attract a listener base, and then seek funding and advertisers.
It also needs to prove that it can be a sustainable company that produces consistent, high-quality audio. "It's hard to tell who's kind of bullshitting and doing this thing on the side, and who's doing this thing for real. We want to prove to our producers that we're legitimate."
Lauren Ober, a WAMU producer and host of The Big Listen, a show about podcasts and how they're made, says that if Goat Rodeo is going to succeed, it has to provide the networking, branding and marketing support for the shows it's bringing on. It also has to find a lot of listeners. "I could start a podcasting network tomorrow," Ober says, "but if I don't have anything to offer people, then I'm just a person with a collection."
That's exactly why Enright wanted to start a network instead of producing yet another independent show. He and his co-founder, Carlisle Sargent, will promote and brand the shows while the producers focus on creating them. Producers aren't getting paid yet, but Goat Rodeo does have a steady stream of revenue from a consulting arm: Small companies and nonprofits hire the co-founders to help them get their own podcasts off the ground, which Enright says has proved lucrative. They have a meeting with World Bank next month, he says.
Lizzie Peabody, the producer of Your Story Here, says she probably wouldn't be in podcasting if it weren't for Enright and Sargent: "They really nudged me to do this, and when I say nudged, they like drop-kicked me." Before joining Goat Rodeo, she dabbled in audio and made a New Year's' resolution to record an interview with someone every single day. She's now trying to translate what she calls a compulsion to record her own life into a show that people are going to want to listen to.
It can be hard to do that with one-off interviews with complete strangers. "When you're interviewing a stranger, it's like you're feeling around in the dark the for magic button that's going to open sesame," Peabody says. She starts every interview with the question "Who are you?" and goes from there. The result are these small auditory windows into someone's life. She also mixes the stranger interviews with conversations with friends and family. In her pilot episode, she included an interview with her grandma alongside a bookish bike courier and a Ghanaian immigrant.
By the end of the year, Enright says the network hopes to add three more shows and attract around 15,000 listeners for each one. Right now, he says, they have an average of about 8,000 listeners between their top two shows, which puts them in the top 3 percent of podcasts. Because there are so many podcasts out there that have few to no listeners, that figure is somewhat skewed. Still, they're off to a good start.
"You can create a podcast and get people to listen to it in a real organic way," Ober says. "So if there's a local network that's trying to facilitate that, then I say more power to them."