If you subscribe to Washingtonian, first of all, thank you! Second, we have some irritating news to share: Two companies are sending out fake renewal notices to our subscribers, saying they need to renew for a year at prices like $79.95 and $89.
This is bogus! You can manage your subscription here.
The companies sending these notices are not authorized to renew your subscription. Two that we know of (so far) are GPP GLOBAL PUBLICATION PROCESSING, INC. and APG ATLANTIC PUBLISHERS GROUP, LLC.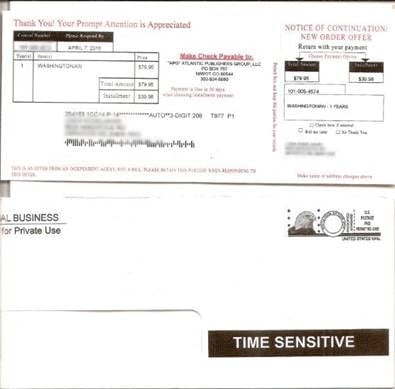 If you receive a renewal notice from either of these companies, please do not send them any money. This is a scam. Please disregard and dispose of this notice. We are currently working to remedy this situation. If you have any questions about your subscription, or you aren't sure whether you received one of these notices and are worried about it, please contact us at 202.331.0715.
And if you don't currently subscribe to Washingtonian, here's a pretty sweet deal.