Is it possible that the producers of HBO shows that couldn't seem more different exchange notes so episodes of their series can echo each other on the same night? I ask, because the prospect of Jonah Ryan serving in Congress a mere hour after a certain act of heroic door-holding might make this the most upsetting Sunday night in a while.
For an episode titled "Thanksgiving," we actually see very little of the Meyer family: Selina is using the holiday to get a garish eye lift, while Catherine—newly enriched thanks to her inheritance of Selina's mother's estate—hosts dinner with her father. Instead, we get a return of the Ryans of New Hampshire: Jonah's mother and his uncle (Peter MacNicol), a Granite State political schemer who has an open congressional seat to fill. It should go to Jonah's off-screen cousin, Ezra, an apparent war hero. But first, Uncle Jeffrey needs a patsy, and who better than the lanky goon who says proudly, "I'm an MRSA infection! You don't get rid of Jonah Ryan."
This, viewers, is how democracies birth their own tyrannical deaths. #NeverJonah.
Meanwhile, poor Dan Egan looks to be headed to his second nervous breakdown in as many seasons as he is dispatched to the office of Selina's running mate, Tom James (Hugh Laurie). At first they seem like a good match—they're both deadpan and often unfeeling, and Laurie's role had felt like it was missing a regular partner since he joined Veep last year.
"So raise your right hand and repeat the oath. I'm fucking with you," as Tom says to Dan when bringing him into the fold, feels like such a natural pairing. But as soon as Tom asks for his coffee—"one cream, splash of half-and-half, one sugar, one Splenda"—it's obvious where the relationship is headed. By the end of the episode, Dan's become Gary. Julia Louis-Dreyfus's other famous character could relate.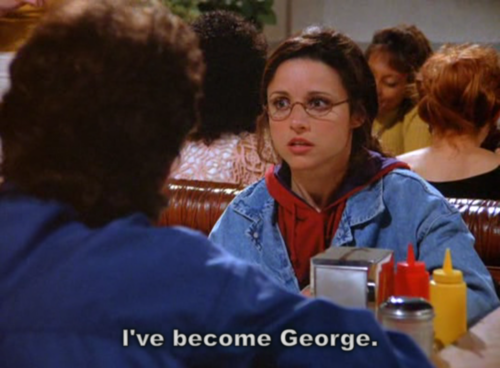 Here are a few more observations from "Thanksgiving":
Lance That Doyle: Vice President Doyle (Phil Reeves), Selina's placeholder for her old job, gets called in to make multiple statements for the White House after Selina's procedure leaves her eye sockets looking like Emperor Palpatine's. And he actually does well, even getting in one of Veep's sharper moments of media criticism when he dismisses a reporter's question about a salmonella outbreak by pointing out that "Turkeypocalypse" is a term cable news would invent to get people to watch more news.
Sue for President: Not only is Sue totally unfazed, yet again, by the latest mishaps, she also slips in a reference to her super-secret personal life: She's married. "Last year, 250 people, no one from work," she tells the rest of the team, without any need for their approval. Daenerys Targaryen might be the Queen of Meereen, rightful Queen of the Andals and the First Men, Khaleesi of the Great Grass Sea, the Unburnt, Breaker of Chains, and Mother of Dragons, but she's got nothing on Sue.
Turkeypocalypse, by the numbers: Never let it be said Veep doesn't check its facts. When the White House's first move after the salmonella outbreak is to call a congressman from Missouri, due to its abundant turkey industry, Kent is quick to point out that Minnesota, North Carolina, and Arkansas actually produce more of the birds. It checks out.
Dinner With the Brookheimers: Amy doesn't have too much to do this week, other than snipe at her sister for continuing to mistake Carson City, Nevada for Las Vegas. Oh, and reveal that her father is played by Jim O'Heir—the one-and-only Jerry/Larry/Terry/Garry Gergich!—who gets in some very un-Gergich-like lines at Dan when he drops in.
Mike McClintock Health Watch: Mike and Wendy's surrogate seems to have changed her mind and agreed to carry their child, prompting a celebration at the Willard Hotel suite previously occupied by the turkeys pardoned by Selina. Right in the middle of Turkeypocalpyse.
Jonah Ryan Insult Watch: After a few weeks of leniency, Veep is once again full of horrible descriptions for Jonah. But the greatest doesn't come from his uncle, who describes him as the only member of a list of "spectacular dumbasses," or Jonah himself, with his MSRA line. It comes from dear, sweet Richard Splett, who—while spending Thanksgiving with the Ryans—takes a break from blogging about Tom Bombadil to be repulsed by Jonah's childhood photograph: "Wow, that is some overbite. It's like a were-rabbit. … I didn't know children still wore leashes at this age." Splettnet earned its clicks tonight.