Our Washingtonian Recommends lists bring you the best places to eat, drink, and be entertained—all selected by Washingtonian editors.
Updated on December 27, 2016.
The National Gallery of Art's neoclassical West Building is home to one of the world's best collections of paintings, sculpture, and more, dating from the 13th to the 20th century. The I.M. Pei–designed East Building opened in 1978 and houses mostly modern and contemporary art on four levels.
The best way to enter the West Building is through the Mall entrance on Madison Drive, which leads into the building's impressive central rotunda. Take a right and you'll find the 19th-century French galleries, which are home to works by Monet, Renoir, -Cézanne, and others. On the west side of the building, don't miss "Ginevra de' Benci," the only painting by Leonardo da Vinci in the Americas—which features a special surprise on its back.
An underground tunnel on the concourse level leads past the bookstore to a larger museum store and dining area underneath the East Building (a light sculpture by Leo Villareal, "Multiverse," adorns the passageway). As of late September 2016, the East Building galleries will be reopened after three years of extensive renovations.
Constitution Ave. between Third and Seventh Sts., NW; 202-737-4215; Free.
The Donald W. Reynolds Center for American Art and Portraiture, a majestic Greek Revival building in Penn Quarter, is home to both the American Art Museum and the National Portrait Gallery. The museums take up opposite sides of the building, which has a central courtyard with a vast glass roof designed by Norman Foster.
When it opened in its current location in 1968, the American Art Museum was the first collection of its kind, bringing together works by three centuries of US artists. The museum's galleries include a collection of folk art on the first floor; Civil War, antebellum, and American impressionism exhibits on the second; and an extensive collection of contemporary American art on the third floor, including works by Robert Rauschenberg, Jenny Holzer, and others.
Eighth and F Sts., NW; 202-633-1000; Free.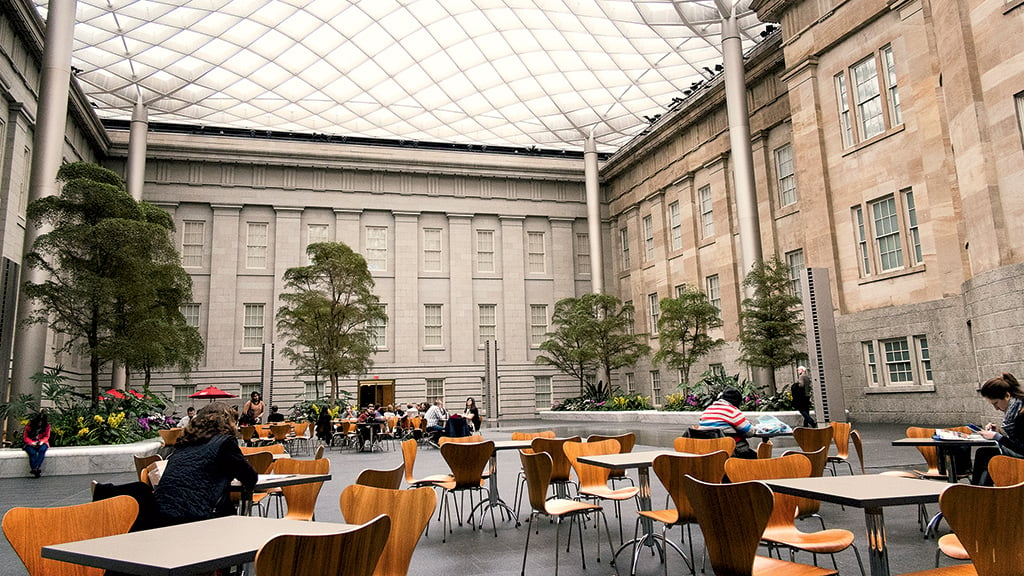 A celebration of acclaimed and influential Americans living and dead, the National Portrait Gallery is notable for both its manifold subjects (from Pocahontas and Franklin D. Roosevelt to Fred Astaire and Rosa Parks) and its comprehensive look at the art of portraiture. "American Origins, 1600–1900" provides a historical overview of America through portraiture in 17 galleries, while "America's Presidents" includes multiple renderings of 43 presidents of the United States. On the third floor, the "20th-Century Americans" gallery includes portraits of Marilyn Monroe and Muhammad Ali.
Eighth and F Sts., NW; 202-633-1000; Free.
Located in a red-brick former residence near Dupont Circle, this modern-art treasure trove is remarkable for its idiosyncratic approach—works are hung in diverse groups in order to "converse" with one another—as well as the quality of its collection. The crown jewel is Renoir's "Luncheon of the Boating Party," but you'll also find works by Matisse, Monet, Klee, Whistler, Bonnard, Braque, and more.
1600 21st St., NW; 202-387-2151; $10 to $12.
Located in a spaceage Gordon Bunshaft-designed circular structure on the south side of the Mall, the Hirshhorn Museum has one of the world's finest collections of modern and contemporary art. The museum's permanent collection includes works by Willem de Kooning, Jean Dubuffet, Man Ray, Francis Bacon, Ai Weiwei, and Dan Flavin. Along with a rectangular reflection pool, the sculpture garden features Rodin's "The Burghers of Calais."
Seventh St. and Independence Ave., SW; 202-633-1000; Free.
Originally founded as a private institution, this collection of ancient African manuscripts, costumes, weapons, paintings, and sculptures was folded into the Smithsonian in 1979, and relocated to the Mall in 1987. The current collection includes late-19th-century carved figures from Benin, paintings by modern artists such as Gerard Sekoto, ceramics, metalwork, and jewelry.
950 Independence Ave., SW; 202-633-1000; Free.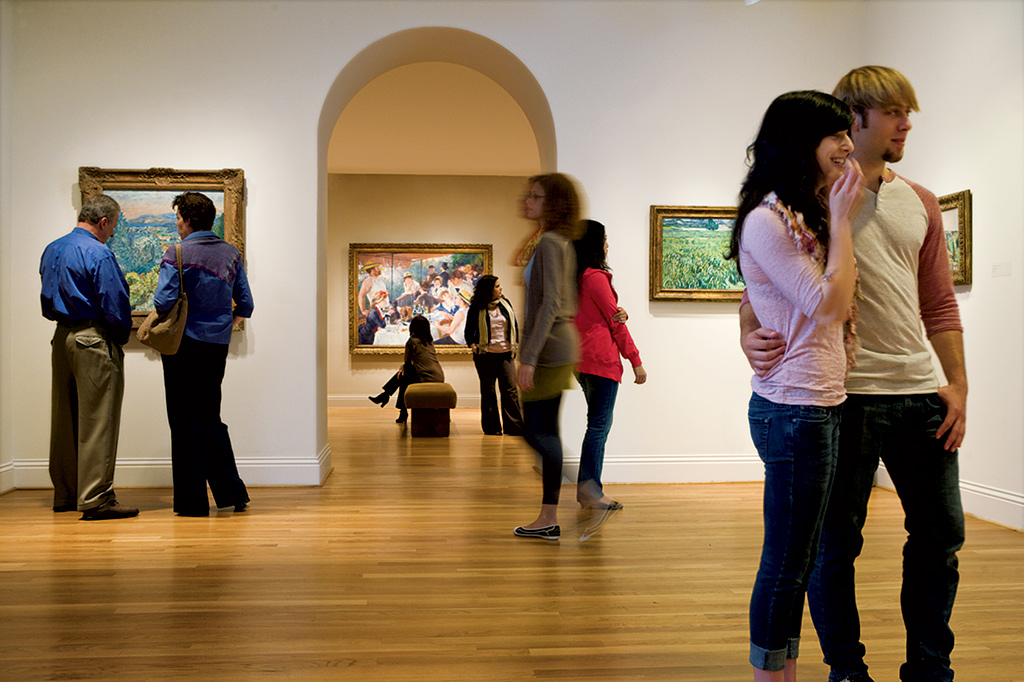 A vast collection of Asian art fills the rooms of these galleries on the Mall. Inside the Freer's palazzo-style building is a collection that spans 6,000 years and comprises more than 25,000 objects, including Chinese paintings, Japanese ink drawings, Buddhist sculptures, and Korean ceramics. (The Freer will be closed for renovation from January 2016 until summer 2017.) Highlights from the Sackler Gallery's collection include Iranian metalworks and Chinese bronzes.
12th St. and Jefferson Dr., SW; 1050 Independence Ave., SW; 202-633-1000; Free.
Founded in 1981, this museum has an extensive collection showcasing six centuries of female contributions to the arts, from Flemish painter Clara Peeters to Frida Kahlo and Georgia O'Keeffe.
1250 New York Ave., NW; 202-783-5000; $8 to $10.
European Impressionists and modern American artists alike are well represented in this striking museum, designed by renowned architect Philip Johnson and endowed by collectors and philanthropists Carmen and David Lloyd Kreeger. Nine Monets are on display, alongside works by Picasso and Miró.
2401 Foxhall Rd., NW; 202-337-3050; $7 to $10.
Housed in an 1874 red-brick building adjacent to the White House, the Renwick Gallery show-cases American arts and crafts from the 19th century to the present. The gallery has recently reopened after extensive renovations with a lighter, fresher aesthetic and new approach to its curation.
1661 Pennsylvania Ave., NW; 202-633-1000; Free.
This article appears in Washingtonian's Welcome Guide.