Take a deep breath and a long pull from the kegerator. The National Museum of American History is now filling an open position that is the stuff that boozehound dreams are made of. In a recent release they outlined a "new initiative on American brewing history," for which they're hiring a "professional historian/scholar." In other words, the Smithsonian needs a beer connoisseur whom they will PAY to travel and conduct "archival and field research." The listing doesn't say that one will be drinking copious amounts of delicious craft brews, but we can read between the lines.
Of course, the job isn't all happy hours and brewery tours, but it still sounds fascinating. Paula Johnson, curator of the Division of Work and Industry, explained that the research unearthed by the new beer historian will be a part of their "very active food history program." The historian will "do the research, documentation, and look at potential artifacts and work as part of our food history team," focusing specifically on brewing methods and beer-based businesses developed after 1960. Why now? "This is a great moment to be thinking about this the fact that small brewing has become so much a part of community life and regional history," she explained. The museum should be slowly rolling out the new program's findings over time.
And this isn't their first foray into the history of booze. "Since '96 we've been building our collections in wine and wine-making. People raise their eyebrows about historians going to Napa Valley and doing 'field research,'" Johnson said laughingly, "but you know, they come back with the goods."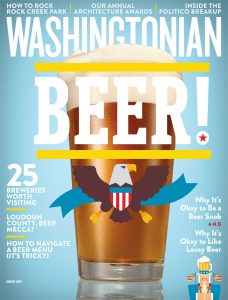 While we take a minute to update our résumés, note that the staff over here at Washingtonian may be pretty qualified to take on the role of craft brew guru. After all, we just published a massive, all-encompassing Beer Issue, which is on newsstands now.