If you enjoy luxury vacations filled with lavish drinking and dining, we've found the trip for you. This January, a group of 100 guests will spend a week cruising the Caribbean with four of DC's most notable chefs. Nycci Nellis, Celebrity Cruises' local brand ambassador, is behind the unique excursion, perfect for cruising and food enthusiasts alike.
In line with Celebrity's mission to bring local fare and local talent aboard their ships, the exclusive getaway will draw attention to and celebrate DC's thriving culinary scene. In October, Washington will become one of only four U.S. cities to be the subject of a current Michelin Guide. "It's been a big year for DC as a food city," says Philip Jacobs of Celebrity Cruises. "With all that's been happening, we really wanted to highlight some of the area's best chefs."
The cruise's star-studded lineup will feature Mike Isabella, recipient of the RAMMY's 2016 Restaurateur of the Year award and owner of nine Washington-area restaurants; Marjorie Meek-Bradley, Top Chef finalist and head of notable eateries Ripple, Roofer's Union, and Smoked and Stacked; David Guas, host and co-judge of the Travel Channel's "American Grilled" and expert of Southern comfort food; and mixologist Derek Brown, co-owner of award winning bars Mockingbird Hill, Southern Efficiency, Eat the Rich, and the Passenger, and owner of the popular Columbia Room.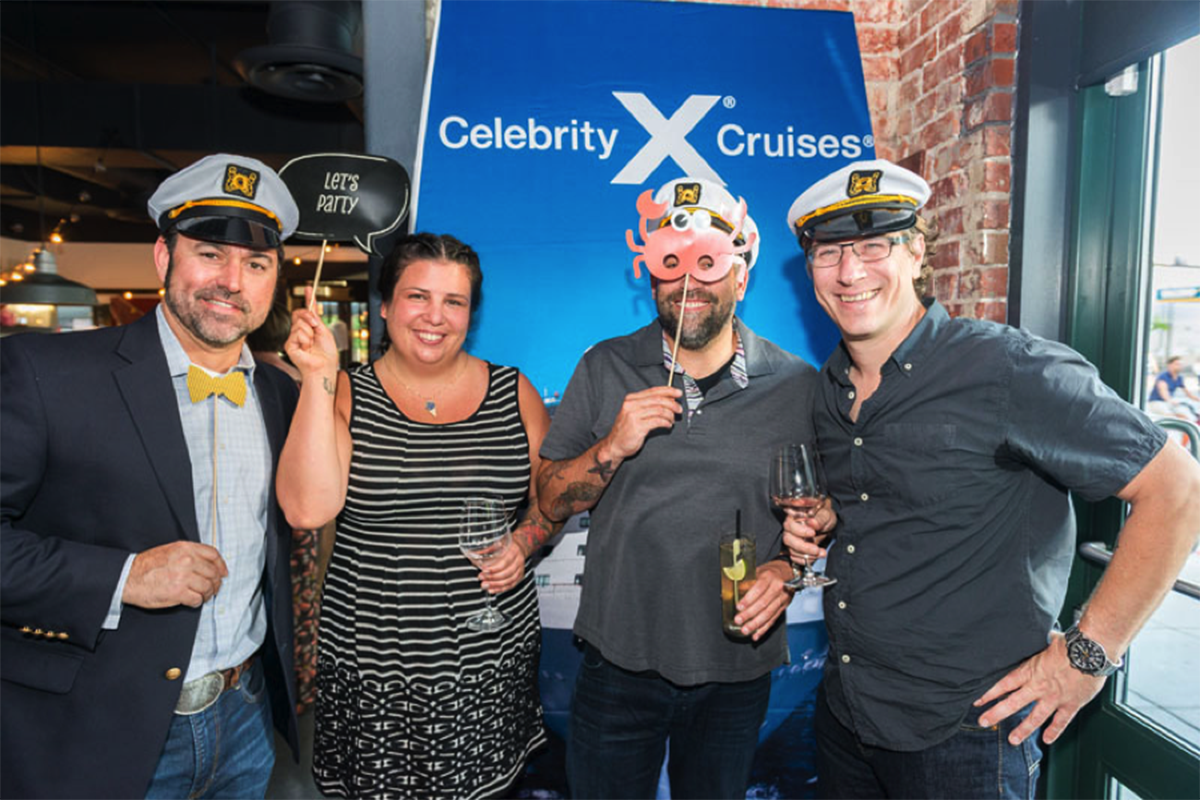 This once-in-a-lifetime vacation kicks off with a welcome reception on Saturday, January 28, as the ship disembarks from Miami to Cozumel, Mexico. The reception will be the first opportunity for guests and chefs to meet and mingle as they sip on specialty cocktails prepared by Derek Brown and enjoy appetizers courtesy of Mike, Marjorie, and David. Throughout the week, they'll draw on the Caribbean setting for inspiration, incorporating a mix of Haitian, Jamaican, and Mexican cultures into their recipes.
When the ship reaches Cozumel on January 30, members of the Chefs' Cruise will takeover a private beach for an all-day, exclusive VIP barbecue. The three chefs will be cooking together while Derek serves cocktails from the open bar. "This is a chance for four culinary figures who might not otherwise be in the same place to work together and collaborate," says Jacobs. "It's a unique opportunity for guests and chefs to join together in one big melting pot on the beach."
Other notable activities include two one-hour cooking demonstrations – the chefs will be paired off to cook together for onlooking guests. While the groups have yet to be determined, it's safe to say that both duos will create something fun, different, and undoubtedly delicious. Additionally, guests of the culinary cruise will be invited to a four-course luncheon prepared by the chefs. Derek will pair a drink with every course, whether that's a cocktail, beer, wine, or a combination of the three.
Though the trip consists of exclusive cooking classes, private beach barbecue parties, and intense cook-offs, the majority of the week is open for guests to spend time getting to know their favorite local chefs. Chosen not only for their national recognition but also for their affable nature, Mike, Marjorie, David and Derek are just as excited to spend time with their most avid fans as they are to lead classes and present decadent dining experiences.
"By keeping scheduled activities to a minimum, it will allow the chefs to have more fun with the guests at the bars, by the pool, or during dinner at one of the ship's specialty restaurants," says Jacobs.
In addition to savory bites, guests will enjoy the luxury of Celebrity Cruises' newest and nicest ship, the Celebrity Reflection. Each Chefs' Cruise room is equipped with a private balcony, and the ship features a lawn club with more than ½ an acre of fresh growing grass.
The DC Chefs' Cruise sets sail on Saturday, January 28, from Miami, Florida, and travels to Cozumel, Mexico; Georgetown, Grand Cayman; Falmouth, Jamaica; and Labadee, Hispaniola before returning to Miami on Saturday, February 4th.
To learn more about the first-ever DC Chefs' Caribbean Culinary Cruise, and to book your trip before space runs out, visit http://dcchefscruise.com/.