In 1988, Donald Trump and then-wife Ivana spent the July 4th weekend showing off Trump's new yacht—the third-largest in the world—which he'd recently purchased from the Sultan of Brunei. The Trump Princess, outfitted with a movie theater, helipad, pool, and disco room, was docked outside Manhattan's luxe Water Club for a series of parties. New York's elite, including Jackie Onassis, Michael Douglas, and Joan Rivers, climbed aboard. David Burke says he was the chef they picked to cater it all.
Fast forward to BLT Prime by David Burke, which officially opens Friday inside DC's Trump International Hotel. When the Trump Princess powered into the East River, he was a rising culinary star working under Charlie Palmer at Manhattan's River Cafe. The July 4th weekend was Burke's first time meeting Trump. He snapped a photo of his infant son in a gold-plated sink.
"Quail eggs Benedict, foie gras and toast, sweetbread terrine, pastrami salmon," says Burke, reciting the menu decades later inside the Washington hotel. "Tuna tartare—tuna tartare was new then! I was hired because I was good, I was hot."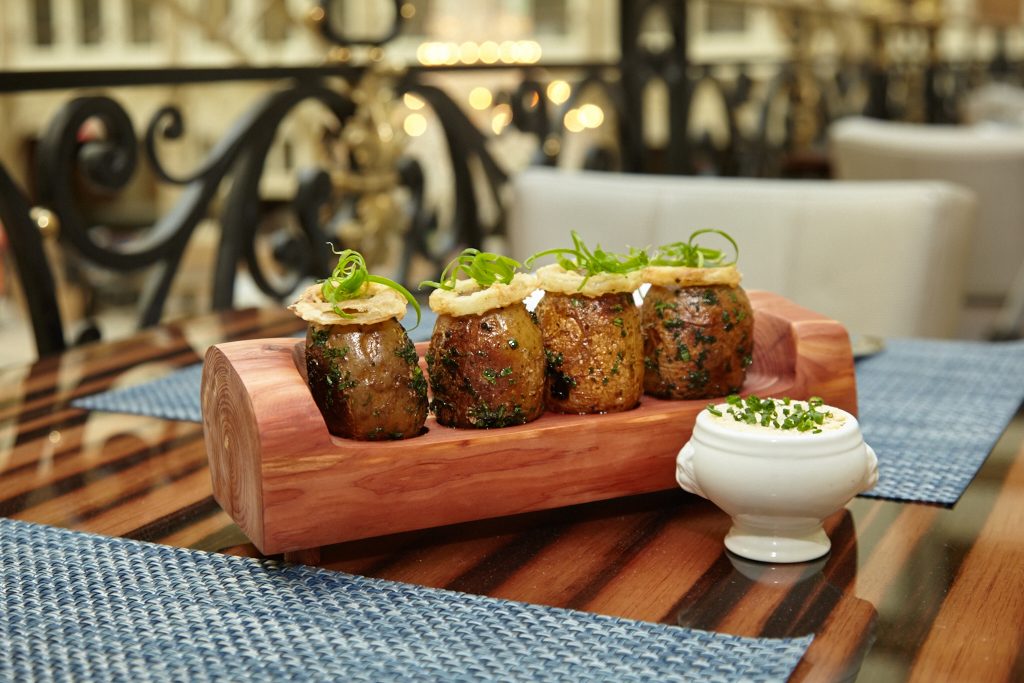 Burke and Trump casually crossed paths over the proceeding years in New York, where Burke opened—and closed—a series of high-profile restaurants; he's currently affiliated with several eateries in New York, Chicago, and Connecticut. This past fall, he partnered with Esquared Hospitality, the group behind the meat-centric BLT ventures, including BLT Steak in Downtown DC. Around the same time, Esquared announced its new partnership with the Trump organization for a BLT Prime restaurant in the forthcoming Old Post Office building hotel—a drama-logged deal conceived after chefs José Andrés and Geoffrey Zakarian pulled out of the project due to Trump's inflammatory statements regarding Mexican immigrants. Esquared president Keith Treyball told the Washington Post that it was "a business decision, 100 percent." The group already operated BLT restaurants in two Trump hotels, Honolulu and Miami. Burke's leading role was announced in May.
Legal woes aside, time was the critical issue when signing and opening the new dining concept. Both of the original restaurants—a Spanish-Japanese venture from Andrés and a branch of Zakarian's The National—were supposed to be multimillion-dollar buildouts, years in the making. According to legal depositions obtained by Washingtonian, the Trump organization couldn't seal a deal for Zakarian's space—it's now a conference room—but they remained adamant that the restaurant perched in the hotel's grand, white marble atrium open on the same date as the property. Drama ensued. BLT Prime opened to hotel guests-only on the day of the property's debut.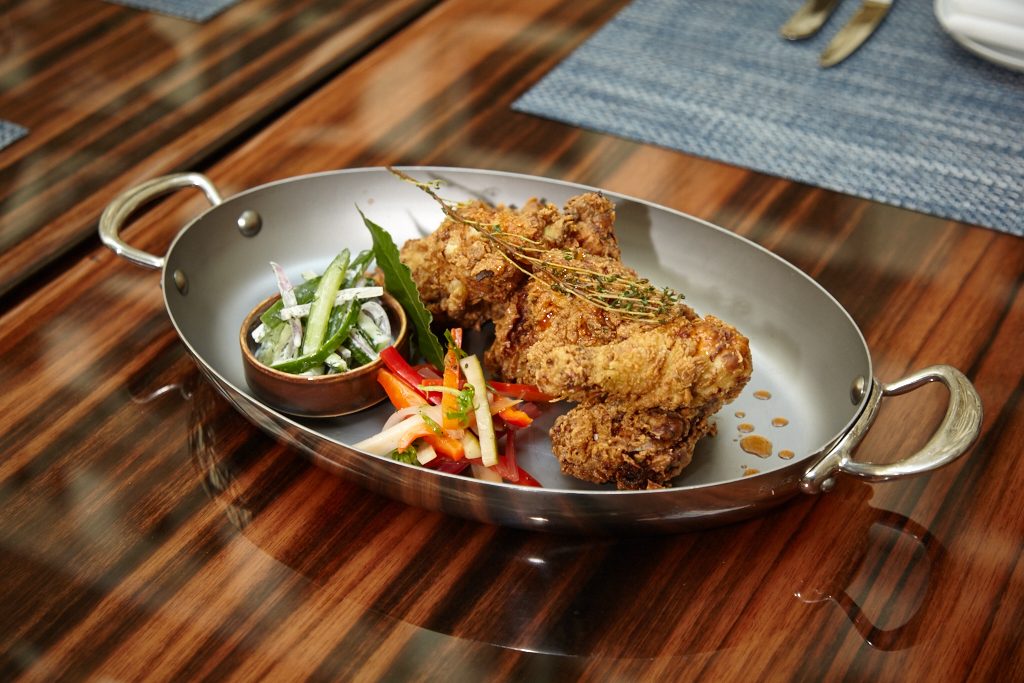 None of the strife, political or otherwise, seems to faze Burke—a New Jersey native known for his sizable personality on-and-off the screen (he was once praised for his "titanium balls" on Top Chef Masters). He's also no stranger to controversy, or legal woes. In 2014, a former employee filed a lawsuit alleging discrimination against Muslim workers (a charge the company refuted). That same year, Burke stepped down from his eponymous restaurant group, and has been involved in a lengthy legal dispute with its management company, who continued to operate under his name (the company has since rebranded).
"I've been doing it a long time. I don't get excited over stuff," says Burke when asked if he was concerned about the hotel's rocky debut. "We're good people. We're good employers. And I think we're very good at what we do, both BLT and Burke. It's an interesting combination of us working in collaboration with the Trump organization, which could turn to lots of good stuff."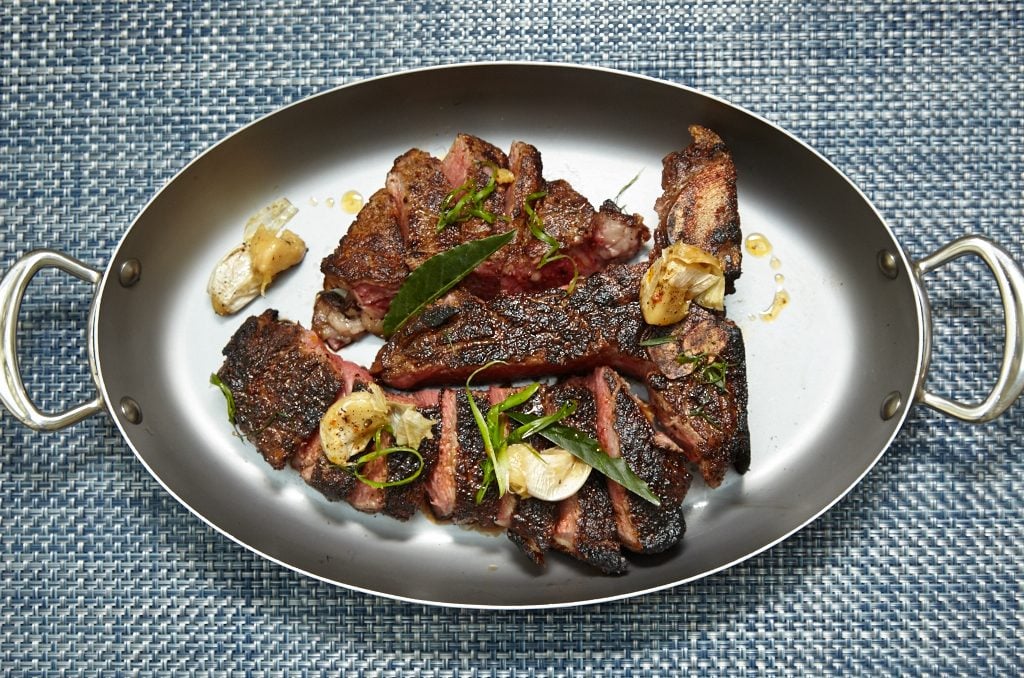 Burke says he considers many of Washington's top chefs personal friends, including Robert Wiedmaier, Jeffrey Buben, and the late Michel Richard, who hired Burke as a sous chef at Citrus in Los Angeles. His list of allies also includes Andrés—a sentiment echoed by the Spanish chef, who tweeted: "He has my full support!"
"I think one of the things we need is to go out and forge a relationship with the local chefs and restaurateurs," says Burke of opening in DC. "We're concierges in our own right. We help each other. When I first called him [José Andrés] and let him know that I was involved, he was a true gentleman and a professional. Chefs are different breed. We all work so hard, and we're very hospitality-driven. And it was proof when I spoke to him."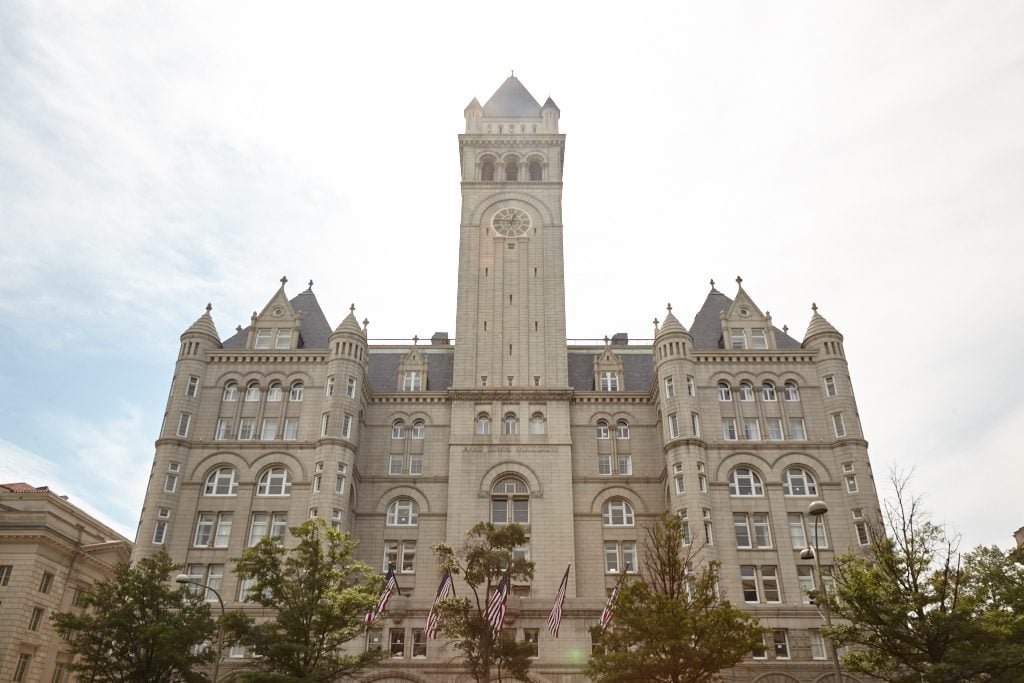 In some ways the opening of BLT Prime is a full-circle career move. Burke opened a branch of New York's Maloney & Porcelli in 1999 at 601 Pennsylvania Avenue, Northwest; the space currently houses Fiola. The owners also operated Smith & Wollensky, and Burke eventually moved on—and back to NYC—with the steakhouse chain.
Though he's conceived a range of restaurant concepts, from Fishtail to Fromagerie (both closed), beef remains his bread and butter. Playful excess is a signature. At the David Burke Prime steakhouse in Chicago, his team created and patented a technique of dry-aging steaks in a room composed of pink Himalayan salt blocks. He purchased a 2,500-pound bull from Creekstone Farms named Prime 207 L—called "Prime" for short—so he could breed his own line of cows (once of which he helped inseminate, using long gloves). He built a 35-foot wine tower, and invented "clothesline bacon"—thick strips of candied bacon that dangle from a string like savory laundry.
"We were calling it 'well-hung bacon,' but we changed the name," explains Burke, who serves the creation at BLT Prime. "I have a feeling people are going to be looking for every little thing they can pick on, and I don't want to give them that much."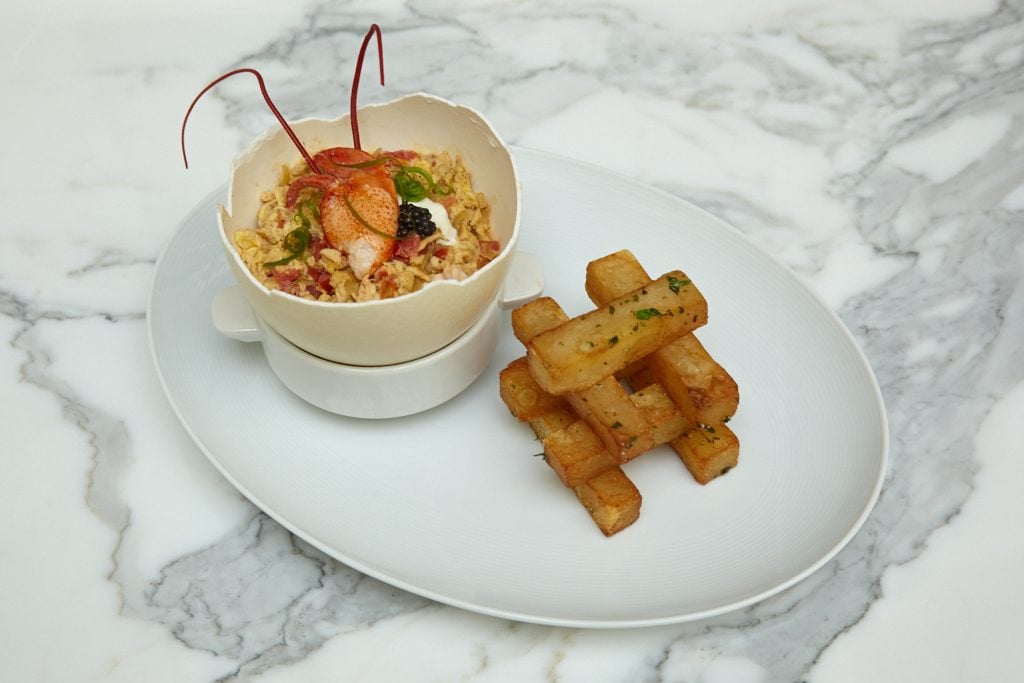 Dramatic and/or whimsical presentations are constants (this is the man credited with creating cake pops, as well as their less-popular spinoff, "Can-O-Cake").  At BLT Prime, which prides itself on mostly-American ingredients, BLT classics come together with Burke-ian creativity—and sometimes combine, in the instance of popover sandwiches stuffed with dry-aged beef, prosciutto, and cheese. Over-the-top-ness runs throughout the breakfast, lunch, and dinner menus, executed on a daily basis by former BLT Steak chef Marc Hennessy (Burke says he'll be on property every week following opening). Patrons can start their day with an "ostrich style" lobster scramble—proffered in the bird's gigantic egg with caviar—and end with steak tartare capped with foie gras and fried grapes. And of course, there are splurges to be made on meat. A 32-ounce, 45-day dry-aged tomahawk steak surf n' turf clocks in at $120 for two—the priciest cut on the menu. Burke would happily cook it well-done if The Donald, or anyone, asks.
"If someone wants to drive a pink Cadillac," says Burke. "Hey man, if it makes them happy, I'll sell them a pink Cadillac."
BLT Prime by David Burke. 1100 Pennsylvania Ave., NW; 202-868-5100. Open Friday, September 16