Donald Trump was nothing short of effusive about the quality of his new Washington hotel when he stopped by Friday morning to promote its opening (and dish out a quickly debunked statement about his record as a doubter of President Obama's citizenship).
"Nice hotel," the Republican presidential nominee said. "I think when the hotel opens officially it will be one of the great hotels in the world."
Trump may have excised from his boasting that for all the work his company did in glamming up the Old Post Office, it appears to have neglected at least one spot.
In one of the building's antique mail chutes, sitting off the hotel's grand atrium, lies a dead bird.
It is unclear what species the bird is and how long it's been there, but feathers and broken limbs are visible through the dusty glass. It's a bit tricky to see, however. The hotel's staff appears to have noticed—on Friday afternoon, the chutes were covered up by a photograph of the east façade of the US Supreme Court.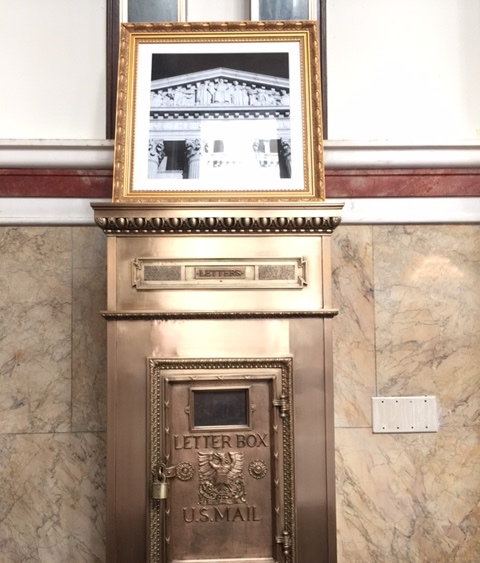 The Old Post Office, completed in 1899, enjoys extensive historic-preservation status, potentially making removal of the dead avian tricker than simply opening up the wall and fishing it out. (Not that the Trump Organization always observed preservation rules during the renovations, some government officials have claimed.)
Washingtonian has asked the General Services Administration, which issued a 60-year lease on the Romanesque Revival landmark to the Trump Organization in 2012, for its guidance on making spot repairs like dead-bird removal.
[su_youtube url="https://www.youtube.com/watch?v=l4F79ntkIYA"]
The bird could also big a sign of something darker. According to the Audubon Society's list of bird-related superstitions, dead birds inside a structure are bad news: "A bird that flies into a house foretells an important message. However, if the bird dies, or is white, this foretells death," the organization warns.
Perhaps it's no accident, then, that Washington's event planners are skittish about taking their business to the Trump International Hotel.