Our Washingtonian Recommends lists bring you the best places to eat, drink, and be entertained—all selected by Washingtonian editors.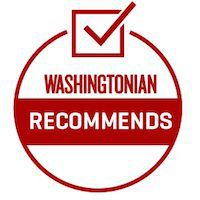 With a Pret A Manger on every corner, it's easy to settle for convenience over deliciousness. But if you work in Downtown DC, there are much better options. Here are five of our favorites:
1815 M St., NW; 202-457-1111
This tiny spot turns out monstrous sandwiches (even a half-order will fill you up). Chef Jonathan Taub's fine dining pedigree means he's a stickler about the quality of his ingredients and flavors, but his hoagies are still plenty hearty and satisfying. Don't miss Pop's beef brisket and bolognese parmesan, although you really can't go wrong, no matter what you order. Pro tip: get some of the seasonal pickles—and a lot of napkins—on the side.
1426 H St., NW; 202-347-5353
At chef Jeff Buben's casual takeout spot, you don't have worry about encountering wilted lettuce or unripe tomatoes. Everything sandwich component is fresh or made-from-scratch. The Chick Chick—fried chicken breast, pickles, bacon, and cranberry relish—is one of the most popular offerings, but the vegetarian sandwiches are sleeper hits (try the one with roasted cauliflower). Give into temptation and order gelato or one of the fancy pastries on the way out.
1317 Connecticut Ave., NW; 202-293-4400
Pastrami or corned beef is the way to go at this modern Jewish deli. The team makes both meats in-house, then stacks a half pound on double-baked rye with optional add-ons like chopped liver or local Number 1 Sons sauerkraut. Another highlight: the za'atar grilled chicken gyro with tzatziki, feta, cucumber, and pickled red onion. While you can get the sandwiches to-go, a dine-in-only deal is worth lingering over: a soup, salad, half-pastrami or corned beef sandwich, and a soda or iced tea goes for only $14.95.
Multiple locations
This local hoagie chain seems to have shops everywhere these days (watch out, Pret!). You'll find plenty of turkey, roast beef, and chicken cutlet staples, but it's worth checking out the rotating seasonal sandwiches. Right now, for example, you can get in the mood for Thanksgiving with the "Colonial," including herb-roasted turkey, sweet potato-and-sage ricotta, brie cheese, ginger-cranberry sauce, and shredded kale. Also look out for collaborations with other top chefs in the city. Over the past year, Taylor has featured hoagies from the likes of José Andrés and Daikaya's Katsuya Fukushima.
709 D St., NW; 202-524-5244
It's all about the meat at this Neighborhood Restaurant Group market and restaurant. Chef Nate Anda produces a huge range of charcuterie and cured items, four of which make their way into "The Italian" along with aged provolone, pickled peppers, and herb vinaigrette. Another can't miss is the "Porkstrami." Anda brines the meat for two weeks, smokes it, and rubs it with lots of delicious spices. It's stuffed in a sub roll with mustard aioli and bacon-braised sauerkraut.