Chef José Andrés and his team were debating the dining room's gold facade. Was it too shiny? Would the travertine limestone be preserved? It was June 2015, a year before the chef was to open his fine-dining restaurant in the new Trump International Hotel. Plans were being finalized.
Tentatively called Topo Atrio, the restaurant would serve Andrés's native Spanish cuisine—skirt steak from black-footed Ibérico pigs, duck and rice with foie gras cream and Pedro Ximénez sherry reduction. Andrés had hired sought-after New York designer David Rockwell to outfit the 9,000-square-foot space in the hotel's atrium. Ivanka Trump loved the early designs.
At the same time, New York chef Geoffrey Zakarian was finalizing details for the National, his bistro in the hotel. The Food Network star planned to "zhoosh" up his menu with a little local flair. He thought he might smoke some of his ingredients on grapevines from the Trump Winery in Charlottesville, where he'd flown via helicopter with Donald Trump Jr.
The restaurant, Zakarian had told his team, would be a "screaming hit."
All of that started to fall apart on June 16, 2015—the now-infamous day that Donald Trump launched his White House bid with three sentences about Mexican immigrants that we're still talking about more than a year later: "They're bringing drugs. They're bringing crime. They're rapists."
We all know what happened next. Trump the candidate became greater than anyone (maybe even he) imagined. The GOP threatened to implode. And right here on Pennsylvania Avenue, Andrés and Zakarian shocked Trump the businessman by yanking their restaurants from the Old Post Office. Trump's company sued those of the chefs for $10 million apiece. They countersued.
What we didn't know—until now—was how furiously Trump's family, along with a prominent local real-estate firm, scrambled to keep the project on track. Even the chefs themselves didn't seem to realize they would become embroiled in a very public legal battle, or the extent to which they'd be pulled into the spectacle of the election. Here's the story, unearthed in depositions and other court files, of the battle between two huge food personalities and an even huger political one.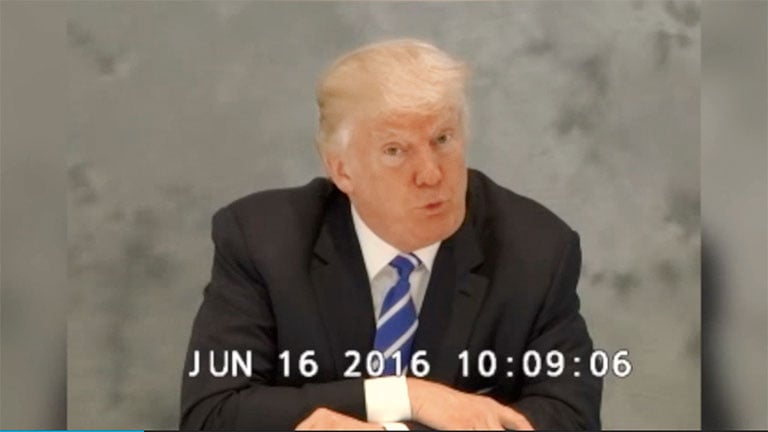 ***
"We need to talk."
It was 8:06 pm when Kimberly Grant, CEO of Andrés's ThinkFoodGroup, picked up her iPhone and sent an urgent note to Ivanka. "Getting crushed over DJT comments about Latinos and Mexicans. Need your help."
Nine days had passed since Trump's campaign kickoff—nine days in which investors, vendors, and patrons had bombarded the company with letters and phone calls; activists had staged anti-Trump protests; and media crews had camped outside Andrés's restaurants. Grant had to do something.
Ivanka forwarded the message without comment to her brother Donald Jr. and David Orowitz, a senior VP at the Trump company.
"Ugh," Orowitz responded, "this is not surprising and would expect that this will not be the last that we hear of it. At least for formal prepared speeches, can someone vet going forward."
"Yeah, I was waiting for that one. Let's discuss in the a.m.," Donald Jr. replied.
For Ivanka, the media backlash had been, in her words, personally "very hard." She had even drafted her own clarification of her father's statements. (It was never used.) Still, in a phone call, Ivanka tried to reassure Grant that there was a separation between the family business and its patriarch's politics.
Ivanka also spoke to Andrés: "I said, 'You know, it's America. You're entitled to your political views…as is my father.' "
But to a Spanish immigrant who had arrived in the US in 1991 with $50 and his cooking knives—a chef whose story epitomized the American dream—the situation was a disaster. Over the past 25 years, Andrés has built an empire of 20-plus restaurants—one of which is in Mexico. He popularized now-ubiquitous small plates, published cookbooks, appeared on TV. Moreover, he's an advocate against global hunger and poverty, a friend to other liberal causes, and a regular collaborator with the Obama administration—including, yes, on the issue of immigration reform.
How, Ivanka later recalled Andrés asking her, could he do business with Trump when he himself was an immigrant—naturalized in 2013—and one who had taken a contrary political stance on the issue?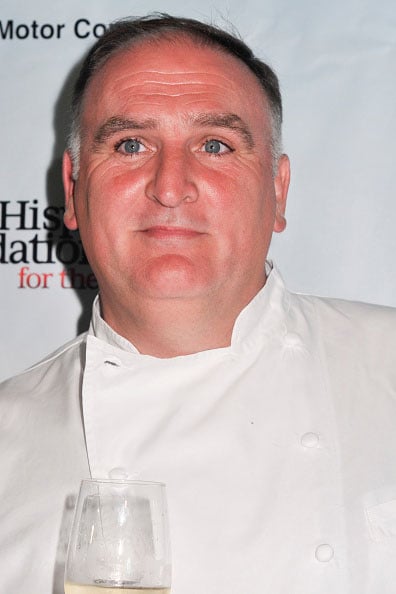 For advice, Andrés turned to a friend of 25 years, Jorge Guajardo, a former Mexican diplomat who lives in Washington. Guajardo told Andrés that if he stuck with Trump, the drama would likely fade and no one would think less of him in the long term. If he bailed, people might applaud initially, but Andrés would lose the opportunity to launch his new concept. "I was giving him an out," Guajardo says today. "Mind you, back then I didn't know what Trump was going to become."
Guajardo recalls Andrés responding unequivocally: "He said, 'You know how many busboys I have? How many people are out in the fields picking the produce I serve in my restaurants? You know how many customers I have who are Mexican? I would never live with myself to know that I'm associating myself with somebody who demeans them in that way.' "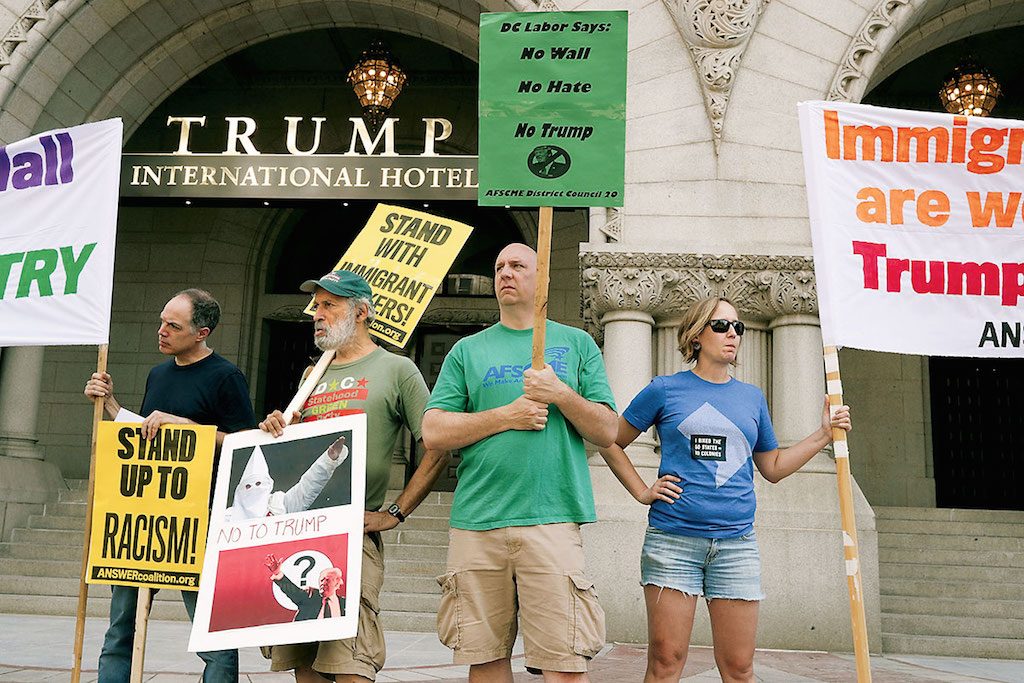 The Trumps and Andrés spoke again about a week after the call with Ivanka. This time, according to Ivanka's June 9 deposition, Andrés tried to feel out if they might let him out of the lease. Their answer: not a chance.
Andrés decided to blow up the deal himself—and in public rather than in private. "We read about his intention to walk away from the lease in the paper," Ivanka said in her deposition. "That's what happened next." The chef announced to the Washington Post that it was "impossible" for him to run a business in their hotel.
The maneuver was presumably cooked up to turn the narrative in Andrés's favor. Apparently, though, it didn't occur to the chef that the power play could backfire. As Andrés tells Washingtonian, he never foresaw the battle to come: "We didn't expect there was going to be any litigation. We were trying to resolve it like I resolve all the issues in my life—without litigation, like grownups talking."
***
Lou Ceruzzi was vacationing on the Mediterranean island of Corsica with his grandkids when his business partner Geoffrey Zakarian called him in a panic about Trump. "Lou," Ceruzzi later remembered the chef saying, "this is going to have a devastating effect on our business. I can't have you put, you know, all this money in here."
Ceruzzi is a New York tax lawyer turned real-estate developer who started investing in restaurants because he loves food and wine. The two met a few years ago at a birthday party for a mutual friend. Both were wearing cashmere sport coats by Brunello Cucinelli and bonded over, among other things, their similar taste in fashion. As they became friends, Ceruzzi started visiting Zakarian's restaurants. "I saw how well they were run," he says, "and how polished everybody was, so we had talked about maybe doing something together."
Ceruzzi was constructing a building in Greenwich, Connecticut, where Zakarian had once lived, and they decided to team up to bring an outpost of the National there. Then the opportunity to open another one came along—in the Trump hotel. Ceruzzi, a Georgetown University grad, said in his May 18 deposition that he liked the prominent Pennsylvania Avenue address and neighborhood crowd—"men in suits, women in pantsuits." He agreed to put down $4.4 million to finance the whole thing.
"I was pretty sure that this restaurant would be doing $6 million in business in its first year," Ceruzzi said. A consultant who put together financial projections for Zakarian forecast even more than that: $10.49 million in revenue the first full year serving breakfast, lunch, and dinner. Ceruzzi anticipated he'd see a return on his investment in three years, less than the industry norm.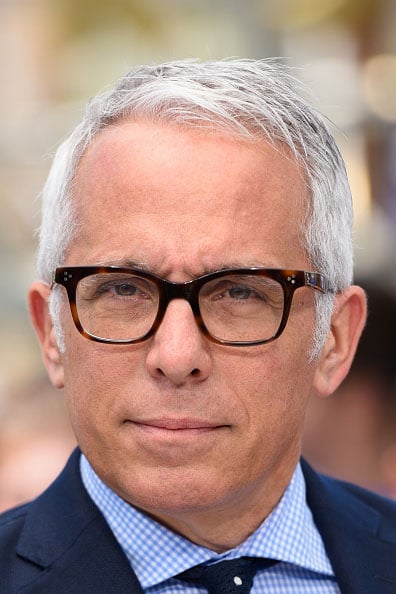 Zakarian—the dapper white-haired chef with thick-rimmed spectacles whom TV audiences know from Chopped, Iron Chef, and Cooks vs. Cons—runs restaurants in New York, New Jersey, and Los Angeles. He has published two cookbooks and has his own line of Zakarian Pro for Home refrigerator storage containers. But this would be his first foray into the nation's capital. When they signed a letter of intent for the 20-year lease, the chef e-mailed Ceruzzi: "The best location in the best hotel in Washington!!"
As the planning began, Zakarian and Donald Trump Jr.—"Donnie" to the chef—developed a friendly rapport, speaking regularly and dining out with their wives. Ivanka was more skeptical. In 2011, Zakarian had filed for bankruptcy after the kitchen staff at one of his former New York restaurants, Country, sued him over wage issues.
"I recall telling my brother to make sure that he got a good guarantee, because I had heard from a partner of mine that Zakarian had treated him very badly in a deal," Ivanka said in her deposition. Ivanka's partner, Moshe Lax, whom she knew from the jewelry business, was also a partner of Zakarian's in Country—and had been embroiled in another legal battle with the chef. "Moshe certainly feels that Geoffrey is not a very good human being."
Then last summer, when Zakarian's team presented interior-design concepts for the National, Ivanka wasn't impressed. She wanted something more luxe than the casual look Zakarian envisioned. "Ivanka came in and said, 'I don't like this, I don't like that, I don't like this, I don't like that,' " Zakarian said. "I put up a stink like, this is ridiculous, she's second-guessing everything. I've forgotten more than she knows about fabrics."
The project nonetheless moved forward—until Trump's politics got in the way. When Zakarian called Ceruzzi on Corsica and told him the controversy could put his investment at risk, Ceruzzi agreed. "Geoff, you know better than I do," he said. "I'm going along with you."
Zakarian kept hoping Trump would "come to his senses." But then Andrés pulled out. That day, Zakarian finally called Donald Jr. on his cell: "I said, 'Donnie, it's a very difficult phone call for me to make. . . . You got to tell me that [your father is] going to publicly apologize and put this behind us.' " Zakarian said he'd consider moving forward with the restaurant if that happened. According to the chef's deposition dated April 28, Donald Jr. replied: "He'll never do that."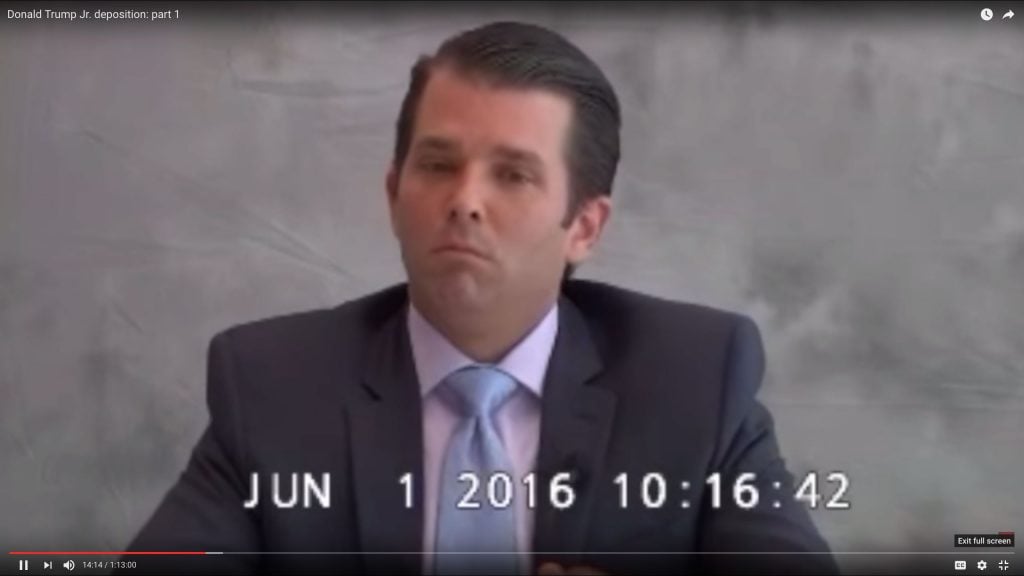 After the call, Donald Jr. followed up by forwarding Zakarian an e-mail with a press statement from his father defending his comments on immigration.
"Thanks," Zakarian wrote back. "But this is in no way an outright apology. I respect you enormously. Thanks for your kindness and respect."
"Likewise Geoffrey," Donald Jr. replied. "Why don't you Ivanka and I sit down for a few minutes before the 10 a.m. meeting tomorrow." (They were scheduled to discuss the restaurant's design.)
Zakarian never responded.
Instead, the chef went to the New York Times. The next day—for the second day in a row—the Trumps learned about one of their restaurateurs dropping out by reading it in the newspaper.
***
"I can't believe I have to start over."
That's what Jeffrey Pollak thought upon learning that Andrés was backing out. Pollak is a managing principal and vice president at Streetsense, the Bethesda design and real-estate firm the Trumps hired to find tenants for the hotel. The company had received half its commission when the restaurants signed leases—but it would get the balance only once the restaurants opened. Now that wasn't happening.
To Pollak's partners, though, there was an even bigger problem. Over the past few years, Streetsense has become a key player in Washington's commercial real-estate scene, helping launch many of the city's hippest new haunts (Daikaya, Kapnos, Kit and Ace). Could the Trump affiliation threaten its standing?
"I think this issue has evolved to a point where we need to discuss if we want to maintain Trump as a client," Streetsense co-CEO and vice chairman Guy Silverman wrote to his partners in an e-mail. "The public outcry continues to grow. It is toxic as of today. Not sure how long before it gets better, at least not until he drops out of the race and probably not then either. Not sure what it says about us or culture to the outside world, and most importantly to the staff. At least worth a conversation."
Pollak was sanguine. "We work for Ivanka is my rationale," he replied. "The children have been silent since this went down. I think if we stand with Ivanka, who called me directly after this, and David Orowitz, and help them in a time of need, it may pay off in the long run. We don't have to be very obvious at work with our continued involvement for now."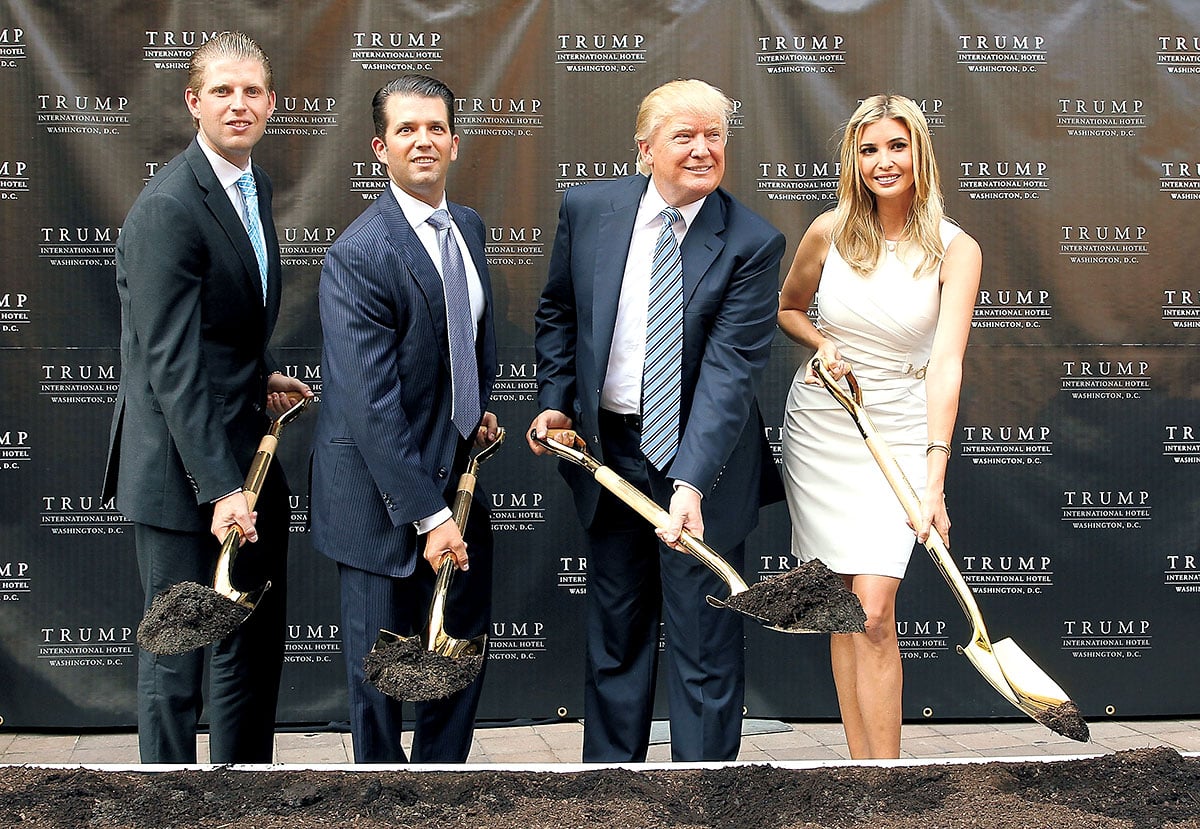 In other words, as Pollak explained in his May 19 deposition, "We don't have to have it on our website, we don't have to PR it, just continue to do the business without having it be front and center."
In the end, Pollak prevailed: Streetsense would stick it out.
Yet the politics were an obstacle for others, too.
"Unfortunately, we're going to have to pass on being involved in the project for similar reasons that José and Geoffrey decided to end their involvement," Cory Sullivan, a rep for Top Chef judge Tom Colicchio's restaurant group, e-mailed Streetsense.
"I think [Richard] Sandoval's Mexican ties would make this a tough sell," broker John Gogos responded of the international restaurateur behind DC spots such as El Centro D.F. and Masa 14.
Stephen Starr, the Philadelphia restaurateur who brought Le Diplomate to 14th Street, was another no.
So were Fabio Trabocchi (Fiola, Fiola Mare, Casa Luca) and Eric Ziebold (Kinship and Métier).
As Streetsense scrambled, the Trump team courted the group behind BLT Prime, a company it worked with in other hotels. This move cracked open a new fault line. Pollak thought BLT Prime was a mistake. There was already a BLT Steak, a very similar concept, several blocks away. And BLT Prime didn't have a big-name chef associated with it. (Celebrity chef David Burke would later sign on.)
Not to mention that if the Trumps, not Pollak, reeled in BLT Prime, Streetsense wouldn't get the commission.
Pollak wanted to court Volt and Range owner Bryan Voltaggio instead. "Economics aside, timing aside, HISTORY aside, Voltaggio is better for Trump Int DC than BLT. It's a chef, not a concept. I'm just asking you count to 10 while discussing internally," Pollak e-mailed the Trump team.
Voltaggio, though, wasn't interested. He was too focused on opening a restaurant in the forthcoming CityCenterDC hotel. Plus, Andrés has a Godfather-like status that commands loyalty among DC chefs. As Voltaggio tells Washingtonian, "José's a friend of mine and I respect him, and with what's going on with that, I certainly wanted to steer clear of any of those things."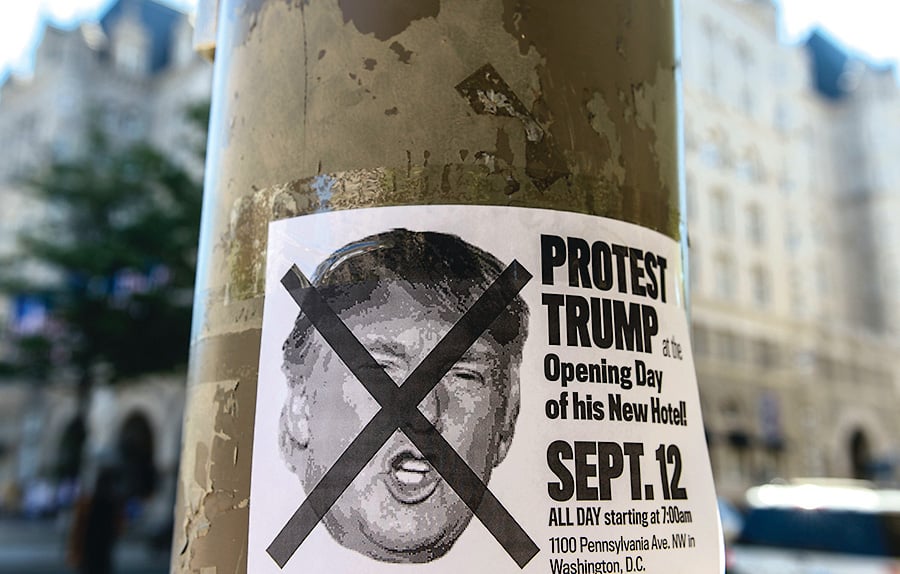 The Trumps couldn't not have a restaurant in their hotel lobby. At the outset of the redevelopment, they'd insisted on striking leases with their restaurant operators rather than management agreements. With a lease, the restaurant funds the bulk of the build-out and then pays rent to the hotel—giving the chef "skin in the game," as Ivanka Trump described it. With a management deal, the hotel foots the bill to build; it owns the restaurant and pays an operator to manage it. That means the hotel's revenue rises and falls with the success of the restaurant. "You're paying them instead of them paying you," as Orowitz explained in his June 2 deposition.
Whatever restaurant they chose, the Trumps wanted it to open simultaneously with the hotel. Because of that tight timeline, their leverage in any negotiation had weakened. A management deal would be quicker to strike, Orowitz concluded. And so, by the end of July 2015, BLT Prime had signed a letter of intent with the hotel. "It's a business decision, 100 percent," Keith Treyball, president of its parent company, later told the Post. Whereas Andrés and Zakarian's companies had planned to invest millions of their own money to build their restaurants, BLT Prime would be letting the Trumps take care of the up-front cash. The hotel footed more than $7 million.
***
All the while, Streetsense was still trying to scare up a tenant for the former Zakarian dining room in the northwest corner of the building. The firm had a commission at stake there, too. But the Trumps insisted on a lease for the space, which substantially narrowed down the prospects. On top of that, the tight timeline was a turnoff.
Passion Food Hospitality—owner of Acadiana, PassionFish, District Commons, and others—was among those to tour the space. Partner and chef Jeff Tunks says they did so as a favor to a friend at Streetsense, and it was quickly evident his team wouldn't be able to meet the deadline. Plus, Tunks says, "My fiancée would leave me if I opened a restaurant in the Trump hotel."
Spike Mendelsohn—the former Top Chef contestant behind Good Stuff Eatery; We, the Pizza; and Béarnaise—was also in the mix. According to Donald Jr., Mendelsohn pitched a Murder Bay concept that harked back to the days when Federal Triangle was a hub for crime and prostitution. "Probably not a theme we would have wanted on the corner of Pennsylvania Avenue," Donald Jr. said in his deposition.
According to Mendelsohn, the Trump team distorted their conversation. They may have talked about the history of the area, the chef says, but "I can assure you I would never pitch a concept that's called Murder Bay." In fact, he says he didn't pitch anything specific. "It was really barely a meet-and-greet…When I pitch a concept, I take it super-serious."
My fiancée would leave me if I opened a restaurant in the Trump hotel.
Mendelsohn was one chef who wasn't all that concerned about the Trumps' politics. He doesn't vote—he's Canadian.
Almost two months after the debacle began, Streetsense hadn't found a suitable tenant that could open a restaurant in time. The Trumps decided to go with a conference room, even though "the last thing we needed was another 6,000 square feet" of meeting space in a hotel that already had about 32,000 square feet of it, Donald Jr. complained in his deposition.
"Plug pulled," Pollak e-mailed his colleagues.
Streetsense made a few last-ditch attempts after that. It suggested Ouzo Bay from Baltimore, Il Mulino from New York. But the Trumps wouldn't budge.
At the end of last year, the Post was working on a story about Trump's business relationships and was pressuring Streetsense to comment. Again, the partners found themselves debating whether to sever their ties with the Trumps and whether to say so publicly. Once again, Pollak convinced them to keep the relationship intact. But that didn't mean they would publicize it. "[Orowitz] asked us to affirmatively go out to the press and say we're sticking with them," Pollak said in his deposition. "And that, I couldn't sell my partners on."
***
The Trumps sued Andrés's company on July 31, 2015, and Zakarian's company three days later. The chefs' companies- filed countersuits on October 7 and September 15, respectively. As of press time, none of the suits had been resolved. Among the issues at play are whether the restaurants would have actually suffered as a result of Trump's campaign rhetoric and how much the hotel might suffer because of the chefs' mutiny. Trump himself said under oath that he doesn't know how successful the property will end up being: "I'll tell you in about five years. I just don't know."
Andrés, meanwhile, has been haranguing his nemesis on Twitter. Almost daily, the chef retweets critical stories about Trump's campaign or writes his own mini-rants.
Building a wall is a stupid idea! But more stupid to ask someone else to pay for it! You want it? You pay it!…@realDonaldTrump #wallnomore

— José Andrés (@chefjoseandres) September 4, 2016
Bolting from the deal has cost Andrés's company money: at least a half a million dollars, not including legal fees, according to court documents. Yet it stands to reason that by becoming anti-Trump heroes, both Andrés and Zakarian have bought themselves brand loyalty from liberal Washington and New York City, at least in the short term. Andrés in particular was flooded with praise from social media and his investors after he pulled out.
Will that matter in the long term? Gene Grabowski, a communications counselor for the DC firm Kglobal, doesn't think so. "This is not going to be lasting for anybody," he says.
What's more, there's a good chance the lawsuits will settle or be dismissed, according to F. Joseph Warin, a litigation attorney for Gibson Dunn. (He's not involved in the case.) Warin says it seems "draconian" to award damages in a case where there's "a good-faith basis" to break a contract. Plus, if Trump wins the election, Warin questions whether the President of the United States would want to have high-profile litigation ongoing at his property three blocks away. "If you were one of his handlers, what would you say? Get rid of the damn lawsuit."
BLT Prime debuted with the hotel as planned on September 12 in Andrés's former space. The dining room opens onto the lobby and has a mezzanine that looks out to the skylights towering 200 feet above. Burke, the boisterous celebrity chef in charge, serves dry-aged steaks starting at $54, a dish of candied bacon hanging from clothespins, and a cheesecake-lollipop tree with bubblegum whipped cream. "If I broke even," Trump said about BLT Prime in his deposition, "I would be happy."
What was supposed to be Zakarian's restaurant has become the Franklin Study, an event space with tall, coffered ceilings, white columns, chandeliers, and framed photos of cherry blossoms. It's a beautiful, empty room.
The legal drama isn't slowing Zakarian—he has opened two new restaurants since it began. He hopes to reconcile with Donald Jr. at some point. "If [Trump's children] should be suing someone, they should sue Donald senior," the chef said in his deposition, "because he f—ing did this. He did this. He rendered this Chernobyl."
Food editor Jessica Sidman can be reached at jsidman@washingtonian.com. On Twitter, she's @jsidman.
This article appears in our November 2016 issue of Washingtonian.