Restaurant and bars have made it their patriotic duty to offer food and drink specials for election day. That means there are plenty of Donald Trump and Hillary Clinton-themed offerings with terrible pun names and tenuous connections to the candidates' tastes. We'll be providing hard-hitting analysis throughout the day about which presidential hopeful has inspired the best cocktails and dishes around town. Keep checking back for updates.
Trump's Vanilla Cherry Coke Doughnut ($3.10): The flavor is inspired by Trump's love of vanilla ice cream and Diet Coke (not coke-coke). The doughnut makers must be deliberately trying to sabotage Trump, because everyone knows cherry-filled doughnuts are the worst doughnuts. (The system is rigged!) The staff tells me most of the people who order this Cherry Vanilla Coke-glazed pastry feel the need to badmouth the Republican nominee along with their orders. On the plus side, the cherry compote has real cherries, not that bright red goo.
Clinton's Spicy Hot Chocolate Doughnut ($2.85): Clinton reportedly loves chocolate and eats a hot pepper every day. Her doughnut tastes more like a rich piece of chocolate cake with some fire that sneaks up on you at the end. Although, let's be honest, it's a mild heat. I'm sure there's a metaphor in there somewhere. The staff says this is "definitely" the more popular option.
The winner: Clinton. Although too much of either, and you'll start to feel sick.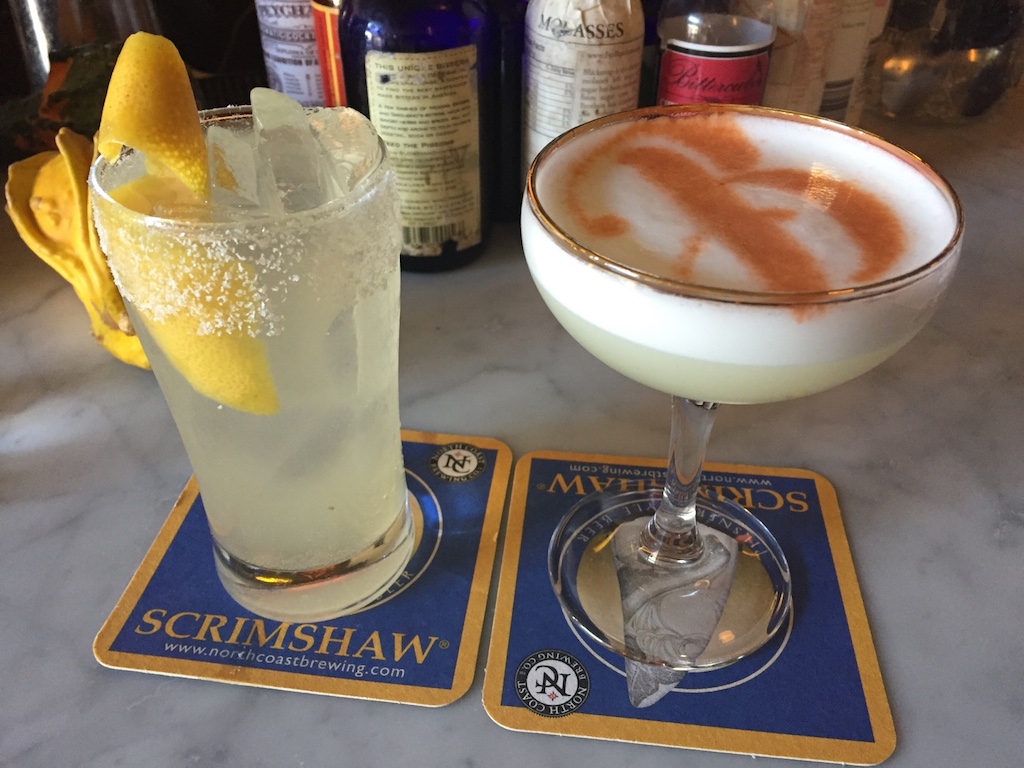 The Bad Hombre ($12): This blanco tequila and grapefruit soda cocktail is little bitter and a little salty, but we can't argue with the results. Unlike the candidate, it's very well-balanced.
I'm With H.E.R. ($14): "HER" stands for (H)at Trick Gin, (E)gg Whites, and (R)ed pepper (plus lime and basil), which is about as clever at "Trumped up trickle down economics." The cocktail is a little too bitter, like this this election.
Winner: Trump. The Bad Hombre is one good drink.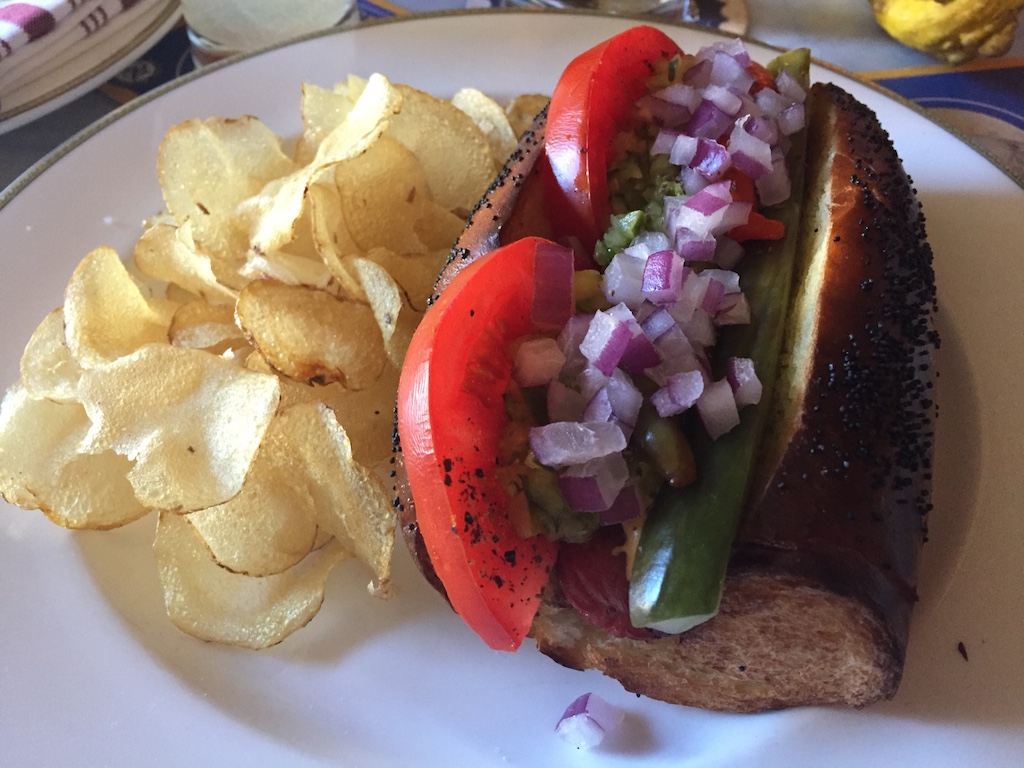 Bonus round: For dinner, Beuchert's Saloon will feature a Hillary Chi Dog, an ode to her suburban Chicago roots, as well as a Trump cheesesteak with Cheez Whiz, because he likes well-done meat and has the complexion of fake cheese. We can only vouch for the hot dog because the cheesesteak wasn't prepared… for lunch.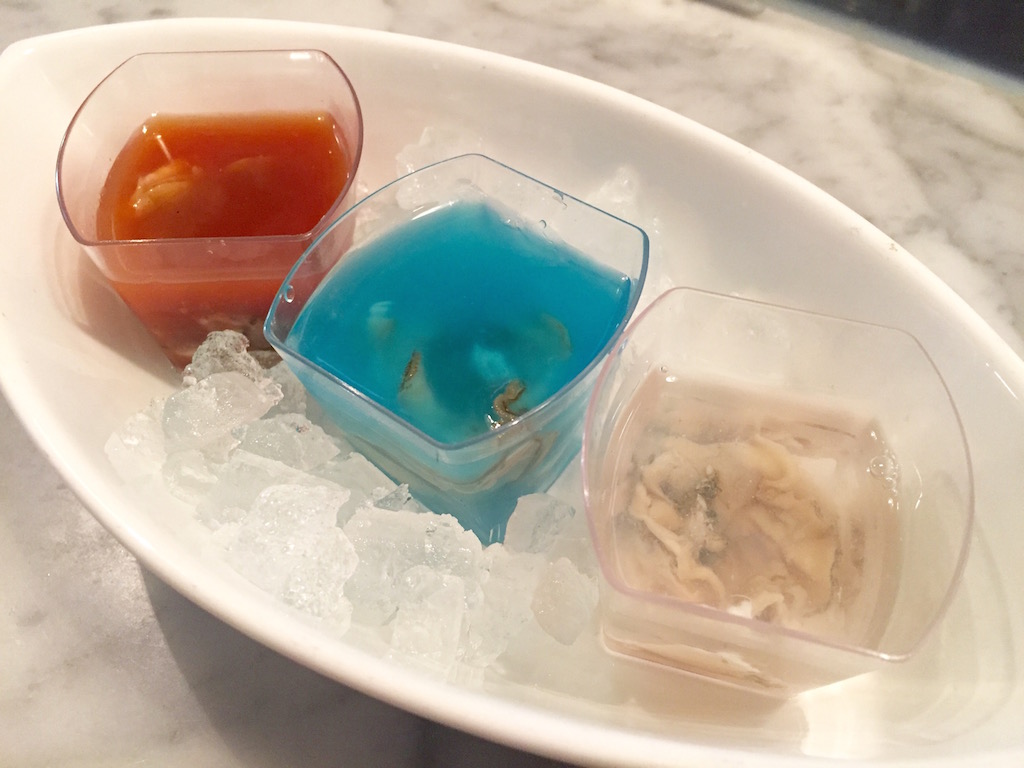 Red oyster shooter with bloody mary mix and sake: What fresh hell is this? Patriotic oyster shooters? At least this is the most normal of the bunch ($11 for the trio). You might actually order it not on election day.
Blue oyster shooter with blue curaçao and mezcal: This looks like a fish tank cleaned out with windshield wiper fluid. It tastes mildly better. Just say no to blue curaçao.
White oyster shooter with gin and dry vermouth: I'm drunk.
The winner: Red—but no one feels good after this win. A better choice: $1 oysters on the half shell tonight.
The Trump Burger ($7.85) Like the candidate, this burger is a hot mess: melty Swiss cheese, crispy onion straws, mushrooms, and a lemon-truffle aioli. Unlike the candidate, that's a good thing.
The Hillary Burger ($7.85) Peppery arugula, habanero onions, and a robust balsamic-ketchup are all fitting toppings for Clinton, who stashes hot sauce in her purse. Still, the burger doesn't really taste like Hillary—it's a little too zesty, too saucy, and a bit sloppy.
Winner: Trump. Completely unlike his campaign, all the disparate elements come together to form a strong, cohesive whole. Our taste test aside, the public throws their dollars behind The Hillary, 5,559 sold compared to Trump's 3,437. Let's hope the latter is reflected in the polls.
Logan Tavern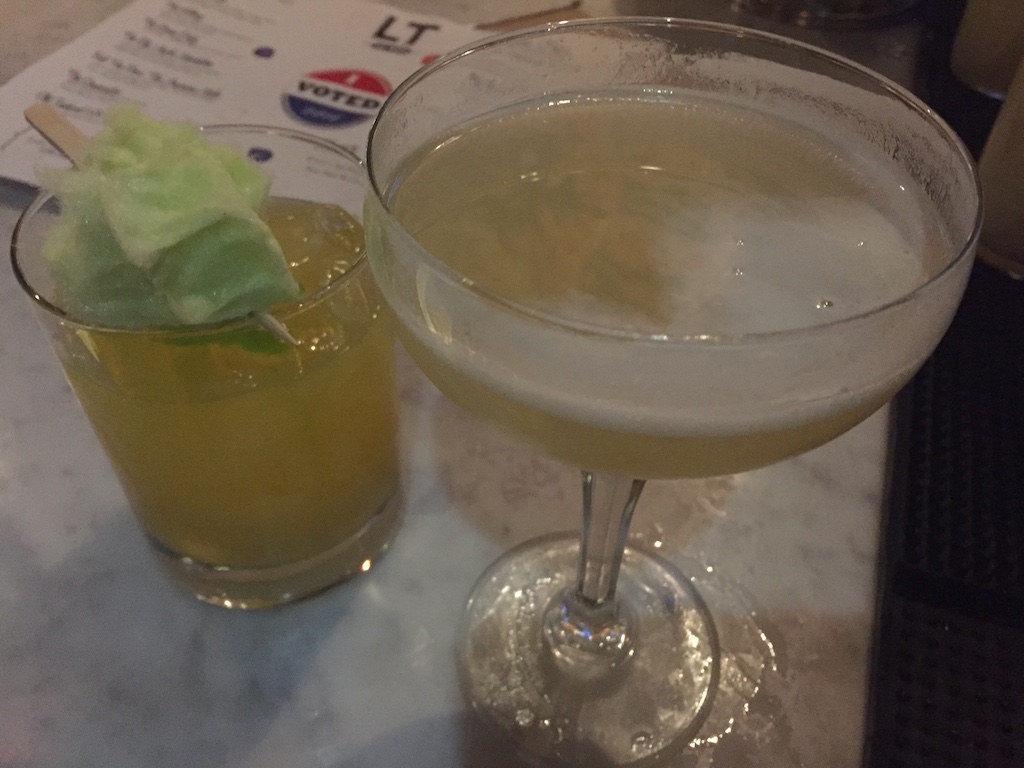 The Donald ($7): This screwdriver "with a luxurious twist" consists of pineapple-infused vodka, Goldschlager (a cinnamon schnapps), and a cotton candy "toupee," which melts like the Wicked Witch into a green puddle. It tastes like a fruity Fireball drink but without the heat. It's about as luxurious as a $7 cocktail can be.
The Hillary ($7): This combination of gin, honey-basil syrup, peach liqueur, lemon juice, and lime foam is meant to be a stronger version of a cocktail called the Democrat. But is it strong enough to win Florida? You might have to order a couple more.
The winner: The Hillary. We need a strong drink right now.